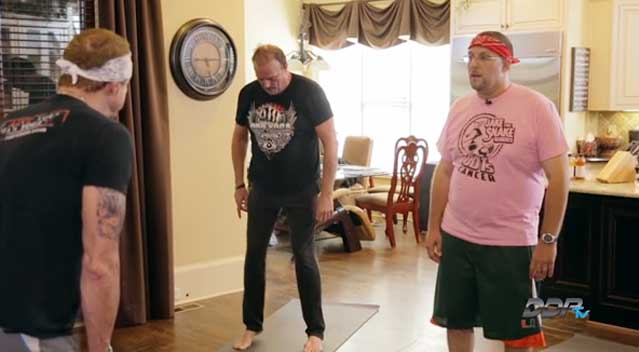 It was around the time when my left arm was stretched straight out in front of me, my right leg stretched straight out behind me, a pool of sweat formed underneath me and WWE Hall of Famer Jake "The Snake" Roberts doing DDPYoga right beside me when I thought to myself "Man, the 10-year-old me would have loved this!"
That's about how old I was when, while at a friend's house, I saw Hulk Hogan get beaten up by King Kong Bundy and Don Muraco on Saturday Night's Main Event. That was my introduction to wrestling. Soon after I became familiar with several other colorful wrestling characters, but none more mesmerizing than Roberts. He was quieter than the other wrestlers yet always had something interesting to say. In the ring he was deliberate with his actions, knowing exactly how to pull at the crowd's emotions before invariably winning and then dumping a python on someone's chest after a victory. Anyone who watched wrestling in the late 1980s through the 1990s knew who he was and either loved him or hated him -- which, as it turns out, is all a wrestler wants from his audience anyway. A reaction. And Roberts always got one.
That's what Roberts got from me in late December of 2012. Roberts was new to Twitter and started making college football bowl predictions including a bold one for the BCS Title Game between Alabama and Notre Dame.
last but not least my boys at notre dame will take alabama in the bcs national championship

— JakeSnakeDDT (@JakeSnakeDDT) December 23, 2012
I make no secret about being a wrestling nerd, a football nerd and an evolving Twitter nerd. This was my own personal Comic Con. I tweeted about it.
Jake Roberts tweeting NCAA Bowl picks. Why Twitter was invented RT @JakeSnakeDDT little caesars bowl i have c michigan going over w kentucky

— Dave Richard (@daverichard) December 23, 2012
And Snake re-tweeted it! The wrestling mark in me was elated.
The idiot in me decided to press my luck.
@JakeSnakeDDT re-tweeted by Jake Roberts! Scratch that one off the bucket list! Can we make a lunch bet on ND/Bama??

— Dave Richard (@daverichard) December 23, 2012
And as we all know, Jake Roberts never backs down from a challenge!
@daverichard youre on. I don't normally have lunch with losers but you can send me the cash. of course i'll let you buy me lunch

— JakeSnakeDDT (@JakeSnakeDDT) December 23, 2012
Final score:Alabama 42, Notre Dame 14. Someone owed me lunch! At least in theory ...
At the time, Roberts lived in Atlanta with fellow wrestling legend Diamond Dallas Page, rebuilding his body after a decade of drug and alcohol abuse through a program created by Page called DDPYoga, a workout program based on dynamic resistance. He was too busy to fly down to Florida and buy me lunch and I was too busy to fly to Atlanta for lunch. We might have tweeted to each other a couple of times after the bet but that was it. I figured the bet would never get paid off but I still had a cool story bro.
Then this happened last August, just before the football season kicked off.
hey @daverichard calling you out bro. me versus you. mano y mano. pick for pick. college football. what say you?

— JakeSnakeDDT (@JakeSnakeDDT) September 4, 2013
And as we all know, Dave Richard never backs down from a challenge!
You're on @JakeSnakeDDT. I'd prefer the pros to college (pick both?) Believe you owe me a lunch so I'm playing with house money.

— Dave Richard (@daverichard) September 4, 2013
Dave Richard also never forgets a winning lunch bet.
The parameters were set: We would each pick every single NFL game against the spread. If I won, Roberts would have to come down to CBSSports.com and work here for a day (and feed me my lunch, of course). If he won, I would have to fly to him in Atlanta and do DDPYoga with him.
I don't want to get into what happened next but let's just say I didn't win. (Editor's note: Richard got annihilated.) And so, being a man of my word, I went up to Dallas Page's "Accountability Crib" to meet Roberts and do DDPYoga with him.
This is what happened next:
It goes without saying it's the best bet I ever lost. Roberts was in tremendous physical shape considering where he was just a few years ago. Spending the day with him and Dallas Page (who is a physical specimen for a fifty-something) was just awesome.
There were times when there weren't cameras around and it was just me and Jake and Dallas and I promise every single wrestling fan who's interested to know that these guys are really good people on a mission to help people feel better about themselves mentally and physically. Jake is clean and sober and making appearances all over the country despite battling cancer (he's winning). He and Page are working on rebuilding another wrestling legend, Scott Hall. There's a documentary in the works as well.
As for the 2014 season, plans are in place for a re-match with Jake. The parameters are still being worked out (got any suggestions?) but whatever we decide, you'll be able to follow all season long on CBSSports.com.
The man in me desperately wants revenge on ol' Jake because losing sucks. But the kid in me doesn't care if I win or lose another bet ... even if a python is involved.