Week 2 schedule analysis
The season really starts to ramp up in Week 2 and Brian Rutherford goes into the details to find the Fantasy nuggets.
After ramping up on a slow week, there will be a steady increase of NHL action as we get further into October. A total of 181 games will be played over the next two weeks, starting with 87 this week. Shake that rust, here it comes.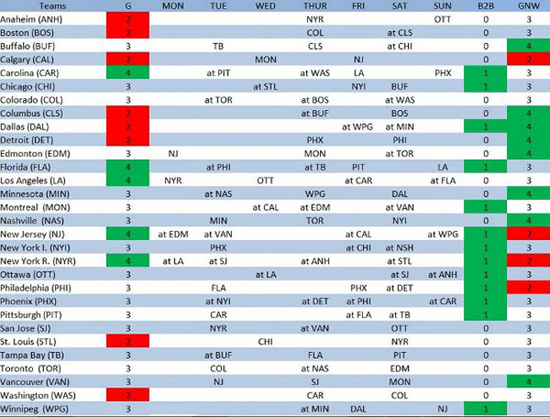 Four of a Kind
Players from the following teams have a statistical advantage with four games of fantasy eligibility this week.
Carolina (at PIT, at WAS, LA, PHX)
Florida (at PHI, at TB, PIT, LA)
New Jersey (at EDM, at VAN, at CAL, at WPG)
New York Rangers (at LA, at SJ, at ANH, at STL)
Phoenix* (at NYI, at DET, at PHI, at CAR)
Additionally, Los Angeles (NYR, OTT, at CAR, at FLA) plays four and we especially like their strength (or-there-lack-of) of schedule. Impacting the goaltending of your team, all six of these help make up the 13 NHL teams playing in back-to-back action this week.
Back-to-Back
In addition to the aforementioned teams, the following teams are likely call upon both of their goalies, regardless of how many games they play this week.
Chicago (at STL, NYI, BUF)
Montreal (at CAL, at EDM, at VAN)
New York Islanders (PHX, at CHI, at NAS)
Ottawa (at LA, at SJ, at ANH)
Philadelphia (FLA, PHX, at DET)
Pittsburgh (CAR, at FLA, at TB)
Winnipeg (at MIN, DAL, NJ)
Dallas (at WPG, at MIN) will actually play it's only two games this week on a consecutive nights, bringing us to teams with minimal action this week.
Take Two
Including Dallas's two games, eight teams play just twice this week. You may notice nearly all of these games come with a natural advantage as they will be home games for the following:
Anaheim (NYR, OTT)
Boston (COL, at CLS)
Calgary (MON, NJ)
Columbus (at BUF, BOS)
Detroit (PHX, PHI)
St. Louis (CHI, NYR)
Washington (CAR, COL)
Obviously teams playing two games are going to provide you with the least chance for points in any given fantasy week, regardless of what arena they play in, so let's have a look at some of the 16 NHL teams playing three games.
Low Percentage
Montreal's (at CAL, at EDM, at VAN) goalie Carey Price looked sluggish and rusty during their season opener with Toronto (COL, at NAS, EDM), whose schedule we like. There's no telling how long Price owners/Habs fans will need to endure that and a four game trip west isn't likely to help.
In contrast, for those ready to give Patrick Roy the Jack Adams Award already, be mindful of Colorado's (at TOR, at BOS, at WAS) tough East Coast swing.
The New York Rangers (at LA, at SJ, at ANH, at STL) will visit three different Western Conference teams in the first four days of the week and travel to St. Louis (CHI, NYR) to close out. With the demotion of forward J.T. Miller to Hartford, it's possible you could see the return of their offensive spark and captain, Ryan Callahan, on Monday.
Florida's outlook (at PHI, at TB, PIT, LA) gets progressively worse when you consider their most impacting player (Tim Thomas) just joined the team two weeks ago. Then again, Thomas looked sharp in his debut versus Dallas.
High Percentage
This early in the season, it's difficult to find bottom feeders, so a favorable schedule is rare. If you are to bet on a team, we like Vancouver (NJ, SJ, MON) who hosts two of three against travel weary Eastern Conference teams.
Minnesota (at NAS, WPG, DAL) also has a schedule consisting of vulnerable and unknown teams.
There's no telling how the Flyers will look after their game on Saturday night, but on paper, their schedule (FLA, PHX, at DET) doesn't look tough till they travel to Detroit.
Depending on how Cam Ward is feeling, your best offensive explosion of the week is most likely to come from Pittsburgh (CAR, at FLA, at TB) and Tampa Bay (at BUF, FLA, PIT) and ending with a matchup against each other on Saturday night.
Trending
(all data courtesy of CBSSports.com)

Defensemen aren't Fantasy Hockey afterthoughts anymore. Here is how we rank them for 2017-...

You need to hit on some late-round picks to succeed in Fantasy, so here are a few to target...

Learn how to take advantage of the power play with our rundown of the best units in the le...
There aren't enough top-tier goaltenders to go around in Fantasy, so it makes sense to have...

Forwards are the backbone of any Fantasy roster, and we've got the best of the bunch ranked...

Where should Fantasy owners look for value? Often times they come from the victors in these...