Week 5 schedule analysis
Get your lineup in order for the week with Brian Rutherford's Week 5 schedule analysis.
Of the total 88 games on the docket this week, 19 -- denoted in orange on the grid -- of the 30 NHL franchises will play on back-to-back nights this week. With a good portion of the NHL playing sporadically over the next two weeks, your best bet for phantom points will be backup goaltenders. Let's find out why.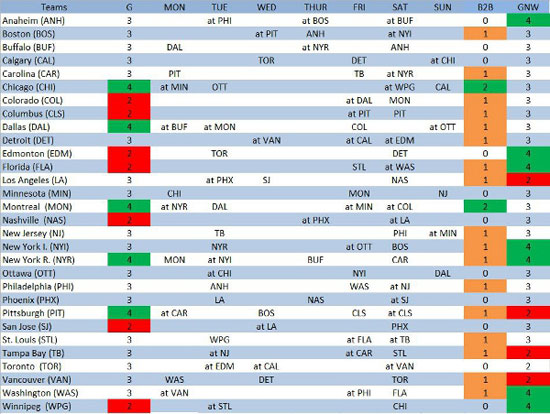 Four Aces
All five teams playing four tilts this week will play them clumped together.
Chicago (at MIN, OTT, at WPG, CAL) has one of the tougher but opportunistic schedules for fantasy owners with two games at home and away, both on back-to-back occurrences at beginning and end of the week. Pittsburgh (at CAR, BOS, CLS, at CLS) will visit the 'Canes on Monday then host Boston on Wednesday before a traditional home-and-home with the Blue Jackets.
Carefully place your bets as the remaining three intertwine.
The very inconsistent Dallas Stars (at BUF, at MON, COL, at OTT) play on back-to-back nights in Buffalo and Montreal to start the week, before heading home to host the Avs and traveling north again to Ontario. Kari Lehtonen is back, no pun intended, but the cautious Lindy Ruff will likely turn to Dan Ellis for two starts this week. The good news fantasy-wise is this team of players seems determined to be a diversely robust bunch, regardless of their team's record. Jamie Benn , Tyler Seguin and Alex Chiasson have a combined 12 goals, 18 assists in 27 games. However, a combined plus-1 translates into their 4-5 team record headed into Saturday night. Also, Valeri Nichushkin quietly returned after being a healthy scratch. He could get top-six minutes if he can just find the confidence, as we just don't see it happening with Erik Cole and Shawn Horcoff . Either way, we're buying if impatient annual re-drafters are selling.
Montreal (at NYR, DAL, at MIN, at COL) will play all four games on back-to-back occurrences, starting with Rangers at Madison Square Garden on Monday night and hosting the Stars on Tuesday. From there, it's off to Minnesota and Colorado on Friday and Saturday night. Lars Eller has cooled off, but Brian Gionta and Tomas Plekanec are warming up and have combined for 11 points over their last four games. As for Carey Price , his career numbers suggest nods against the Rangers and Wild, so look for Peter Budaj in the other two games.
Head coach Alain Vigneault seems to be following some sort of manual for coaching 101, alternating unproductive wingers as healthy scratches. Only the Rangers (MON, at NYI, BUF, CAR) have continued in their offensive struggles. More disappointing news as Henrik Lundqvist (day-to-day) has been out with an undisclosed nagging injury. Although most tabbed Cam Talbot's NHL debut versus the Flyers a solid success, the goalie didn't seem ready for the speed of the NHL game, often times being out of position, but was graced by the goalie gods. If Talbot doesn't improve on Saturday in Detroit and King Henrik is not back by Monday's tilt, you could see another Rangers goalie make his NHL debut, Jason Missiaen . Some good news as Chris Kreider registered a point in his first game this season and J.T. Miller netted what was to be the game-tying goal, until it was disallowed. It makes no sense, but it seems these kids could truly spark the sleeping monster of the NHL, the Rangers offense.
Three of a Kind
Eleven remaining teams play on a b2b occurrences this week and we've placed their   gamble value on strength of opponent, road/home ratio, as well as probable goalie personnel. The back-to-back occurrence appears in bold, along with a quick trend.
Hold
Los Angeles (at PHX, SJ, Jonathan Quick (2.55 GAA) has a career record of 9-5-4 against the Sharks.
Islanders (NYR, at OTT, Pierre-Marc Bouchard is beginning to string together good games for his owners.
St. Louis (WPG, at FLA, at TB): T.J. Oshie has been consistent, holding a point in three straight.
Tampa Bay (at NJ, at CAR, Steven Stamkos has 52 points in 52 career games against this week's opponents, so more consistency is headed your way.
Fold
Boston (at PIT, ANH, at NYI): Although he'll likely only play one of the two back-to-back games, Tuukka Rask is 1-5 (3.34 GAA) in his career against the Pens and Ducks.
Detroit (at VAN, at CAL, at EDM): Sluggish offense meets road trip, usually not a successful remedy.
Philadelphia (ANH, WAS, at NJ): Has scored just 13 goals this season.
Washington (at VAN, at PHI, FLA): The week could go either way for the definition of mediocre (5-5, 30 GF/GA) NHL hockey.
Meanwhile, Minnesota (CHI, MON, NJ), Carolina (PIT, TB, at NYR) and New Jersey (TB, PHI, at MIN) have enough problems, even without playing on back-to-back nights this week. Josh Harding was your number one man, as was Cam Ward and Cory Schneider , respectively. All three now seem headed to the IR or at least nagged by injury. It's very likely Martin Brodeur , Anton Khudobin and Niklas Backstrom will all take back their crease for the time being. Also, Minnie has called up the talents of Johan Gustafsson , who was 2-0 with a 1.99 GAA with the Iowa Wild of the AHL. This could be more than a depth move when it's all said and done and that's all we're saying about that.
One Pair- The following seven teams have the dreaded two-game schedule. Let's find out who's worth holding (more favorable schedule) and who you'll be folding (less favorable schedule).
Hold
Edmonton (TOR, DET)
San Jose (at LA, PHX)
Fold
Nashville (at PHX, at LA)
Winnipeg (at STL, CHI)
Leaving the remaining three playing on back-to-back nights:
Columbus (at PIT, PIT) gets the best bang for their buck with two games, but can you trust them against the Penguins, much less on back-to-back nights? Colorado (at DAL, MON) also is playing both games on Friday and Saturday night. Their opponents have a pedestrian 10-9 record combined record. Florida (STL, at WAS) faces two very explosive offenses, but the only question is will they show up?
Defensemen aren't Fantasy Hockey afterthoughts anymore. Here is how we rank them for 2017-...

You need to hit on some late-round picks to succeed in Fantasy, so here are a few to target...

Learn how to take advantage of the power play with our rundown of the best units in the le...
There aren't enough top-tier goaltenders to go around in Fantasy, so it makes sense to have...

Forwards are the backbone of any Fantasy roster, and we've got the best of the bunch ranked...

Where should Fantasy owners look for value? Often times they come from the victors in these...