Week 6 schedule analysis
Which teams have an advantage in the Week 6 schedule? Brian Rutherford breaks down the Fantasy nuggets in his latest schedule analysis.
The NHL schedule has been anything but predictable. Perhaps it's Detroit's reassignment to the Eastern Conference, but it seems the Western Conference has taken the alpha role one month into the season. Headed into Friday's (11/1/13) action 10 of the 16 Eastern Conference had a record above .500 while the Western Conference, who has a gaudy combined record of 57-21-10 in home games, has just three teams of the same futility. With the beginning of the month just having passed, we felt a weekly and monthly perspective was needed.
*All teams include (this week's schedule, home/away totals for the month; BOLD indicates back-to-back occurrence).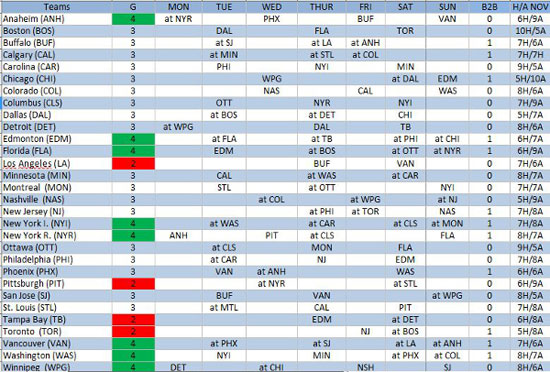 Four Aces
Anaheim (at NYR, PHX, BUF VAN-6H/9A) Ducks will play four games including the two very different teams (Buffalo, Phoenix) on the back end of back-to-back nights.
Edmonton (at FLA, at TB, at PHI, at CHI- 6H/7A) goes on a Florida swing before sweeping up to Philly and Chicago to end the week, yikes.
Florida (EDM, at BOS, at OTT, at NYR-6H/9A) is hosting Edmonton on Tuesday before playing eight of their next nine games on the road over the next 19 days. Opponents include Boston, Ottawa, the Avs and Canucks to name a few.
The second-place Islanders (at WAS, at CAR, at CLS, at MON-7H/8A) have five of their next 6 on the road. Sooner or later these guys are going to need an upgrade or veteran depth of some kind at the goalie position.
The Rangers (ANH, PIT, at CLS, FLA- 8H/7A) start November with seven of their first 10 at the Garden.
The Vancouver Canucks (at PHX, at SJ, at LA, at ANH-7H/6A) finally extended the Sedins, how will they react?
The beginning and end of the week will be most trying for the Washington Capitals (NYI, MIN, at PHX, at COL- 8H/7A).
Back-To-Back
Buffalo (at SJ, at LA, at ANH- 7H/6A), New Jersey (at PHI, at TOR, NAS-7H/8A) and Phoenix (VAN, at ANH, WAS- 6H/6A) all have games on back-to-back nights.
One Pair
Tampa Bay (EDM, at DET- 6H/8A) plays 14 games in the month of November and is one of four teams playing just a pair of tilts this week.
Los Angeles (BUF, VAN-7H/6A will host the Sabres and Canucks before a four-game East Coast swing.
Pittsburgh (at NYR, at STL- 6H/9A) has no trend, spending most of a busy 15-game month on two and three game road trips.
Toronto (NJ, at BOS) has just 13 games this month, five on the road to start, beginning with playing on back-to-back nights this week.
Three of a Kind
Aside from the streaking Colorado (NAS, CAL, WAS) Avalanche, who play three easy tilts at home, here are some teams playing vanilla (3 games) schedules not only this week, but have a 13-15 game schedule in the month of November.
After visiting the Jets on Monday, Detroit (at WPG, DAL, TB-8H/6A) heads home for seven of their next 8 games and the competition includes inconsistent teams like the Stars, Jets, Caps, Preds, Canes and Sens.
Nashville (at COL, at WPG, at NJ- 5H/9A) is in the midst of a seven-game road trip. After catching their breath against the Wings on the 19th, Preds visit Toronto on the 21st then play four of their last five at home in November.
Philadelphia (at CAR, NJ, EDM - 7H/8A) will play six of their first eight games in November on the road.
Ottawa (at CLS, MON, FLA-9H/5A) will host seven of their first eight games this month.
San Jose (BUF, VAN, at WPG-8H/5A) starts with three at home, five on the road, and then five at home to close out the month.
After traveling to Montreal, St. Louis (at MTL, CAL, PIT-7H/8A) heads home for seven of next 10 contests.
The Calgary (at MIN, at STL, at COL-7H/7A) Flames flip flop most of the month, a few 3 game trends, but nothing that sticks out.
Carolina (PHI, NYI, MIN-9H/5A) begins the month with a five game homestand, starting with three very winnable games.
Two Pair
Dallas (at BOS, at DET, CHI-5H/7A) is the team with the shortest (fewest games) straw this month and beginning with a troubling trio of games this week.
Columbus (OTT, NYR, NYI-7H/9A) has a 16-game schedule this month, so Blue Jacket fans and management should find out early what the commitment is there.
The defending Eastern Conference champion Boston Bruins (DAL, FLA, TOR-10H/5A) are playing 10 out of 15 games this month from TD Garden, including a five game home-stand starting this week with a few cupcakes coming into town. If we were betting men, and we are, put your money on Claude Julien's B's.
The Stanley Cup champion Chicago Blackhawks (WPG, at DAL, EDM-5H/10A) bear an exactly opposite fate in November, after playing four of their first six at home, eight of their final nine games in the month are on the road.
Defensemen aren't Fantasy Hockey afterthoughts anymore. Here is how we rank them for 2017-...

You need to hit on some late-round picks to succeed in Fantasy, so here are a few to target...

Learn how to take advantage of the power play with our rundown of the best units in the le...
There aren't enough top-tier goaltenders to go around in Fantasy, so it makes sense to have...

Forwards are the backbone of any Fantasy roster, and we've got the best of the bunch ranked...

Where should Fantasy owners look for value? Often times they come from the victors in these...