Week 8 schedule analysis
What does the Week 8 NHL schedule have in store for Fantasy? Brian Rutherford breaks it all down in his latest analysis.
Every team in the NHL will play at least three games next week and 12 teams are playing four. Perhaps it's the two-week perspective that will truly give you the man advantage as the month comes to an end, so be sure to check out games next week. In the meantime, like last week, back-to-back games can come into focus as a natural advantage. But the biggest change from last week to this week is the amount of teams (one-third of the league) playing an extreme (2 or 4 games) schedule.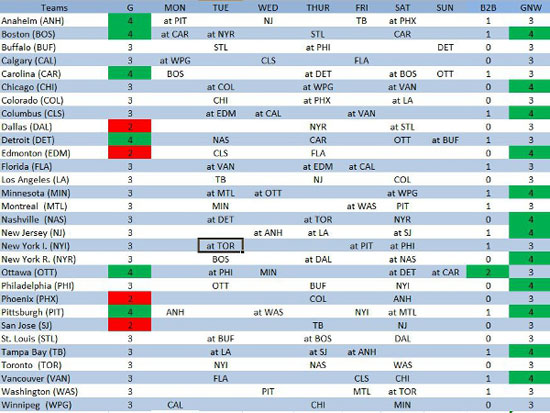 *Bold indicates b2b (back-to-back) occurrence
Four Aces
Anaheim (at PIT, NJ, TB, at PHX) has a funky schedule considering it's chock-full of tough teams with a history of inconsistency thus far. However the Ducks' ability to stay consistent this season is in question all of a sudden now too as their East Coast swing comes to an end on Monday in Pittsburgh. Nonetheless, Ryan Getzlaf is back and all bets on Anaheim continuing on north, not south in the standings.
Loui Eriksson has six points in five games since coming back. Outside of their tilt with St. Louis at home, Boston (at CAR, at NYR, STL, CAR) has a few cupcake games if you ask us.
Alleged cupcakes, Carolina (BOS, at DET, at BOS, OTT) has got the Eastern Conference champions twice in this week. Drayson Bowman is warming and could be moving up the depth charts.
Detroit (NAS, CAR, OTT, at BUF) could still be without the services of Daniel Alfredsson (groin) when the Sens come marching in, you just never can tell with injuries like this to 40-year-olds. One night later, currently losers of five straight (all overtime/shootout losses), Detroit will play in Buffalo. Johan Franzen has two goals and five assists since returning to the lineup three games ago.
Ottawa (at PHI, MIN, at DET, at CAR) has the most intriguing schedule with two b2b occurrences, allowing for a pair of games for both Craig Anderson and Robin Lehner. It's important to note, Anderson was due to start this Sunday, meaning back-to-back games this past weekend. So it's likely to be Lehner in Philly, then Anderson against Minny.
Pittsburgh's (ANH, at WAS, NYI, at MTL) schedule should get progressively easier, but watch out for the scorcher (Anaheim) to start out the week on Monday night. Even with James Neal back, the Pens are struggling (one goal scored in four of each of their last 5 games) to find the back of net, but how long could it possibly continue?
One Pair
Teams with two games on the docket have never been your best odds. But in case you're in a jam, here's your analysis on teams playing just two tilts.
Dallas (NYR, at STL) will host the warming Rangers and will likely go to St. Louis and sing the blues. Some good news about a slow week is that Ray Whitney looks to be nearing a return.
Edmonton (CLS, FLA) is a solid bet from a schedule standpoint, especially because Marian Gaborik is missing from the mix. Ilya Bryzgalov is on his way to Alberta by way of Oklahoma (AHL). He should join practice Monday. Cue Devyn Dubnyk's resurrection? He got a win on Saturday. Also, Oscar Klefbom is headed back to AHL.
The Phoenix Coyotes (COL, ANH) are the ugly duckling of the week, with two difficult draws. At least Martin Hanzal is continuing his production. Lauri Korpikoski logged a goal and two assists in Saturday's win over Tampa Bay, and Connor Murphy is on the way up?
San Jose (TB, NJ) has the Lightning in the middle of a West Coast swing and then the hapless but developing Devils.
Three of a Kind
Both Columbus (at EDM, at CAL, at VAN) and Florida (at VAN, at EDM, at CAL) will take the "Canadian swing." Let's see what other trends are available for some of the teams playing three tilts this week.
Hold
Calgary (at WPG, CLS, FLA) has a low-strength of schedule, can they cash in?
Los Angeles (TB, NJ, COL) has two East Coast teams living out of their suitcases, then the Avs. Jonathan Quick is bothered by his groin, so could be an interesting week as Ben Scrivens continues to man the crease.
Montreal (MIN, at WAS, PIT) should have a low-scoring affair with the Wild, but anything goes when they take on the Caps and Pens. David Desharnais returned to the lineup on Friday after being a healthy scratch last week and won Friday's tilt. The Lars Eller show is underway again, as Eller has two goals and two assists in his last four games. Max Pacioretty seems to be gearing up for one of his classic streaks - you heard it here first.
Philadelphia (OTT, BUF, NYI) will play all three from home against three Eastern Conference cellar dwellers. Your choice to determine whether their own dweller status, or their solid play in three of their last four games is more prevalent.
Toronto (NYI, NAS, WAS) plays three from home as well, how 'bout that? More important is Toronto's struggles lately. No fear, John-Michael Liles is headed back to AHL after looking pretty in the press box for a few weeks and Tyler Bozak is on the way back? Hmm…Well, at least Nikolai Kulemin is on the board finally.
Vancouver (FLA, CLS, CHI) has two "gimmes" and the Blackhawks, plan accordingly. Even if you're not a Jannik Hansen owner, his return could mean Alexander Burrows owners get a big boost this week as Burrows lined up with the Sedin twins during practice this past weekend.
Fold
Despite spending two days on the road and three games against teams with a combined record of 40-13-8, Colorado's (CHI, at PHX, at LA) biggest problem is not their schedule, but Matt Duchene's questionable status rolling into the week.
New Jersey (at ANH, at LA, at SJ) probably has the toughest schedule of all 30 NHL teams. Despite resurgence of Martin Brodeur and Jaromir Jagr's two goals during the Devils 4-1 win over the slumping Pens, SELL, SELL, SELL, at least for the week pending.
You and the Rangers (BOS, at DAL, at NAS) could get Rick Nash back as early as Tuesday night against the Bruins. At this point, it appears Cam Talbot has settled in nicely and become a viable handcuff option for those interested Henrik Lundqvist owners. However, the Rangers take their show back out on the road for barbecue sauce and steers.
At 6-1 for the month of November, we really do like Minnesota (at MTL, at OTT, at WPG). And while their schedule is not tough and their goalie situation makes amends for their low-scoring touch, something about b2b games in Montreal and Ottawa leaves us hesitant. Charlie Coyle scored his second goal of the season on Friday against Florida.
Tampa Bay (at LA, at SJ, at ANH) will play LA and San Jose before heading back to SoCal for a game that Anaheim is likely looking forward to after last week's 5-1 shellacking. Stay diligent as Ben Bishop (collarbone) is considered day-to-day. Anders Lindback anyone? Also, Steven Stamkos's replacement J.T. Brown is getting third line minutes and scored his first NHL goal in a 6-3 loss on Saturday.
Defensemen aren't Fantasy Hockey afterthoughts anymore. Here is how we rank them for 2017-...

You need to hit on some late-round picks to succeed in Fantasy, so here are a few to target...

Learn how to take advantage of the power play with our rundown of the best units in the le...
There aren't enough top-tier goaltenders to go around in Fantasy, so it makes sense to have...

Forwards are the backbone of any Fantasy roster, and we've got the best of the bunch ranked...

Where should Fantasy owners look for value? Often times they come from the victors in these...