Saved by the ball
How a small Indiana town used sports to preserve its school and perhaps itself
How a small Indiana town used sports to preserve its school and perhaps itself
Saved by the ball
August 12, 2014 - 4:35 PM EST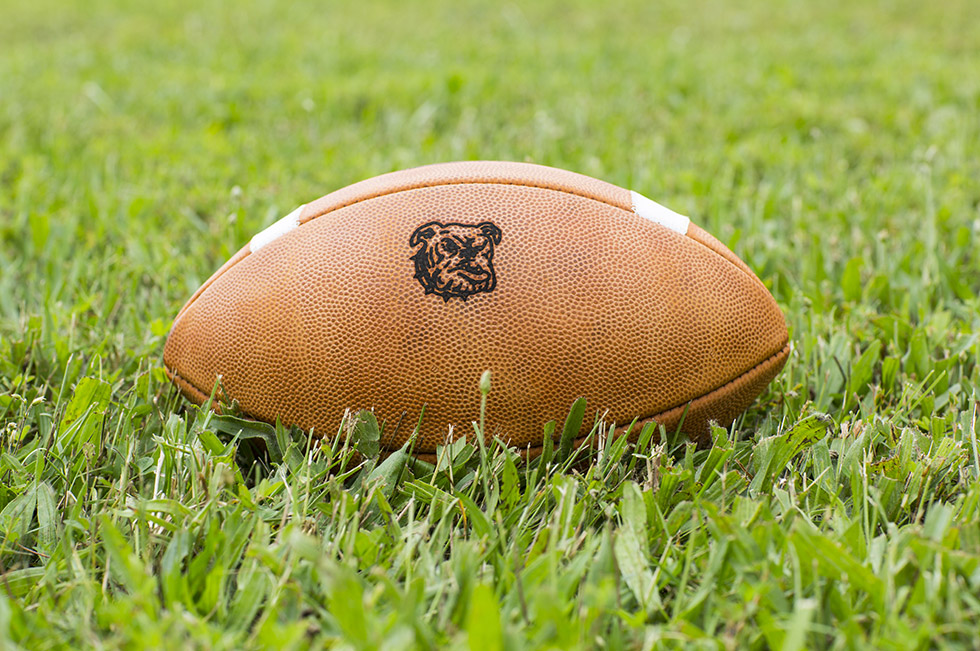 DUGGER, Ind. -- History came calling this winter for the tiny Indiana town of Dugger, just like history had come calling years ago for other tiny Indiana towns like Brisco and Tunnelton and Cass, ghost towns now. Once history has its eye on you, you're done. You're history. You gave it a good run and you showed plenty of heart, all those sports clichés we use to prop up the tiny and hopeless, but small towns like Dugger are too small to last forever. One truth: Life isn't sports. And another: Towns like Dugger are born to die.
History came calling for Dugger in the cold of December, beckoning with a bony finger for the coal-mining town of 900 in southwest Indiana, but then something unusual and amazing happened. Dugger said, stop. Dugger said, wait.Dugger said, no.And here's the part of the story that's really cool: Sports helped it happen. You could argue that sports made it happen.
***
We're talking high school sports. And we're talking around the table at a manufactured home in Dugger, the home of Greg Ellis' parents, and what the five of us are doing this week in Dugger mimics how this story got started in December -- or at least, how the uplifting part of this story got started.Back then, when the cost-cutting Northeast School Corporation decided to eliminate the schools in Dugger to consolidate a six-school district into four, a handful of Dugger people started meeting to discuss their options. They met at homes, then moved into the local American Legion hall as their grass-roots movement grew. Small towns around America have held similar meetings in recent years as school boards have picked off the smallest schools in the district, like a pack of hyenas picking off the slowest gazelle. Consolidation is happening everywhere.The small towns consolidation happens
to
? They're dying. They're dying all over America.Those are the stakes at Dugger: Not just Union High School, but Dugger itself."Lose the school," says Danny Tieken, "and you cut the town's heart out."Adds Greg Ellis: "The town would dry up and disappear."Proof of what could happen if Dugger lost its school, proof of what these people are sure would happen, is one town over. It's called Cass Township, and it used to have a grocery store. It used to have a machine shop with scores of employees.It used to have a school.
"Lose the school and you cut the town's heart out."
In 1949 the Cass School Building had more than 100 kids, but in 1965 three tiny Sullivan County schools -- Cass, Pleasantville and Dugger -- consolidated into one high school, called "Union." History beckoned its bony finger for Cass Township.Today there is almost nothing here. Where the machine shop stood is an empty lot. Weeds and cinder blocks mostly, with a handful of original plumbing poking out of the ground like a corpse trying to escape its coffin. Greg Ellis is driving his red pickup truck through Cass, a trip that takes about 45 seconds. He points out the tattered mobile homes, and when I ask him to show me the rest of town, he stares at me and says, "That's it. What you see is what there is."In the backseat, Matt Kelm speaks up. Kelm is like Ellis, and like the woman sitting next to him, Nikki McCoy: He's a concerned parent and Union High alum. And he wants me to see what triggered Cass' demise. He wants me to see Cass School Building.Ellis drives that way, another 45 seconds or so, and we stop in front of a gravel road that leads into some trees and then just sort of ends. Nothing is here. Absolutely nothing."These woods right here? That's where the school used to be," Kelm says.These days Cass Township is more about the dead than the living. No stores. No post office. No school. The only thing Cass has in abundance is tombstones. It has five cemeteries.
***
Does any of this sound familiar? Dugger was in the movie
Hoosiers,
one of the schools tiny (and mythical) Hickory High beat in the playoffs en route to the 1954 Indiana state basketball championship. Does that ring a bell? No? Maybe this will help."They had to run the picket fence to beat us," Greg Ellis says, and everyone around the table at his house is smiling.Dugger High School, and then Union High, has some glorious athletic history if you dig deep enough to find it. The boys basketball team won sectional championships in 1985 and '87, and went 21-2 in 1990 and 20-4 in '98. Dugger is home to the Boyd basketball family, with Benji Boyd and his brother, Doug, each scoring more than 1,000 career points for Union High in the 1970s.Then came Brody Boyd.Benji's son, Brody Boyd was one of the best players in Indiana schoolboy history, a 2,632-point scorer who finished his career third all-time in the state. This town of about 900 people would fill the 900-seat gym for his games, like when he set the school record with 51 points, or when his half-court shot at the buzzer beat North Knox on a chilly November night. Brody Boyd was so good, he brought Bob Knight to Dugger. Knight sat with 900 people to watch him, then was shot down by Boyd's mother, who wanted nothing to do with the surly Indiana coach.Brody Boyd went to Iowa, but not before leading Union to the 2000 Class A championship game, when he scored 35 points in an
82-70 loss to Lafayette Central Catholic.
After Boyd scored 28 of Union's 39 points in the second half, Central Catholic coach Chad Dunwoody called him "the most incredible player I've seen. He hit shots that most players couldn't take." Catholic guard Ryan Gilman noted that Boyd "was hitting from 30 feet. I've never seen that before."Boyd went to Iowa, and Dugger went with him."This is diehard Hoosier territory," Matt Kelm says, "but Dugger was flying Iowa banners because of Brody Boyd. We get behind it. We don't do it halfway. We're all in."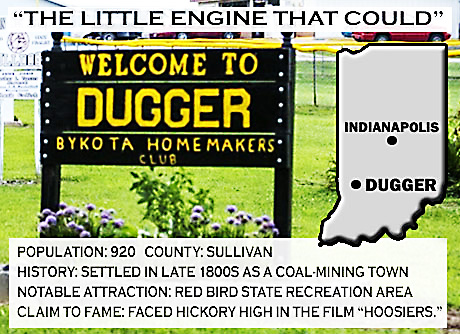 (Bill Speros / CBSSports.com)
Like the football games. Union's field is set behind the school, tucked up against the woods. There is seating for maybe 500 fans, which isn't nearly enough, so Dugger improvised. Townsfolk drive their trucks past the school, over the grass and to the stadium, and then back their trucks against the chain-link fence that rings the field. They set up grills and lawn chairs in their truck bed and watch the game 20 feet away."You get a touchdown," says Nikki McCoy, "we rev up the trucks!""If you want to rob the bank," says Danny Tieken, "Friday would be the night to do it."You need to know Tieken. Union High football has never been particularly good -- "For years the best play here was 'take a knee,'" Kelm says -- but Tieken arrived in 1986 and won his first game. Then his second. And third. When Union reached 6-0, the Bulldogs were ranked fourth in the state for their showdown with arch-rival Linton."It's a rivalry like the Heat and Pacers are a rivalry," Kelm says.What does that mean, I ask?Answers Ellis: "Hammer and nail."Some say the biggest regular-season crowd in Indiana Class A history was at Linton High for the 1986 meeting, more than 4,000 people crammed into the bleachers. "So many people crowded in there," Tieken says, "you couldn't stir 'em with a stick."Linton beat Union that night, like it has won every time the schools have played since 1973 -- a dispiriting fact I heard at least five times in one afternoon in Dugger -- but Tieken's first team finished 7-2. His next two teams won six games each, and when he left for Mitchell (Ind.) High with a 19-9 record, he was (and still is) the only Union football coach with a record better than .500.Around Dugger, that makes Danny Tieken a legend. So do stories like the time a fiery Union fan was screaming at him all game from the back of her pickup truck until Tieken turned around, walked up to the fence where her truck was parked, ripped off his headphones and yelled, "Do you want to coach this team?" His motivational antics are legendary too, like when he livened up practice on a snowy day in November by showing up shirtless, wearing shorts and an old leather helmet on his head, or when he coached for a day as Moses."Used a mop," Tieken says. "The mop head was my hair. The handle was my staff."Tieken moved on, eventually settled with his wife about 40 miles away in Bloomington, and hadn't been back to Dugger since 1988. But Dugger didn't forget him. And he didn't forget Dugger.
***
Indiana State Troopers were called to the North Central High gym in Farmersburg in November when the Northeast School Corporation met to discuss eliminating Union High. Dugger families wanting to save Union filled the bleachers on one side of the gym. People wanting to sacrifice Union High for the sake of the corporation sat on the other. Troopers lined the court, between the two groups of more than 600 people. When the NSC voted the next month to consolidate -- and close Union High -- Dugger families rose as one and walked out of the gym. The people on the other side, in favor of consolidation, applauded as they left. A few can be heard cackling with glee."It was ugly, and it was personal," Nikki McCoy says.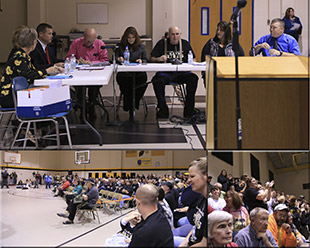 Emotions were raw at meetings before Union's fate was decided. (Lana Stringer / Lana Stringer Photography)
Dugger got moving. They met in small groups, Greg Ellis and Kyle Foli leading the Save Union High School movement, which decided not to buy time with an injunction but to create its own charter school in Dugger. As a side note, Ellis works for the Indiana Department of Transportation. Foli is with Hoosier Energy. They're busy, all of these people in Dugger with jobs and families and lives, but this cause is bigger than saving Union High School. This is about Dugger's very own survival -- and something about Dugger gets inside of its people."I could've gone to Chicago or Indianapolis and made three or four times what I make here," Ellis says, "but I wanted my kids to grow up the way I grew up."Ellis' voice cracks. He cried or came close to it several times in an afternoon visit because he's passionate about Dugger, and because he's running on emotional fumes. His son, Cameron, was diagnosed four years ago with leukemia and was so ill that the Make-A-Wish Foundation granted his dream of hanging out for a day at Marvel Comics with one of the main illustrators for Spider-Man. Meanwhile, Ellis' father-in-law was dying this winter of lung cancer. Then came the Union fight, and the battle to save Dugger. Ellis' mother took out $12,000 from her retirement fund to pay Save Union High's attorneys. This spring when the group's initial application for a charter was rejected by the Indiana Charter School Board, something inside Greg Ellis' belly broke. He was hospitalized for several days with ulcers, the stress behind the 50 pounds he had been losing in recent months.Kyle Foli took over as president of Save Union High School, and the meetings continued on behalf of what's now called Dugger Union Community Schools. Along the way the group partnered with the Indiana Cyber Charter School, which has helped communities around the state form online schools, and in June the Dugger Union Community Schools was approved for a charter to form a blended school system -- classroom learning for core classes and online learning for electives, the online classes also taking place at the school and supported by teachers in a study-hall environment.The three Dugger schools (Dugger Elementary, and Union junior and senior highs) had 323 students last year, and since December their parents had been scrambling to figure out where their kids would go to school this year. Or worse -- looking for a new place to live."When the board voted to consolidate, people all over town put their houses up for sale," Nikki McCoy says, then turns to Ellis and names a prominent Dugger family. "They still have theirs up for sale."Ellis didn't know that. "Still?""Still," McCoy says.Around the table at Greg Ellis' house, three adults are shaking their heads: Ellis, McCoy, Tieken. The fourth, Matt Kelm, speaks up:"A lot of people are in limbo," he says.Staying wouldn't be easy for anyone, the people around this table included. Ellis' four kids were earmarked to attend three schools in three different towns anywhere from 10 to 25 miles apart: Hymera, Shelburn and Farmersburg. And Ellis knows it could've been worse."I know one kid in Dugger who was going to be bused 56 miles," Ellis tells me, then turns to the rest of the table. "Can you imagine? What parent wants to put their kid on a bus for two hours each way?"Says Tieken: "That's a kid who goes home, eats and goes to bed. Every day."Adds Kelm: "And that's without any after-school activities. Forget sports."But no. We cannot forget sports.
***
Kids are coming. Parents are on board. In early July the Dugger Union Community Schools had 220 students signed up, and the Indiana Cyber Charter School estimated 314 kids would be there when the schools opened in late August, just nine fewer than the 323 kids in Dugger schools last year. Here we are, a week away from the first day of school, and roughly 320 kids have signed up. Once a town without a school, Dugger with its fancy on-line classes -- any CSI fans want to take forensic science? -- now is getting kids from other districts.Union High could have about 100 of those kids, and Nikki McCoy -- a mother of volleyball players, and coach of the Union volleyball team -- figures at least 75 of them will play a sport."I'd like to think everyone is focused on academics, but that's not the truth," Greg Ellis says. "If we weren't able to offer at least one sport in every season for both genders, we probably wouldn't have this school."Adds Tieken: "Sports is the glue for this whole thing."Football is the strongest part of that cement, and Tieken is still a football legend around Dugger. He left in 1988 but never stopped loving the place -- the people, the town, the smell of hamburgers and brats as he took his team out of the locker room, through the gantlet of pickups and onto the field at Union High. When the school board was considering eliminating Union High this winter, Tieken drove 40 miles from Bloomington, where he was an English teacher, to plead for mercy. At one point he blurted, "When I die, I want there to still be a Union High School." The plea went unanswered but the trip galvanized Tieken. He was 59, had spent 15 years in another district and was four or five years from retirement. But this was Dugger. And he remembered Dugger. And Dugger remembered him.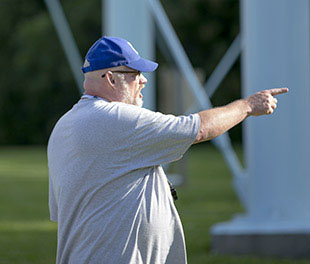 Danny Tieken left Dugger in 1988 as Union High's most successful football coach. He returned to Dugger this summer to be the football coach and principal at the community's new charter school. (Lana Stringer / Lana Stringer Photography)
And so it happened in June that a bartender in downtown Dugger shouted to the patrons at Uptown Tavern, "Coach Tieken's coming back!" The crowd cheered, because they remember. More than 300 kids are expected this fall, and Greg Ellis turned to Danny Tieken this week and told him, "They're coming because of you. They've heard about you for 15 years."Danny Tieken is more than a football coach, see. He will be the principal of the new Union high school, and he will teach an English class, and he will do all of it with the creativity he has as a football coach. Greg Ellis took English from Tieken in the late 1980s, and still remembers listening to the Stephen King short stories Tieken played on audio-tape."You're the reason I love to read, Coach," Ellis tells Tieken, and starts to tear up. "I found every Stephen King book I could find, then went to Dean Koontz. To this day I'm always looking for a new author. You did that for me."Danny Tieken is more than a football coach -- but he will be that, too. He's coming out of coaching retirement to lead Union this fall, and he'll have an array of new equipment to give his players. That's a story, too.Probably the best part of this story.
***
But first comes the worst part of this story: When the Northeast Schools Corporation voted to eliminate Union High School, it partnered with one of the area's biggest employers, the Wabash Valley Correctional Facility, to send a busload of inmates to the schools and empty the buildings out. Every chair, every desk. Everything."They even took a $5 dollhouse from the kindergarten room," Ellis says.They also took the textbooks, which the Wabash Correction Facility recycled. The books were put in a dumpster and shipped to the recycling plant, where Ellis rescued them. I asked him how. "The two guys working the recycling center are from Dugger," Ellis says, smiling at an otherwise ugly memory.All of that came a few days after a handful of district officials visited the high school on a Friday night and cleaned out the athletic department. Shoulder pads, footballs, blocking dummies, even the football field's new scoreboard that had been provided by local businesses, not by the school district. You name it, they took it. Dugger was watching -- it's a small town, with houses near the school -- and families gathered on Facebook to mourn."They left behind one volleyball," says McCoy, the volleyball coach. "And it's a piece of crap.""What they did to us is kind of like the way the Colts moved to Indianapolis," Ellis says, referring to the infamous Mayflower moving van Robert Irsay used in 1984 to sneak his franchise out of Baltimore.Tieken emailed coaching colleagues around the state and asked for help outfitting and equipping his upcoming football team. Came back so many emails: What do you need? Come see us. Bluffton High School, located 200 miles away, gave Tieken about a dozen shoulder pads. Coach Eric Moore of Center Grove, near Indianapolis about 80 miles away, told Tieken: "Bring a truck -- bring a truck and a trailer.""[Moore] asks me, 'You guys need a water cooler?' We left with four," Tieken says. "We left with tackle dummies, hand dummies, cameras, helmets, mouth guards, red-and-white practice jerseys from their 2008 state championship season -- and although we're black and gold, we
are
going to wear them for practice. One, they were donated and we're grateful. Two, let's hope some of that mojo rubs off."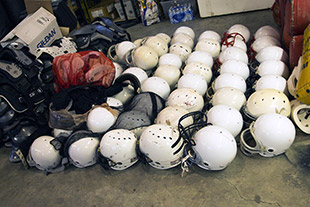 Virtually all of Union's equipment was donated by other area schools. (Lana Stringer / Lana Stringer Photography
Tieken is smiling, and soon he's sniffling. Because he's blown away by the response from schools all over the state. He left Center Grove for Columbus North, located about 90 miles east of Dugger, where coach Tim Bless had asked him for any special requests."Well," Tieken told him, "the kids really want flat, black helmets.""I was hoping for one or two," Tieken tells me. "[Bless] had 18 reconditioned, flat black helmets, game condition, waiting for us. I lost it. And then we're about to leave, and he reaches up on a shelf and pulls something down and he says, 'When you play your first game, you need to be playing with a Bulldog football.'"Columbus North is the Bulldogs. So is Union. Tim Bless handed Tieken a game ball with a Bulldog logo printed on it, and weeks later the gesture still gives Tieken the chills."Look at the hair on my arms," he says, reaching over to show every hair standing on end. At Bloomington North, coach Scott Bless (Tim Bless' brother) gave Union headsets and shoulder pads, goalpost pads and sideline markers, and then came out with several boxes of pants he said would be great for practice."We looked at them and started crying," Tieken says. "They were game-quality. Better than anything we could afford."At Avon High almost 90 miles to the northeast, Avon coach Mark Bless -- the third Bless brother -- offered so much gear that Tieken took two of his players to help carry the stuff home. One player was a junior named Anthony Ellis, Greg Ellis' nephew and the quarterback on this year's team. Bless looked Ellis up and down.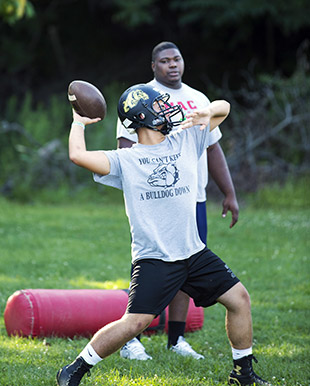 Union's fall camp is underway as players get ready for the 2014 season. (Lana Stringer / Lana Stringer Photography
"You need shoulder pads?" he asked, to which Anthony Ellis nodded."He pulls out a $250 pair of Douglas quarterback shoulder pads," Tieken says. "And then [Bless] says, 'Better throw some touchdowns, son.'"Bless asked the Dugger group if anyone wanted a cowboy collar. The other player Tieken brought, senior lineman Wyatt Inman, is a big kid -- more than 300 pounds, and with a head that was too big to comfortably wear any of the helmets they'd accumulated -- but he's shy. He whispered to Tieken, "I'd love one."Tieken said, "Don't tell me. Look [Bless] in the eye and tell him."Inman did it, and Bless tossed him a cowboy collar. Then he sized him up and handed him a helmet that would fit, too."I lost it," Tieken says.
***
For months the equipment filled garages all over town. Until the Northeast Schools Corporation gave the Dugger group access to its schools last week, everything remained locked up and untended, with grass growing tall on the football field and the Bulldog logo faded on the gym and weeds sprouting in the garden in front of the high school.Union athletics director Steve Hall, working on a volunteer basis, has put together a nine-game football schedule and is getting games for the basketball and volleyball teams. He also had a garage full of shoulder pads and tackling dummies. Another garage in town had the text books. Another had desks and chairs.It's an enormous undertaking, saving a school, especially for a town the size of Dugger. But Dugger has this thing, this
heart,
that beats too strong to just stop. Four years ago when Cameron Ellis was diagnosed with leukemia, Nikki McCoy mounted a social media rally that raised more than $16,000 for his medical bills. Four years later Cameron Ellis' leukemia is in remission. His weight once dropped to 42 pounds, but he is coming back. One day this summer Greg Ellis drove his 9-year-old son to Riley Hospital for Children in Indianapolis for chemotherapy at 10 a.m. and a spinal tap at 1 p.m. By 4 they were back in Dugger for football camp, and on the first drill Cameron went out for a pass, caught it, and turned to find his dad in the stands.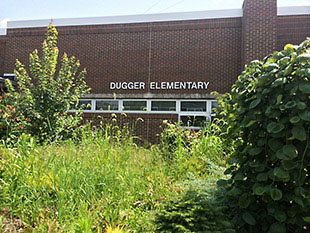 Weeds have taken over the grounds in places as the schools in Dugger wait in limbo between the closure of the public school system and the opening of a new charter school at the former public-school location. (Gregg Doyel / CBSSports.com)
"He wanted to make sure I was watching," Greg Ellis says, lower lip quivering. "So you want to know what Dugger football means? That."About the $16,000 the town of Dugger raised for Cameron's medical bills: Dugger has 900 people, so that's close to $20 from every man, woman and child in town. And this is not an affluent town. Its biggest employers are Wabash Valley Correctional and the Bear Run Coal Mine. The hardware store in town, Smith's Hardware, closed down last month. Main Street is one block with vacant lots, vacant buildings, one tavern and one restaurant, Ray's Red Rooster Café. There's also the American Legion hall, Northside Machine Company and the Dugger Coal Mining Museum, which sits in a storefront no bigger than a bedroom and is open by appointment only. Down the road is Marlow Auto Sales, "since 1966," which has four cars on its lot, all of them at least six years old, the nicest a gold 2007 Chrysler Pacifica.All over town are small signs on light posts and fences -- rallying cries for Dugger schools, black-and-gold pieces of paper with the Bulldogs logo and a single word: Believe, says one. Favor, says another. Achieve. Dugger. Union.Good times are ahead. People here are sure of it. First Financial Bank opened a branch last year, and a Dollar General is planned."Dollar General -- that's big news for Dugger," Kelm says with a dose of self-deprecation and irony."It is!" McCoy says, with none of either.Down the road is the husk of Cass Township and the fading town of Pleasantville, which also lost its school in that district consolidation of 1965. Pleasantville still exists, but just barely. Its grocery store is gone. So is its gas station and post office. Schools leave, and towns die. It's the way of the world.It won't be the way of Dugger. The high school opens next week, and the football team is getting ready for the season. It has been doing conditioning work since mid-July, and soon coach Danny Tieken will have enough equipment to give each player his own pads, helmet, jersey and pants. The home opener is Aug. 23 against Indiana Home School, and trucks will line the field just like always. The gate receipts from four or five home games will pay at least one electric bill for the whole school. That's how it will happen at Dugger, the sports teams supporting the school, the school supporting the town, the town supporting the sports teams. It's a cycle, a beautiful one, and it's not over."We're the little engine that could," Matt Kelm says, "and we're about to make it to the top of that hill."