Life After Near Death
Two kidney transplants give a college basketball coach a new outlook on life.
Two kidney transplants give a college basketball coach a new outlook on life.
Life After Near Death
August 21, 2014 - 2:34 PM EST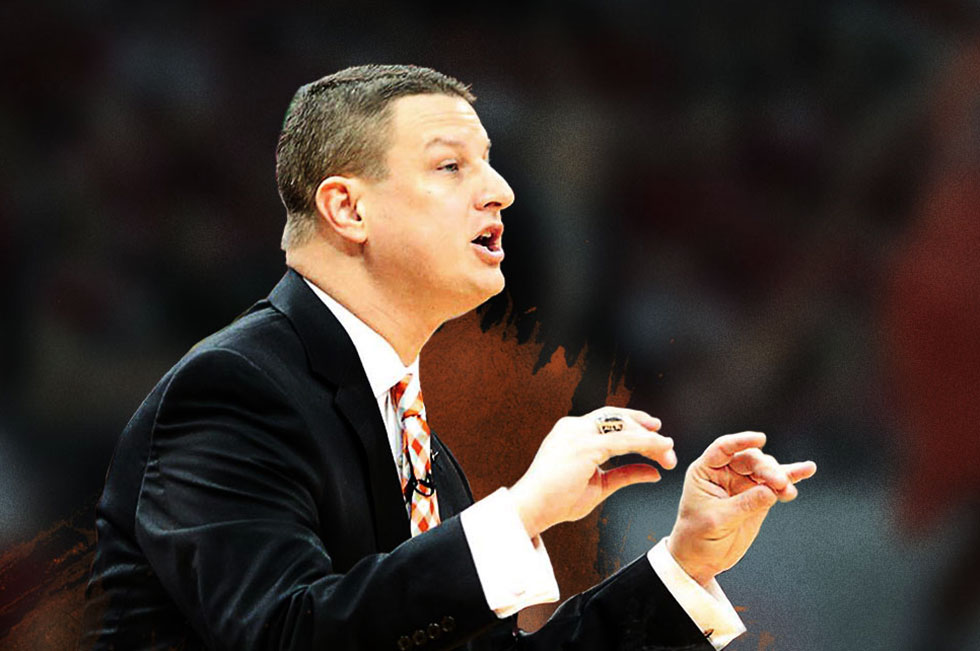 His name is Kelly Wells, and he has three kidneys. Two of them weren't originally his, and one of those doesn't work. The only kidney that is his? It doesn't work either. Kelly Wells is a miracle of modern science and organ donation, and he's not a bad basketball coach either. He won a 2003 high school state championship in Kentucky and the 2011 NAIA national title at Pikeville (Ky.) University, and he's only 43 years old, and he hopes to add more titles. And more kidneys.
"They're supposed to last about 18 years," Wells says of the two kidneys he has received, one in 2004 and another in late June. "I was looking at myself in the mirror the other day and said, 'I don't have much palette left to do any art work.' If I'm blessed enough to need another one, they'll have to take one out to make room. Maybe they'll take out two or three."That would ruin Wells' macabre parlor trick, where he invites someone to poke him below the ribs and feel all the useless organs in there. Kidneys tend to be toward the back, but the surgeon put each of Wells' transplanted kidneys closer to the front."More accessible," Wells says, and not just for doctors."You can push it and feel it," he says. "It's kind of weird, and you have to push pretty hard, but you'll feel them in there. My left native kidney is still attached with blood flow going through it. It doesn't do anything, but it's still there for -- I don't know. For giggles, I guess."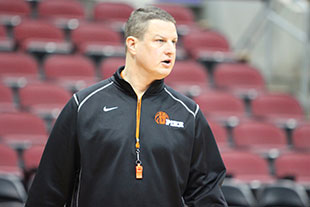 Kelly Wells won a state championship as a high school coach and a national championship as a college coach. He also has been the recipient of two donated kidneys. (UPike Sports Information)
Wells is talking from his car on Interstate 75, somewhere between Cincinnati and Dayton, after spending the morning at the UC Medical Center getting treatment on his newest kidney, which his body is trying to reject. It happens, Wells says, but he has spent three days at the hospital being pumped with medicine to fight his body, which is fighting the foreign kidney, and he believes the medicine will win."When you put a foreign substance in the body, sometimes it doesn't accept it right away," he says. "It'll work."So will Wells. So
is
Wells. The reason he's heading north on Interstate 75 toward Dayton, and not south toward home, is because he has work to do. The first place he went after leaving the hospital was a Cincinnati church rec center to work out a recruit. Next thing he did was call a Division I transfer considering the powerhouse Wells has built at Pikeville, known locally as UPike, a prospect Wells refers to as "6 [foot] 8." Then Wells kept heading north, to the airport in Dayton, to pick up one of his players returning to UPike for the fall semester. Along the way he has returned my call, telling me he has plenty of time "unless I get a call from 6-8, and then I'll have to call you back."This is how Wells is finishing a day he started in the hospital, making sure his body doesn't reject his only working kidney.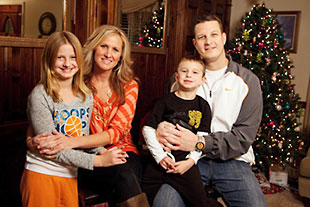 The Wells family: Kaylee, Shawne, Mason and Kelly Wells. Shawne Wells donated a kidney to her husband but it eventually failed. (UPike Sports Information)
"That's the way it works at our level," says Wells,
who has gone 179-78 in eight years at UPike
, with the program's only national title and only two 30-win seasons.When his first donated kidney started to fail last year, Wells didn't back off. He kept coaching, kept recruiting, kept speaking at local elementary schools and civic groups about the need for organ donation. When he got home at night, he fell asleep. Bedroom, living room, dinner table -- didn't matter."If he sat still, he was out," says his wife, Shawne. "He was really swollen all the time, and he had high blood pressure that led to massive headaches. He wanted to take his daughter to the gym or throw the football with his son, but his body was fighting it. He's a wonderful dad, and he was involved, but he wanted to be more involved. His kidney was failing."Shawne Wells felt especially bad about that.It was her kidney.
***
His name is Jacob Lucas, and after he died he saved four people's lives.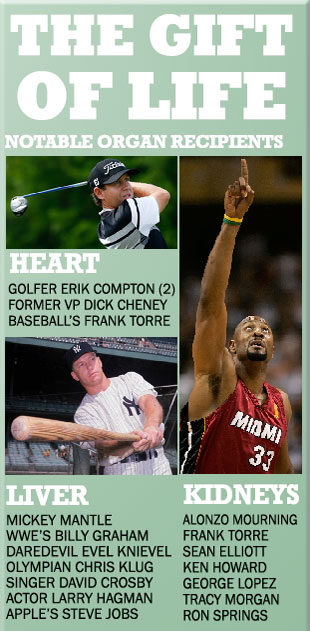 Bill Speros (CBSSports.com)
The families of Jacob Lucas and Kelly Wells are intertwined, but we can't go there just yet. First, meet Jacob Lucas. He was 21, from the Kentucky coal-mining town of Thornton, studying to be a utility company lineman. One of his favorite people in the world was his grandfather, a coal miner named Dan Lucas. Jacob called him Papaw. They loved Kentucky basketball, and they loved it together.When Jacob was 4, Papaw had a series of heart attacks that left him near death. He received a heart transplant, went back to work, and is alive to this day. At age 4, Jacob knew he wanted to be an organ donor. When he turned 16 and got his driver's license, he made it official. The first person he told was Papaw.Five years later, Jacob Lucas came around a curve on the Hal Rogers Parkway and crashed into a truck at a construction site. It was August 2013, and Jacob's heart had to be restarted by an EMT before he could be flown to University of Kentucky Hospital in Lexington.Among the patients in that hospital was a 23-year-old woman named Ariana Sumner. She was dying of heart disease, had been since February, and in those six months had left the hospital just once -- for two weeks -- before having to come back. She needed a new heart, doctors had told her that February, or she would die. By August she was down to her final weeks, if that.Sumner's boyfriend, Travis Sturgill, was in Ariana's hospital room that night in August 2013 when his friends on Facebook started talking about the car accident of a friend from Letcher County Central High School in Whitesburg. A young man named Jacob Lucas. Jacob was two years younger, but Sturgill knew him. Over the next 36 hours Sturgill learned that Lucas had been gravely injured, then flown to UK Hospital, then declared brain-dead. There was talk on Facebook that Lucas was an organ donor -- and then there was a knock on the door. Doctors were in Ariana Sumner's hospital room, and they were in a hurry.It was time for Ariana to get a new heart. They had a donor."I could add two and two," Sturgill says. "She was getting Jacob's heart."That was Aug. 21, 2013 -- a year ago today -- and a year later Ariana Sumner is getting stronger by the day. She is one of four people alive today because of organs from Jacob Lucas, whose sister Hannah attends UPike.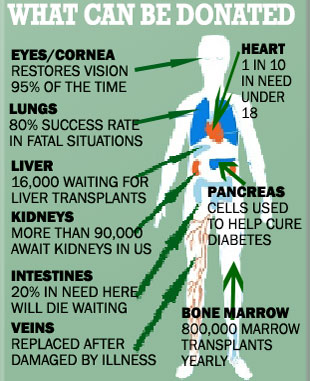 Bill Speros (CBSSports.com)
Where Kelly Wells is the basketball coach.Hannah Lucas had has been outspoken about the need for organ donors in Pike County, a Kentucky county that historically has had some of the most people needing organs but some of the least people willing to donate. Kelly Wells has been outspoken about the need for organ donors in Pike County, too. And so the wife of Kelly Wells reached out to the sister of Jacob Lucas, and together they teamed up for Donate Life Night before UPike's game against Lindsey Wilson College in February. Fans were urged to sign the organ donor registry to put their name in a hat. Two winners received a $50 gift certificate to the Blue Raven or Bank 253, local restaurants.The turnout was underwhelming."Maybe 20 people signed up, which is kind of sad," Shawne Wells says. "I think about all the people that are at the game, and you only get that much to sign up. But that's 20 more than if we hadn't done it, is my thinking."Hannah Lucas says they'll try to add more names this year. She says she'll be an advocate for organ donors for the rest of her life. She says her brother's kidneys went to two recipients, his liver and pancreas went to another, and his heart went to Ariana Sumner.She says all of this on Monday of this week."It was a year ago today," she says, "my brother was declared brain dead and became an organ donor."
***
His name is Braxton Upthegrove, and it's possible Nerlens Noel saved his life.Upthegrove is a Kentucky basketball fan and Noel is a former Kentucky player, and while Upthegrove was suffering from kidney failure this winter Noel reached out to him. It was halftime of a game between Bryan Station and Lexington's Henry Clay High, where Upthegrove was a sophomore student manager. Upthegrove was walking to the locker room when coaches told him to stop and watch the video message being played on the wall. Up on the wall Upthegrove saw Nerlens Noel,
inviting him and his mother to Philadelphia in January to watch the 76ers play the Heat.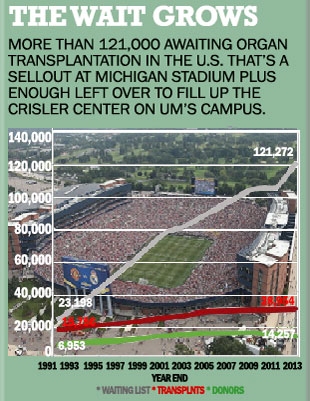 Bill Speros (CBSSports.com)
Upthegrove made the trip, hung out with Noel, went to the game -- even got to meet his favorite player, LeBron James of the Heat. LeBron gave him a pair of basketball shoes.Upthegrove came home still needing a second kidney transplant -- his first one, at age 6, had been failing for almost three years -- and soon he was spending most of his time in a hospital, sleeping and waiting for the phone to ring with news of a new kidney. Two months later he got that call. Officials at the
Kentucky Organ Donor Affiliates
, a non-profit organ procurement agency, noticed a sizable increase in names on its donor registry after Noel's gesture made the news in Kentucky. Is that why Upthegrove, after nearly three years on the waiting list, got a kidney so quickly after returning from Philadelphia? We'll never know, but KODA public education coordinator Charlotte Wong likes to think it is."It was incredible outreach by Nerlens Noel," Wong says. "This little boy was in his final months, maybe days. He was having a hard time eating food and digesting it. He was right there on [death's] doorstep."The door swings open for too many. Nearly 20 people die every day in America while waiting for an organ, but the door stayed shut for the student manager of the Henry Clay High School basketball team. Braxton Upthegrove, 17, got his new kidney on May 14.A few hours to the east, that door was starting to crack open for Kelly Wells.
***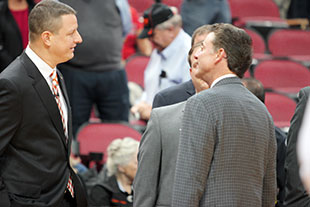 There was no way Wells was going to miss a chance to coach against Louisville's Rick Pitino but he was rushed to a hospital after the game. (UPike Sports Information)
His name was Rick Pitino, and Kelly Wells wanted to coach against him. It was Nov. 1, 2012 and Wells wasn't feeling well but he had a game to coach, and even if it was an exhibition, this game was at the KFC Yum! Center and this opponent was No. 2 Louisville -- which was five months away from winning the national championship -- and Wells wanted to be there. He was urinating blood and his abdomen was hurting so much that he spent the contest kneeling and asking people on the bench to pray for him, but Kelly Wells made it through the game.He didn't make it through the post-game press conference. He didn't even make it there. He was put into a Louisville policeman's car and driven, lights flashing, to the hospital. Turns out Wells' donated kidney -- from his wife in 2004, when Berger's disease claimed its first kidney -- wasn't the main problem. That kidney wasn't great, showing early signs of rejection, but it was his native kidney on the right side that had a cancerous mass.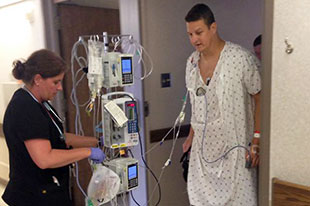 With one of Wells' kidneys failing and the another ravaged by cancer, surgery and another transplant were required. (UPike Sports Information)
Wells spent more than a week in the hospital, missing three games, but coached the rest of the season with one kidney being rejected and the other covered in cancer. Both needed to go but the cancerous organ took precedent after the 2012-13 season, leaving Wells' body to recover while he coached last year with just one working kidney -- his wife's donated kidney, which was in the early stages of rejection."Those were tough times," Well says, then pauses and starts sniffling. "I need to regroup here."Another pause."My family side is the hardest part of the whole deal for me," he says. "I'm sorry. When I think of the impact on growing kids -- that's the part I want to be healthy for, to be able to be with those kids. It's tough because you want to take them to ballgames and take them to school and just have those moments that are special. The kids have been troopers about it, but you don't experience as much as you'd like."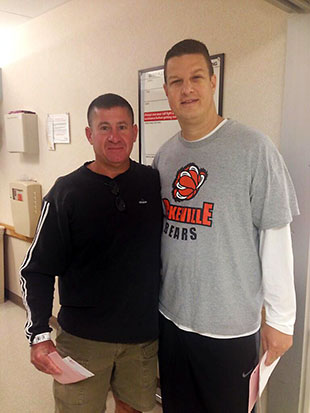 Brother-in-law Brock Walter, left, stepped in to donate a kidney to Wells in June. (UPike Sports Information)
Wells knew he was getting a new kidney after the 2013-14 season, and he knew where it was coming from -- his brother-in-law, Brock Walter. Back in 2004 when Wells needed a transplant for the first time, five family members (his wife, sister, cousin and two brothers-in-law) were tested for compatibility. Four came back as matches, although his wife's brother was subsequently scratched when cancerous cells were found on one of his kidneys. The cells were removed, having been discovered before the cancer could spread.

Bill Speros (CBSSports.com)
Another life possibly saved?"Who knows?" Wells says. "But my brother-in-law never went to the doctor for any reason. If it weren't for that testing, you just don't know when they were going to catch it."Wells weakened as the season rolled along but he was determined to finish. Toward the end his feet were so swollen he could barely put on his shoes, and his family was more likely than not to find him asleep on the living room recliner."He'd wake up and say, 'I didn't mean to go to sleep,'" Shawne Wells says. "But his body couldn't function anymore. His doctor in Lexington bragged on him to the other patients in the lobby: 'Here's the sickest guy I know, and his team's ranked third in the nation!' Kelly fought through it so well, it wasn't apparent to us just how bad it was."By summer Wells could fight no more. He received his second kidney transplant, this one from Brock Walter, on June 30 in Cincinnati. Death's doorstep beckons each day for roughly 20 people waiting on an organ, but not for Kelly Wells. Not anymore. Not until next time.Meantime, Wells will continue to spread the word about the need for organ donors. He speaks at schools and civic clubs, and almost without fail he is approached by someone -- a guidance counselor, a teacher, a member of the Kiwanis Club -- with their own family story of an organ donated or received."It's amazing," he says. "This really shrinks the world when I hear about how many people are affected."Not that he needs the reminder. Small world? Get this: Wells' college roommate has a kidney disease. He needs a new organ. That guy isn't on the doorstep, not yet, but he's in the neighborhood.His name is -- well, Kelly Wells' friend would rather keep his name out of this story. This is his fight, and he'll fight it out of the public eye.But what's your name? And is it on
your state's organ donor registry
?