Operation Hawkeye
One boy's hoops dream raises money and awareness for fallen military heroes
One boy's hoops dream raises money and awareness for fallen military heroes
Operation Hawkeye
August 29, 2014 - 10:51 AM EST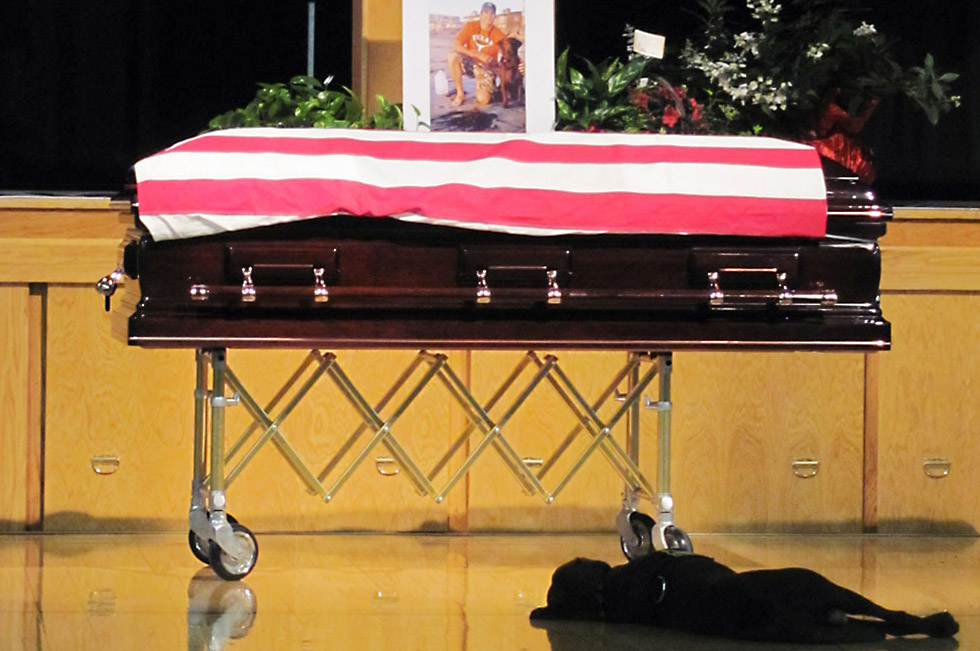 Before the money for fallen soldiers started pouring in, before the U.S. Navy admiral showed up on his driveway and challenged him to a game of basketball, before Kobe Bryant and Mike Krzyzewski and Bill Self got involved, Will Thomas was a 12-year-old with a basketball and a broken heart.
It was early August 2011, and Will Thomas was a seventh-grader in McLean, Va., who was just hearing about the 30 U.S. soldiers -- some of the best of the best from the Army, Navy and Air Force -- whose Chinook helicopter was shot down by a Taliban insurgent's rocket-powered grenade in southwest Afghanistan. Will Thomas didn't know any of those 30 soldiers on the mission known as Extortion 17, didn't have any relatives in special operations, didn't have any reason to be so personally affected. But this story hurt this 12-year-old. And he was shooting baskets in the driveway with his dad, talking about that hurt, when his dad posed a question:"Well," Bill Thomas said, "what are you going to do about it?"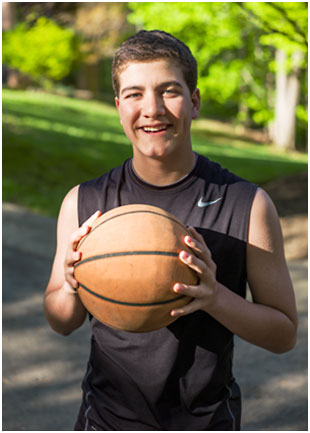 Will Thomas has helped raise almost $300,000 in cash and other donations ... one shot at a time. (Special to CBSSports.com)
Call it a question, call it a challenge. Whatever it was, look what came of it. Three years later Will Thomas has used his basketball and his broken heart to raise close to $150,000 in cash, and nearly as much in donated items, for the families of those 30 U.S. soldiers in particular, and the families of fallen special operations forces overall. He has cried with widows and hugged mothers and galvanized tens of thousands of people around the country to do what he is doing -- to use basketball, or whatever vehicle they can find, to express their love and support for our special forces.From his driveway, where this whole thing started with 17,000 made baskets over a single weekend in 2011, Will Thomas launched a movement called
Operation Hawkeye
. He got the name from a dog, but not just any dog. This dog belonged to Navy SEAL Jon Tumilson, one of those 30 fallen soldiers, and this dog named Hawkeye spent Tumilson's funeral laying beneath the casket. That's how Hawkeye showed his love.Will Thomas shows his with a jump shot.
***
Air Force Tech. Sgt. Daniel Zerbe wasn't a great athlete. Not even a very good one. He was on the football junior varsity at Red Lion (Pa.) High School, where he stalked the sidelines, cheering on his team so excitedly that his coach asked him to stop. He wrestled, kept losing, finally won a match and leapt into his father's arms."He was horrible at wrestling," his mom, Sue Zerbe, says with a giggle. "But one day the coach came over and said, 'If I could have a team full of Daniel's, with the heart he has, we would be an amazing wrestling team.'"As a senior in high school Daniel slapped a pamphlet on the kitchen table and announced he had discovered his calling."What's a pararescuer and why do you want to do that?" his mom said. "Never heard of it."One of the most grueling jobs in the Air Force, that's all. Pararescue jumpers -- PJ's -- parachute in difficult conditions, hit the ground running or the water swimming, and do it fast. They fight hostiles, locate fellow U.S. soldiers and bring them back to safety.That's what Daniel Zerbe wanted to do. Guy who couldn't tackle in football thought he'd be a pararescue jumper. He trained throughout his senior year of high school, passed all the tests and was admitted into the Air Force's Pararescue Indoctrination Course after basic training. That was August 2001. You know what happened a month later."It was 9/11, and all of a sudden I knew: My baby's going to war," Sue Zerbe says.He did, for the better part of a decade. He served all over the world, though his missions were a secret even to his family. His final mission, however,
has been well documented
. A Boeing CH-47 Chinook helicopter was carrying 30 special forces soldiers to support a unit of Army Rangers who were outnumbered on the ground in Afghanistan's Wardak province. The PJ's have a motto: "That others may live." Daniel Zerbe was on that helicopter to fulfill that motto.A decade earlier, when he'd slapped the pamphlet on the table and Sue Zerbe had asked why he wanted to do something so dangerous, she can still hear his answer."Mom," he said, "if I can save one life in my lifetime ..."Sue Zerbe tells that story and starts crying."He was 17 years old," she says. "What 17-year-old thinks like that?"Daniel Zerbe did. The Air Force technical sergeant was the kind of man Will Thomas wanted to honor by shooting free throws. But he was just one man. There were 29 others.
***
The road to almost $300,000 in donations started with a penny. That's what Bill Thomas promised his son for every basket he made over Labor Day weekend in 2011, less than a month after the Chinook went down 60 miles southwest of Kabul. A penny per basket, after Will had vowed to make 17,000 -- 1,000 for each of the 17 Navy SEALS who died that day in Afghanistan."I had no idea how long it would take," Will says.He started at 3 p.m. on Friday and shot until 11 that night. He woke up Saturday and shot for 14 hours. Then again on Sunday. Long before he reached 17,000 made baskets -- all jumpers, no layups -- his shoulders were screaming and his legs were heavy and his feet hurt. He kept going, powered by a visitor he'd received on the third day, some 11,000 buckets into his ordeal.Will heard the car door shut but kept shooting. He saw three women walking down his driveway, didn't know who they were. Kept shooting. They were three sisters, and one introduced herself: Victoria Kelsall. Her husband, Lt. Cdr. Jonas Kelsall, was among the 17 Navy SEALs who had died in that Chinook helicopter less than a month earlier.Turns out Victoria Kelsall had grown up in McLean. Turns out she attended some of the same schools as Will Thomas. She didn't know Will, and he didn't know her or even about her, but Jonas Kelsall's widow had heard what was happening in the driveway and had to see this 12-year-old for herself. And thank him."Everybody there including me was getting emotional," Will says. "She told me to please continue what I'd started. I don't even know how she heard about it. Through the grapevine, I guess."It started with emails from Will and his father to friends and family, asking for pledges -- a penny a bucket? -- for the 17,000 baskets he planned to make. But you know what happens. One person gets the email and shares it with a friend, and on and on. Pretty soon, Will Thomas has made 17,000 buckets and starts getting envelopes in the mail. Checks for $25, $100, more, some from friends and family but most from strangers. All told he raised more than $50,000 that Labor Day weekend of 2011, which he forwarded to the
Navy SEAL Foundation
.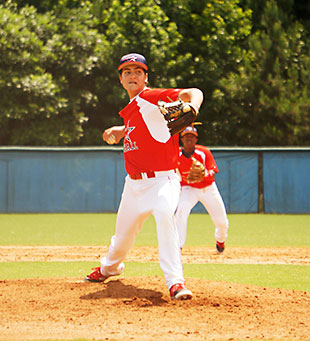 Baseball is his favorite sport but basketball has become the catalyst for a fund-raising effort that has drawn help from the likes of Kobe Bryant, Mike Krzyzewski and Bill Self. (Special to CBSSports.com)
He did it again over Labor Day weekends of 2012 and 2013. He calls it the Rise and Fire Challenge. He also has organized a national fund-raiser, the
E17 Free Throw Challenge
, for others to do what he has done -- get pledges, make baskets, raise money for military families -- and last year he shot baskets for the memorial foundation of Navy SEAL Chris Kyle, one of the most acclaimed snipers in U.S. military history, who was shot dead at a Texas shooting range in February 2013.And he will do it again this weekend. The fourth Rise and Fire Challenge starts Friday and goes through Monday, or however long it takes Will Thomas to make 5,000 3-pointers to honor the five Army soldiers from the Extortion 17 team. Will's become a pretty good shot -- he figures he'll need about 10,000 attempts to make 5,000 3-pointers, even with his accuracy plummeting as he starts to wear down -- but he's not a basketball player. Baseball is his game, and this 5-foot-11, 160-pound high school sophomore has a low-80s fastball at age 15. But basketball is his vehicle, and he will shoot 3-pointers this weekend at his school, Gonzaga College High in Washington D.C., where he hopes to raise $50,000 for the non-profit Red Circle Foundation. (
You can help here.
)Sue Zerbe knows what Will Thomas is doing this weekend. She knows his enthusiasm and compassion have spread. When she met Will last year at a
That Others May Live Foundation
event in Arlington, she hugged him and burst into tears."How many kids do you find that would do something like this?" she says. "Through all this, my husband [Terry] has been so afraid that people are going to forget the sacrifice these guys have made, and of course the thousands of others who made the same sacrifice. And I just say, 'But Terry, there are people like Will. He didn't forget.'"
***
Patricia Parry didn't know everything about her son.She knew all the important stuff, or thought she did. She knew he was, shall we say,
energetic
as a boy in Stamford, Conn., and she knew to focus those energies by wearing him out. Her son, future Navy SEAL Brian Bill, played soccer and hockey. He didn't just swim, but was also on the diving team. Baseball, water polo, you name it.
"How many kids do you find that would do something like this?"
Brian Bill goes to high school, same thing. Eagle Scout. Golf team. Tennis. Fly-fishing on the weekend.Brian Bill goes to college, and something special in his character was revealed. It was a few days before classes started at Norwich University in Northfield, Vt., and Brian was there with his family. Walking campus, they split up for a bit. While Brian was gone Patricia and her husband talked about his major and realized they had no idea what it might be. History, they finally decided. He had an affinity for it. About an hour later Brian comes back and makes an announcement:"I understand that electrical engineering is the hardest major here at Norwich," he said. "I decided I'd like to be an electrical engineer."Brian being Brian, he joined the mountain and cold weather rescue team and became an EMT as well. All as a freshman, mind you. Took him about two months to realize the people at Norwich weren't joking about electrical engineering -- it was hard -- and grudgingly Brian stopped the other stuff. He graduated in four years. As an electrical engineer.Patricia Parry knew her son wanted to be a Navy SEAL. He'd gotten the idea as a kid, when she took him to watch SEALS jump from planes at the Westchester County Airport.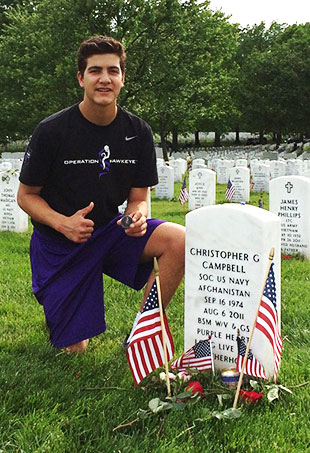 Thomas has not forgotten the soldiers who inspired him to begin Operation Hawkeye, and he shoots to make sure that others remember, too. (Special to CBSSports.com)
"He had a SEAL flag in his room," she says. "I don't know where he got it."Brian Bill joined the U.S. Navy in 2001. He became a SEAL in 2003. He served nearly a decade, and he was 31 when that Chinook was shot down on Aug. 6, 2011 in Afghanistan.When they brought Brian's possessions to his mom, she realized she didn't know everything. Oh, she'd known most of it. She knew about the mountain summits he climbed in Argentina. She knew about the marathons he ran, the piano and guitar he taught himself to play, the Russian and French he taught himself to speak.But when they brought Patricia Parry a simple box, and she opened it, she realized she didn't know everything. A Purple Heart, four different Bronze Star Medals with Valor, one noting extraordinary heroism. More medals, too many to count. Too many ribbons. Patricia Parry had visited her son at his home in Virginia Beach and had never seen any of this. She'd spent a lifetime in conversation with him, and she'd never heard any of it. He never told her.Navy SEAL Brian Bill was the kind of man Will Thomas wanted to honor by shooting free throws. But he was just one man. There were 29 others.
***
Will Thomas can't believe where this thing has gone.
The Facebook page for Operation Hawkeye
has been liked by more than 110,000 people. Almost half the franchises in the NBA have contributed gear or memorabilia to be auctioned. Kobe Bryant and Coach K provided signed basketballs. Bill Self sent a signed hat. Shane Battier threw in some of his basketball sneakers.But the craziest moment was last year when a dark Chevy Tahoe showed up in his cul-de-sac, windows tinted black. Out stepped three men, two of them bodyguards and the third the head of the U.S. Special Operations Command -- Navy Adm. William McRaven.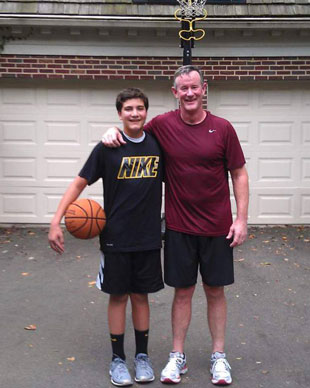 The head of the U.S. Special Operations Command, Navy Adm. William McRaven, paid a surprise visit to shoot some hoops with Thomas. (Special to CBSSports.com)
"He asked if he could play a game of two on two," Will says. "I think my team won."You think?"It wasn't like it was real competitive," Will says. "He was there to show his gratitude for what we'd been doing."Another crazy thing -- in the U.S. military, they know about the kid shooting baskets in McLean, Va. They know overseas, too, in Afghanistan and Iraq, two places where honorably discharged Navy SEAL Brandon Webb has fought. Webb, who was once in charge of the SEAL's snipers, says the troops know. They're busy, but they know."I know the word's out and the guys appreciate it," says Webb,
now a best-selling author
. "When something like this happens, it's a morale booster. Definitely. It's one thing for an adult to want to reach out and do something, but for somebody Will's age ..."The money raised is nice, but the biggest help is the awareness. The broken families, guys get out of touch with their kids -- we're pretty good at dealing with that stuff in the special operations community. You don't get through that training unless you know how to deal with adversity, but guys are only human at the end of the day. There's a lot that can be done to raise awareness, and that's why it's so great that Will's doing that."He's just a kid. It's just a basketball."No, it's more than that," says Patricia Parry, fallen Navy SEAL Brian Bill's mom. "It's incredibly uplifting. It was just, 'Wow, somebody could have been so moved that he wanted to do something, in whatever way he could. A young boy wanted to do something to honor these men.' "Her son is one of them. There are 29 others.