Legend of Bushwacker
Bushwacker, the baddest bull there ever was, is taking his final ride
Bushwacker, the baddest bull there ever was, is taking his final ride
Legend of Bushwacker
Legend of the Bull trailer

Watch Now
After next weekend the legend of Bushwacker will be relegated to video. The video is awesome -- watch for yourself -- but it won't show the freakiest aspect of the freakiest bull to freak out riders and spectators of the Professional Bull Riders circuit.
The video will show the obvious stuff. The vertical leap off the back legs, which is somewhat normal for a bull. The vertical leap off the front legs, which is not. The twisting and snapping, as if Bushwacker were an angry 1,700-pound snake. It's violent and it's vicious, the stuff Bushwacker does when a professional bull rider is attached to his back with a braided rope, and that violent viciousness translates well to video.
But it's what happens before the violence, before the viciousness, that video won't be able to do justice.
It's what happens seconds before the bell rings and the gate opens. It's what happens in the chute.
"He don't move," says Markus Mariluch, one of just three riders in six years to survive eight seconds on Bushwacker. "He stands like a rock. It's weird."
As he waits for the bell Bushwacker plays possum, which makes the carnage to come even more sadistic. Because it seems like this bull, this mindless brute, is playing mind games with the professional bull rider sitting on him in the chute, as still as a kid waiting for the carousel to start. It seems like this bull, this big, supposedly dumb animal, is toying with the best riders in the world.
"Well he is," says world champion rider J.B. Mauney. "He is [messing] with us."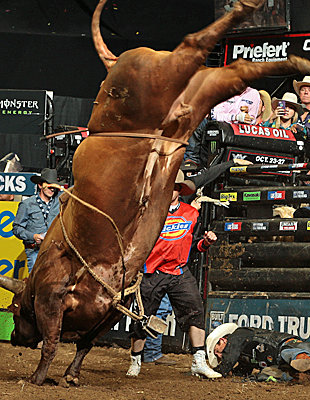 Legend of the Bull, a Bushwacker documentary, premieres on November 2nd at 8 p.m. on CBS Sports Network. (Andy Watson/BullStockMedia.com)
Watch him. Watch what Bushwacker does when the whistle blows and the cage door swings open and he's bucking before he's even out of the chute. His momentum carries him out into the arena in front of PBR crowds that have swelled all season, crowds that have swelled precisely because of Bushwacker.
This is no ordinary bull, not in any sense, which is why he has been given a farewell tour as if he were Derek Jeter or Cal Ripken or any other all-time great on his last swing around the league. Because he is an all-time great. And this is his final swing around the league. And so crowds have come to PBR venues throughout the Southwest and West -- with a September stop in Nashville -- to see the mighty Bushwacker, maybe the greatest bull there ever was, one last time.
"No bull's ever caught [the people's] attention like Bushwacker, and rightly so," says PBR director of livestock Cody Lambert, himself a professional bull rider in the 1980s and '90s and a member of the Texas Cowboy and Texas Rodeo Cowboy halls of fame. "He's the greatest bull I've ever seen, and I've been around this my whole life."
All the bulls on the PBR series get an appearance fee, the same fee, except for Bushwacker. His fee is higher. Almost none of the bulls has his own licensing deal, with T-shirts and posters and stuffed toys, but Bushwacker does. He's a star, the biggest star on the PBR circuit -- bigger than any cowboy -- and he's retiring after he bucks off his final rider next weekend during the Built Ford Tough World Finals in Las Vegas.
And I say that -- that Bushwacker will, indeed, buck off his final rider next weekend -- with 96.43-percent certainty. That's Bushwacker's buck-off percentage, and it's absurd, and it's misleading.
"That number isn't really fair," Lambert says.
To the riders?
"To Bushwacker."
Lambert explains.
"The average rider on the PBR tour is successful about 35 percent of the time," he says. "The average world champion is successful around 60 percent of the time. So that 96-percent number looks great [for Bushwacker], but it's not really fair because he's always in the championship round or the 15-for-15 round, or he's facing the winner of the event. So not only are only the best riders in the world on him, but the best riders on the weekend are on him, world champions and guys like that. Whoever's hot right now? That's who gets him every week. For him to still be bucking off 96 percent of those guys, it's crazy."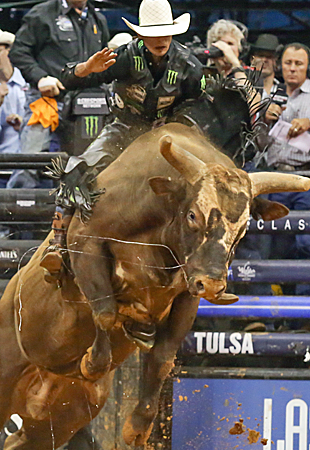 J.B. Maurey ended Bushwacker's PBR-record run of 42 consecutive buckoffs. (Andy Gregory/PBR)
Bushwacker has bucked off 82 of 85 rides since his debut in 2009, and he does it with explosiveness that's easy to understand -- and intelligence that isn't. These are dumb animals, right? Not to hear the experts, past and present riders, talk about Bushwacker.
"Not only is he big and strong and really athletic, he knows how to buck. He uses his brains -- that's what sets him apart," says Mauney, the last rider to survive eight seconds on Bushwacker. That was 14 months ago. Since then Bushwacker has sent 22 riders flying, a number that includes Mauney on four different occasions. Since riding Bushwacker successfully in August 2013 in Tulsa, Mauney has been bucked off in 3.81, 2.88, 1.13 and 2.56 seconds.
"The day I rode him [at Tulsa in 2013] I was kinda on my A-game," Mauney says. "Every time I've been on him since then, he's figured me out. Hell, I've been on him 12 or 13 times, and he's never done the same thing twice. Other bulls get set patterns, and you pretty much know what they're gonna do. They'll do certain things almost every trip, but [Bushwacker] has never had a set pattern. He's never had the same trip twice. When you nod your head [and the gate opens], there's no telling what he's gonna do."
Bushwacker bounces on his legs like a 1,700-pound pogo stick, going front to back and then back to front, and not just doing that but doing it with elevation. Try checking out J.B. Mauney's PBR page. It lists every ride he's ever had, and most of them are on video. Click some of his non-Bushwacker rides. They don't look easy, for heaven's sake, but they don't look like Bushwacker. Other bulls tend to spin, low to the ground, or bounce back and forth on their legs. Some twist. Some do two of those things. Bushwacker does all three, and does it with elevation no other bull can reach.
"Bushwacker isn't like the others," Mariluch says. "It's hard to explain how it feels. Like, all bull riders know what I'm talking about, you know? Some bulls feel really strong. Bushwacker's strong but he's really long. When he's coming out and kicking, it feels like his kick never ends. By the time he hits the end of his kick, he's already reared up and he's kicking again. Nobody else does that."
He's an interesting bull, this Bushwacker. He's the most popular bull at any event he attends, so his pen is always surrounded by fans and gawkers. Most bulls share pens, maybe two or three each, but Bushwacker sits alone. And when the fans come to stare and take pictures? Lots of bulls like that. Hey, they're animals. If you want to pet them, well, here's a snout. Pet this.
If you want to pet Bushwacker?
"Don't," Lambert says. "He's been photographed and talked about and shown more than any bull that I've ever heard of, but he doesn't like it. Bushwacker gets a little irritated when 1,000 people want to go out and take a picture. He's not a pet that way. He'd rather be left alone, and so he'll go to the other side of the pen and turn his back on you."
Eventually he's led from the pen to the chute. And this unique bull, moments away from creating new and violent and vicious ways to eject the professional cowboy from his back, sits quietly in the chute. He looks bored. Hell, he might be bored.
"He's pretty gentle," Mauney says. "He ain't really mean. He doesn't want to run over you or chase you. He just wants you to get off him, and he'll find a way to get that done."