49ers hate Harbaugh because he's cocky? OK, how bout a good reason?
Word out of San Francisco is the 49ers actually would consider dumping Jim Harbaugh because he's arrogant and doesn't get along with execs who have done nothing. Really? Unreal.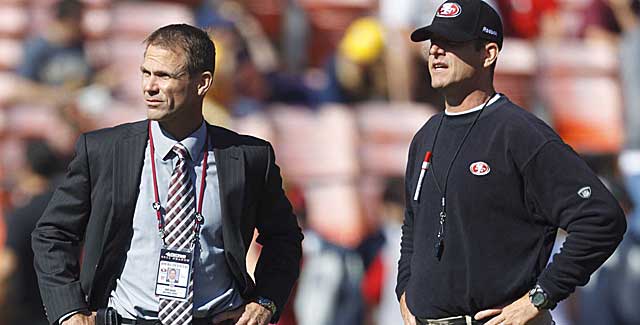 La Canfora: Niners-Harbaugh situation getting worse | More news & notes
The 49ers aren't sure they want to keep Jim Harbaugh. One of the best coaches in football, maybe the very best coach in football, but the 49ers apparently picked up the phone last month and listened to the Cleveland Browns discuss a trade for him. The truth behind that situation remains murky and probably always will, but what's clear is this: Harbaugh's contract is expiring after the 2015 season, and he wants an extension, and the 49ers aren't sure they want to give him what he wants. Because they aren't sure they want to keep Jim Harbaugh.
As if coaches like Jim Harbaugh grow on trees. They grow in the household of Jack and Jackie Harbaugh, where Jim and John Harbaugh were germinated and nurtured and unleashed onto the football world. John Harbaugh is one of the best coaches in football. So is Jim. It's a short list, including Pete Carroll and Bill Belichick and Nick Saban and Urban Meyer and ... that's it. Best coaches in football, at any level, is a list that starts and ends with those six guys. Maybe seven, if we include Sean Payton. Maybe we should. But that's as deep as I'm willing to go, as deep as it makes any sort of sense to go, in the discussion of the best of the best.
The 49ers have one of those guys, and aren't sure they want to keep him. Because the 49ers are that dumb. And because Jim Harbaugh is apparently that ... arrogant. Or cocky. Or stubborn. Or whatever it is that rubs so many people the wrong way in the 49ers organization.
The bombshell revelation about the Browns trying to trade for Harbaugh has shaken the 49ers' tree, and information is falling out from anonymous sources left and right that Harbaugh just isn't all that popular within the organization. The stories are in newspapers in San Francisco and in San Jose and even here at CBSSports.com, where Jason La Canfora put a tidy little bow on the situation by reporting that Harbaugh barely speaks to the general manager, has a strained relationship with the team president and "has clashed with many in the organization."
Boo freaking hoo, know what I mean?
This is where I hitch up my polyester football shorts over my belly, hunch down and play the meathead card with all sincerity: This is football, people. It's not about winning friends and influencing people. A coaching Dale Carnegie isn't walking through that door, and even if he were, the coaching Carnegie couldn't lead the 49ers from the irrelevance of Dennis Erickson and Mike Nolan and Mike Singletary into three consecutive NFC championship games.
Not sure anyone else in football, if dropped into the 49ers after their 6-10 season of 2010, could have done what Jim Harbaugh has done since then: go 36-11-1 in the regular season and reach one Super Bowl and two additional conference title games. That's why I'm not sure there's a better coach in football, at any level, though I'd listen to arguments for Pete Carroll and Belichick.
The 49ers have that guy as their coach, and they're not sure they want to keep him? Because of his personality? Listen, if we find out that Jim Harbaugh is bullying or harassing people in the organization -- and I don't mean the GM or president, but people beneath him on the power totem pole -- that's a whole different deal. I don't say that because I think it's true; I say that only to say there are limits to the idea that a winning personality doesn't matter if you're a winning football coach. It's one thing to be prickly and arrogant and stubborn, and it's another thing to be monstrous.
I guess what I'm saying is this: If Jim Harbaugh has some Richie Incognito in him, then do it, 49ers: Move on without him. Winning isn't worth that.
But that's not what we're hearing, and again, the Browns story shook the 49ers' tree. Anonymous stories are falling out about the difficulty of working with Jim Harbaugh, and what it sounds like is a whole bunch of hurt feelings in the 49ers' front office. The GM and president want to run the team. Harbaugh wants to run the team. They are clashing. Boo freaking hoo.
If I'm the owner of the 49ers, Jed York, this isn't a clash -- because the word "clash" implies a competition. The Seahawks and Broncos clashed in the Super Bowl. Duke and Syracuse clashed the other night in college basketball. Harbaugh against his GM and president? That's not Florida State vs. Auburn in the BCS title game.
That's Georgia Tech vs. Cumberland College.
And Georgia Tech won that 1916 football game 222-0.
Harbaugh vs. the front office is a blowout. Has anyone ever, and I mean ever, posited that Trent Baalke is the best GM in football? Same goes for the 49ers' president, whoever that is. Has anyone, anywhere, ever suggested that those people are the best in the world at what they do? No.
But we say that about Jim Harbaugh because he deserves it. He went to San Diego, which had been losing big, and won big. He went to Stanford. Same story. Went to 49ers. Same story. He doesn't turn programs around so much as he recreates them overnight. From loser to winner because of one man: Jim Harbaugh.
Anyone ever said that about Trent Baalke? Quick question: Who is Trent Baalke? Where was he before San Francisco? Oh, right. He was in San Francisco. He was the director of player personnel in 2008 and '09, and the VP of player personnel in 2010. The 49ers went 7-9, 8-8 and 6-10 in those three seasons. In the three seasons since? They've gone 37-11-1.
You didn't do that, Trent Baalke. Jim Harbaugh did.
And now, apparently, the 49ers are considering letting Harbaugh go after 2015? As if he's not worth whatever he's asking for? He's the third-highest paid coach not in the NFL, not in the NFC, but in the NFC West. Third of four. Who thinks that makes sense? Besides the 49ers' GM and president, I mean.
The 49ers aren't sure they want to bring back Harbaugh, but they were so sure about Aldon Smith this season that they let their linebacker play against the Colts two days after his DUI arrest, and then let Smith play the rest of the season after he came out of rehab despite facing a whole new set of charges -- felony charges -- for possessing illegal assault weapons.
Character matters in San Francisco. Unless that character isn't getting along with the GM and president. And then, well, Jim Harbaugh is expendable. Because he isn't all that good. Coaches like Jim Harbaugh, they grow on trees.
Go find another one, 49ers front office. Show us how smart you are.
Raisman said she is 'beyond disgusted' by Nassar's actions and says it's 'about time' he's...

A Florida woman allegedly stalked and harassed Stewart for more than a year after he failed...

Jonah Keri talks to with Vox senior politics reporter Jane Coaston
The movie also stars Channing Tatum, James Corden, Zendaya and Danny DeVito

Travel plans for the PyeongChang Games have been 'stagnant,' one agency told USA Today

'Generous roll' doesn't exactly do this one justice