Adrien Broner the most exciting boxer you'll never want to pay to see
Adrien Broner beats Carlos Molina, but he remains a loser after more inflammatory post-fight remarks. For a fighter who is so exciting, Broner isn't worth paying to watch.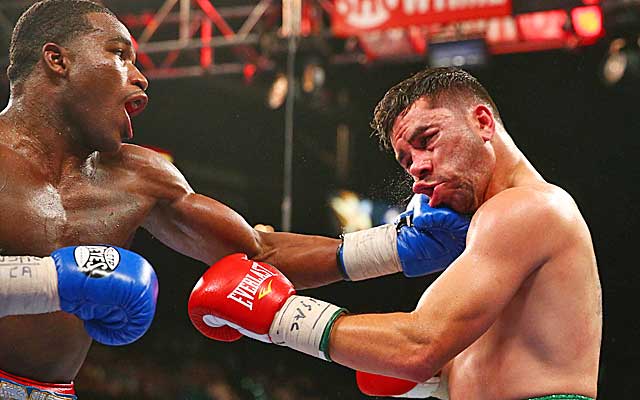 Adrien Broner needs to have his ass kicked.
Does that seem harsh? It's not. Stop it. He's a boxer, and that's what boxers do: They give an ass-kicking. Or they receive one. And in Broner's case, he needs to receive one.
This is a slippery slope for me to traverse, given what we know about concussions and their absolutely devastating effect on the brain, so let me mealy-mouth my way through a sentence where I make clear that my hope for his ass-kicking does not translate to my hope for his brain trauma. Wouldn't wish that on the guy, no matter how much of an ass-kicking I think he deserves.
And he deserves a big one.
Look at how he handles himself pretty much every time he talks publicly, or save yourself some time and look at how Adrien Broner handled himself on Saturday night after beating Carlos Molina, looking Jim Gray in his startled eyes and calling himself "the can-man....I've beaten Afri-CANS and I just beat the f--- out of a Mexi-CAN."
Broner's marketing himself as the bad guy, but he's doing it all wrong. See, the right way to be a heel is to be just barely likeable enough that we enjoy disliking you. We'll watch you so we can hate you, but there's still just enough good in you to be worth our attention.
Adrien Broner isn't worth your attention.
If there's anything good in there, it's hidden so deep that it's in hibernation. Lord knows we can't see it. Lord knows it wasn't in the build-up to his fight last June with Paulie Malignaggi, when Broner bragged about scoring with Malignaggi's girlfriend and even used a press conference to call someone he claimed was her. After the fight, after hugging Malignaggi and calling him "a hell of a fighter," Broner was asked by Jim Gray -- poor Jim Gray -- if he regretted any of those antics.
"Negative," Broner said. "I'm good. I beat Paulie, I left with his belt and his girl."
That was in the ring. The ring was at the Barclays Center. The Barclays Center is in Brooklyn.
Malignaggi is from Brooklyn.
To recap: After emasculating Malignaggi physically by beating him in his hometown, Broner tried to emasculate him symbolically by bragging about stealing his girlfriend. Poor Malignaggi bolted across the ring, interrupted the interview and cried out, "Don't brag about taking my side piece!"
Broner thinks he's winning, because what he cares about -- what he always talks about -- is how much money he can make. And given that, maybe he is winning. He has earned tens of millions of dollars already.
But money can't buy class or popularity, and Broner has neither of either. Name a way to be a complete jerk, and Broner has done it. He missed the 130-pound weight limit the day before his July 2012 fight against Vicente Escobedo, then failed to make the 140-pound limit the next day. He failed by three pounds, which is tantamount to saying he didn't even try. And after using his extra size to bludgeon Escobedo that night, he called his girlfriend into the ring, dropped to a knee, and with his girlfriend gasping -- asked her to comb his hair.
Pranked his girlfriend on national television.
The Escobedo weigh-in. The girlfriend dismissal. The Malignaggi emasculation. And now this, the "can-man" nonsense after he "beat the f--- out of" Molina, a Californian-born fighter of Argentinean and Mexican descent whom Broner dismissed as "a Mexican."
Broner has lost once, a decisive loss on the scorecards in December to Marcos Maidana, but it's not enough. Clearly. Because the "can-man" crap followed that loss, which means Broner hasn't learned a thing. He's one of the best and most exciting fighters in the world, but he's a heel who is so hellishly heelish that he can't sell a pay-per-view card on his own. He was given a shot against Maidana, their bout scheduled to serve as the main event for a PPV card, but the whole slate of fights was moved to free TV. Why? Because Adrien Broner isn't worth our fifty bucks.
He'll never be worth our fifty bucks, not as the headliner on a PPV card. Not even if we're sure he's going to get an ass-kicking.
But I'd read about it the next day. And I'd smile. And then I'd try to never think about Adrien Broner again.
Micah Roberts pioneered wagering on NASCAR races and just locked in his QuikTrip 500 picks

SportsLine's Mike McClure, a DFS pro with more than $1M in winnings, gives optimal lineup...

Everything you need to know for Sunday's race in the Monster Energy NASCAR Cup Series
SportsLine simulated the Folds of Honor QuikTrip 500 race 10,000 times and has some surprising...

Hamlin wasn't thrilled with Bubba's driving, or his post-race comments

The Richard Childress team went all out after their win on Sunday