After years away, repentant Bruce Pearl could be jewel for Tennessee
If Tennessee opts to cut bait on Cuonzo Martin, the Vols' best coaching candidate might sound like a surprise -- Bruce Pearl.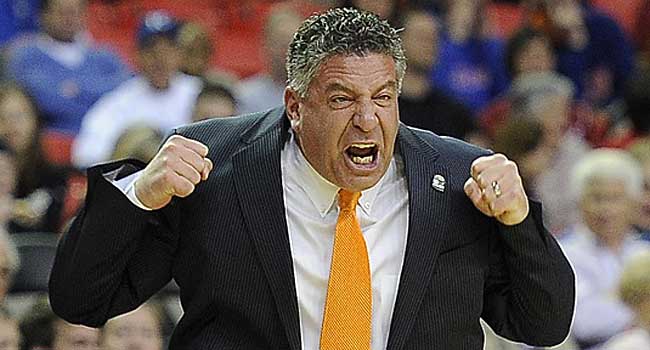 More hoops: Bracketology | Bubble Watch | Latest news
Like a storm in the distance, you can see it coming. The Tennessee basketball team is struggling to gain traction in Cuonzo Martin's third season, and former Tennessee coach Bruce Pearl is a few months from shedding the NCAA penalty that makes it nearly impossible for a school to hire him.
A school like Tennessee. In Knoxville. Where Pearl still lives and is wildly popular and refers to the Volunteers as "we."
You see it coming, right? It's raining at Tennessee, dreary and miserable, and the forecast calls for Bruce Pearl. It's not a 100 percent chance, because the Tennessee administrators who would make that decision are not the Tennessee fans who have gone online and signed this "Bring Back Bruce" petition more than 21,000 times.
You can see a storm system forming and still not get one, but this one is brewing. It's out there, a tornado that would rearrange the college basketball landscape. Bruce Pearl, at Tennessee? All of a sudden Tennessee would be a major national player. The SEC would be deeper, better. To ignore it, to insist that a tornado has never struck here before and therefore won't strike here now, would be silly. It's true, a school has never fired a coach for breaking NCAA rules so badly that the NCAA gave the coach a show-cause ruling -- any school wanting to hire him must "show cause" before his penalty expires -- and then rehired him as soon as it expired.
That has never happened, and for good reason. It's outrageous. Dangerous. Bringing back Bruce Pearl to the school where he broke a decent-sized NCAA rule -- having a recruit at his house -- and then broke a major rule by lying to NCAA investigators about it? Danger lurks for a school that would hire a coach like that.
So here's my opinion on such a hire:
Tennessee should do it. If Tennessee has an opening, it should hire Bruce Pearl. Go ahead, Tennessee. He paid his price. You paid yours. Bruce Pearl is a good coach who made a bad mistake and had to be fired -- I was calling for his dismissal months before Tennessee finally did it -- but who served his time and surely, surely learned from his mistake.
Whether he has truly learned, only Bruce Pearl can say. But since losing his job in a most embarrassing way, he has used his downfall as a teaching tool for others -- speaking at elementary schools and high schools and Boys & Girls Clubs and telling all of them the same thing, that he broke a rule and lied about it and got caught and deserved everything he got and kids, don't ever be as stupid as I was when I was the coach at Tennessee.
A guy who hits rock bottom and rallies that way? He's a guy worth a second look. Three years later, he can and should be hired by someone wanting to give him that chance.
Even Tennessee.
Hell, especially Tennessee. The fit between coach and school is an unpredictable thing. Who knew Cuonzo Martin, as decent a guy as there is in coaching, a guy with a great pedigree -- played at Purdue for Gene Keady, coached there under Keady and Matt Painter, won as a head coach at Missouri State -- would still be struggling to get Tennessee past mediocrity in the mediocre SEC?
Who knew Bruce Pearl, a Jewish dude from Boston, would resonate so perfectly in the Eastern Tennessee bible belt?
These things are unpredictable, but let me back up and say this: Bruce Pearl will win anywhere he goes. He already has. The year before he arrived at Southern Indiana in 1993, that Division II school won 10 games. Three years later it won the national championship. He went to Wisconsin-Milwaukee and reached the Sweet 16. He went to Tennessee and earned the No. 1 ranking and reached the NCAA tournament all six years at a school that hadn't been there in the five years before he was hired, and hasn't been there since he was fired. Some coaches are just that good. Bruce Pearl is one of them.
Is that why Tennessee should hire him, because he's that good? It's one reason, but so is this: Based on the way he speaks out about his own transgression, Pearl seems to have learned from his mistake. I say that as someone who hasn't talked to Pearl in years, so this isn't me carrying the water for my buddy -- read what I wrote about him in 2011; this isn't my buddy -- but recognizing that Pearl is a smart guy who surely, surely, surely won't make the same mistakes he made to lose his job at Tennessee in 2011.
The only question, for me, is this one: Should Cuonzo Martin lose his job at Tennessee in 2014? And that one I can answer unequivocally: I have no idea. This isn't a plea for Tennessee to fire Martin, a quality man and coach, after only three years in a tough job made tougher by the Bruce Pearl crater. Maybe Martin has the pieces in place to turn the corner next year, improvement at the foundational level that Tennessee administrators can see from their vantage point on the inside.
Here on the outside, the opinion is this: If Tennessee decides Martin isn't the right guy and is looking for a new coach in a month or so, the perfect coach to hire -- not a good coach, but the perfect coach -- still lives in the area and bleeds orange and calls the Volunteers "we."
Can you see it coming? I can. Like the sun shining through the clouds.
ABC is looking to revive the popular '90s hockey film franchise

Patrick will drive the No. 7 Premium Motorsports Chevrolet in her final NASCAR race

Patrick plans to call it a career after running at the two most iconic U.S. auto races
Let the truth set you free, sir

The poor kid never even saw it coming

The burglars that Childress fired at were carrying military-grade weapons on them, the cops...