Andy Murray advances to Wimbledon semis after five-set thriller
Two-seed Andy Murray overcame a two-set deficit to Fernando Verdasco to advance to the semifinals on Wednesday.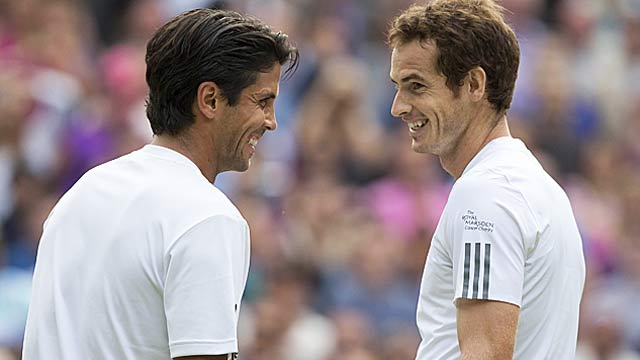 With the weight of a country's hopes along with 77 years worth of Wimbledon history on his mind, it would have been understandable had world No. 2 Andy Murray caved down 2-0 to 54th-ranked Fernando Verdasco on Wednesday in the quarterfinals. 
But Murray clawed his way back against the left-hander's devastating forehands and searing serves, both of which sent Murray sprawling on a never-ending chase, back and forth across the All England Club's grass courts. He managed to survive 4-6, 3-6, 6-1, 6-4, 7-5. 
Verdasco's aggressive style yielded 45 unforced errors, but the most telling stat of his high-risk, high-reward nature was his average speed on second serves. The Spaniard averaged 105 MPH on second chances, 20 MPH faster than the more conservative Murray. He also had nine double-faults, three times as many Murray. 
"He served unbelievably well, especially when he was behind in games, he kept going for it," Murray said to the BBC. "I thought the first set, he played some really good stuff at the end of the set when he needed to. Second set, my level dropped a bit, when I went ahead, I started rushing a bit, made a few mistakes."
After not dropping a set all tournament, Verdasco stunned both Murray and the crowd, forcing the tournament's second-seed into a visibly frustrated state. While serving during the fifth set, Murray was so tense he even scolded photographers for taking untimely pictures. 
"I don't know if it was the most emotional match I've played in, but towards the end, unbelievable atmosphere, great to get through that one and try and rest up for the semis," he said to the BBC. 
But for the seventh time in his career, Murray rebounded from a two-set deficit to take the final three sets 6-1, 6-4, 7-5 and advance to his third-consecutive Wimbledon semifinal.
After trading games throughout the tension-filled fifth-set, Murray swung momentum when he broke the 5-5 tie and seized control of the match, which lasted well over three and a half hours. He took the next game without conceding a point, and won when Verdasco hit a return shot long. 
Last year Murray reached the finals, eventually losing to Roger Federer. Still, it was the first time a British man had reached that plateau since 1938. But with a semifinal looming against No. 24 seed Jerzy Janowicz, Murray has a tremendous chance to reach even greater heights.
Not since Fred Perry in 1936 has a British man won Wimbledon. And with the surprising ousters of Rafael Nadal and Federer, the draw has already broken favorably for Murray.
He's on course to face No. 1 seed Novak Djokovic, should the Serbian advance past Juan Martin Del Potro and Murray handle his semifinal match. 
Murray improved to 9-1 all-time against Verdasco and extended his grasscourt winning streak to 16 games.  
Junior finished 25th in his final ride after starting last and was happy to cede the spotlight...

Truex held off Kyle Busch on the final lap to win while Dale Earnhardt Jr. finishes 25th in...

Dale Earnhardt Jr. is preparing to take his final ride while four other drivers compete for...
Patrick says she will run in the Daytona 500 and Indianapolis 500 next year

The threat of a ban has loomed for Russia as its doping scandal continues

'You knew some guys had a propensity to smoke a little bit' in the NBA, says Raja Bell