Arum: Pacquiao will run for President of the Philippines
According to promoter Bob Arum, Manny Pacquiao will eventually run for president of his home country.
• 1 min read
Even if Manny Pacquiao is conquered by Floyd Mayweather Jr. on May 2, he's still got a pretty meaningful future ahead of him -- a future full of interviews, strategists, and savvy opponents.
According to promoter Bob Arum, when Pacquiao decides to step out of the ring for good, he'll turn to politics. But his ambition isn't limited to being a congressman -- his current political status -- or a senator.
Instead, as Arum told TMZ Sports, Pacquiao will run to be the President of the Philippines at some point in the future.
"Forgot that," Arum said after being asked about Pacquiao's potential future as a singer. "He's going to be a president."
When Pacquiao was 32, he was elected to the House of Representatives in the Philippines. According to Arum, Pacquiao will run for a position in the Senate in 2016. Then, in 2022 or later, he'll attempt a run at President of the Philippines.
"I think he has a political career," Arum said.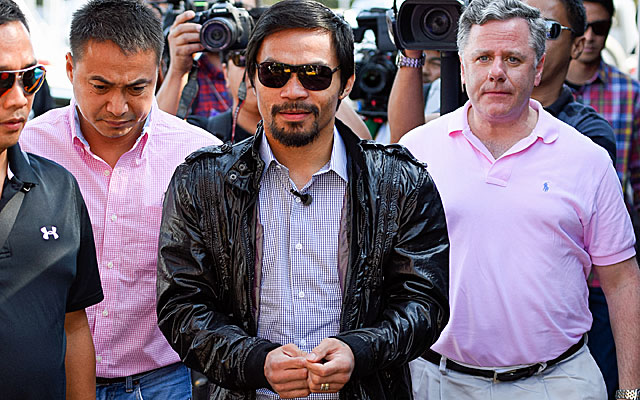 Considering Pacquiao just recorded an entrance song for the Fight of Century called "Lalaban Ako Para Sa Filipino" or "I Will Fight for the Filipino," beating Mayweather Jr. could be his first significant political win of his eventual presidential campaign.
The team of children agreed among themselves to follow Colin Kaepernick's stand against in...

Did Elliott cheat to finish second in the NASCAR playoff opener? You be the judge

Kahne has been with Hendrick Motorsports since the 2012 season and is currently in contention...
After finishing second in the first playoff race of the season, can the 21-year-old son of...

Find out if you're as smart as you think you are

Truex Jr. automatically advances to the Round of 12 and will have five more bonus points carried...