Bagwell's, others' absence from Hall of Fame result of 'probable' cause
Jeff Bagwell could be in the Hall of Fame. But maybe he cheated. Gregg Doyel won't guarantee the Astros great's innocence, but nobody can guarantee his guilt.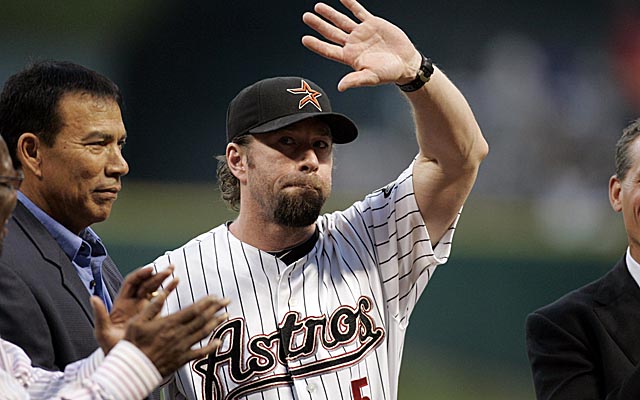 In the case of The People vs. Jeff Bagwell, the people have spoken. It was just one word they uttered, a pathetic and cruel word, but that single word was enough to convict Bagwell:
Probably.
Probably, Jeff Bagwell is guilty of using steroids. That's what Hall of Fame voters decided when they voted for the third consecutive year to deny Bagwell admission into baseball immortality. Probably, he's guilty. Definitely, he's out.
And so the annual Hall of Fame ceremony this weekend will be empty. For the first time in 53 years, no living player will be inducted; the 2013 ballot came and went without a single honoree, while the veterans committee selected three people who died in the 1930s. Barry Bonds and Roger Clemens were on the Baseball Writers Association of America ballot for the first time, but of course they were rejected. Bonds and Clemens are getting what they deserve. This story isn't about them, other than to hold them up as examples of what absolute guilt looks like.
And it does not look like Jeff Bagwell.
Bagwell has been convicted curiously. If we were to stack every hard piece of evidence against him -- links to BALCO, mentions on the Mitchell Report, lines in a Biogenesis notepad -- that stack would be thinner than a single piece of paper. Because there is no hard evidence that Bagwell used steroids to hit 449 home runs with 1,529 RBI from 1991 to 2005 for the Houston Astros.
The only evidence out there? He hit 449 home runs with 1,529 RBI from 1991 to 2005 for the Houston Astros.
The case against Bagwell is circumstantial at best, which is why he has been convicted because of that one awful word: Probably.
It's possible he has been convicted because of an even more offensive word:
Maybe.
Did Bagwell use steroids? Probably, some would say. Maybe, others would say. Put me in the "maybe" camp, for the record. Do I know he's innocent? Absolutely not. Would I bet a house payment on the honor of Jeff Bagwell? Nope. He did play in the Steroid Era. He did hit a lot of home runs, steal a lot of bases (for a first baseman). He did put on weight as his career went on. He was impressively muscular. Given all that, maybe he did use steroids. Probably? I wouldn't go that far, but I understand why others would.
Even so, "probably" isn't good enough to deny a man this moment -- and make no mistake, "probably" is the most that Hall of Fame voters can say if asked how certain they are that Jeff Bagwell took steroids. Bagwell is not Bonds or Clemens or Sammy Sosa or Mark McGwire or any of the muscularly bloated players who definitely put up Hall of Fame numbers with the help of steroids.
We know Bonds is guilty. Clemens too. Rafael Palmeiro, Alex Rodriguez, Manny Ramirez, Ryan Braun. We don't think it -- we know it.
We don't know squat about Jeff Bagwell, other than the circumstantial evidence mentioned above. The numbers he put up. The changes to his body. We know he got bigger, and we know he got better.
We also know he was a professional athlete who was 22 years old when he made his major-league debut in 1991 and hit 15 home runs in 554 at-bats. Professional athletes tend to get better as they go along. They tend to get bigger too. Maturity, dedication, motivation to be not just great, but to be filthy rich. Bagwell had all of those things, and while some of those things -- especially the motivation -- could have sent him to a drug dealer for steroids, I don't know that.
Neither do you.
Neither do HOF voters, though research by the New York Times indicates Bagwell has been denied access to the Hall because of steroid suspicions. According to the Times study of available votes, "Bagwell was chosen for the Hall of Fame by 82 percent of writers who also picked Bonds, higher than the 75 percent threshold required for election. But he was only named on about half of ballots that excluded Bonds."
In other words, Bagwell was approved by voters who are OK with cheaters -- but not by voters who object to cheaters. Ergo, voters consider Bagwell a cheater.
There can't be much debate about his actual worthiness, right? He's the only player in MLB history with 30 home runs, 100 RBI, 100 runs and 100 walks in six consecutive seasons. He was just the eighth player to win Rookie of Year and an MVP trophy. He's worthy.
And he's not Bonds or Clemens or any of the other blatantly lying, cheating scoundrels who dragged baseball into the Steroid Era. Chemists or trainers have rolled over on some MLB users. Names of stars have shown up during raids of steroid laboratories. Players have confessed. That's why there are scores of players, great and not great, who are known to be drug cheats.
Bagwell isn't one of those players. He had one season -- just one, see for yourself -- that was out of character compared to the rest his career. It was 1994, when his slugging percentage of .750 was 210 points above his career average, and his .368 batting average was a suspicious spike above his career average of .297.
That one season, the only season that was out of character? Funny thing, that. It was the strike-shortened season. Bagwell played just 110 games. Maybe over the course of 162 games those numbers would have slid back to something more in line with the rest of his career. Maybe not. Again, like so many things involving Jeff Bagwell, we don't know.
We know this: His career high for home runs came in 2000, when he hit 47 home runs, and we know that over the next five seasons he averaged 37 home runs and 110 RBI. What changed in 2000? The Astros moved into a new ballpark, Enron Field (later changed to Minute Maid Park), which had a short porch in left field of 315 feet. What do you know? Jeff Bagwell was a right-handed slugger whose numbers from 2000-04 reflected his home-field mastery. He homered 105 times at Minute Maid Park, 78 times on the road.
In 2000, when he hit a career-high 47 home runs? Bagwell hit 28 at home. Just 19 on the road.
None of this means he's innocent. Don't paint me as some blind defender of Jeff Bagwell. Truth is, he's not even the story here.
This weekend's empty Hall of Fame ceremony is the story. Voters are the story. They said no to Barry Bonds and Roger Clemens, because they know Bonds and Clemens cheated. Definitely.
They said no to Jeff Bagwell. Why? Because he probably cheated.
Maybe.
Flanagan, after winning the New York City Marathon, is out to win her 'hometown race'

How to watch the Professional Rodeo Cowboys Association's 2017 National Finals Rodeo event
John John Florence and Gabriel Medina will look to catch the wave to a championship

It's probably better to just buy your shoes online these days

Settle in for the holidays by watching other people do grueling obstacles like the Funky M...