Come for the pranks. That's fine. Come for the pranks, including one that could have affected the 2008 presidential election, but stay for the rest of the story -- about a rivalry that is definitely the oldest, and possibly the most unique, in Division II.
Right. Division II. Don't leave, and not out of courtesy to Ouachita Baptist and Henderson State. Their game on Saturday, the Battle of the Ravine, will do just fine without you -- just as it has since 1895 -- but how will you do without the Battle of the Ravine? You need to know this. You'll want to know this. And when you're finished, you'll be glad you do.
So picture the future governor of Arkansas, Mike Huckabee is his name, sneaking onto the grounds of Henderson State one night in 1973. It's a week before Thanksgiving, and the campus is asleep. Huckabee and his buddies have come over from Ouachita Baptist, and not to make merry.
They came to make their mark on the Battle of the Ravine.
It's not easy to make a mark with a prank, because the best ones have been done. So have the worst. There's the bronze tiger on campus at Ouachita Baptist, for example. For years it was missing a tail, because kids at Henderson would sneak over and clip it off and bury it somewhere. Ouachita would replace it. The kids at Henderson would clip the new tail and bury it somewhere else. Ouachita eventually built a fence around its signature statue, but it had a smaller one at the school library. A young man dressed in drag -- everyone swears that's what happened -- talked the Ouachita security officer into giving him the tiger for its "regular cleaning."
The statue came back clean. And without a tail.
Now it's Mike Huckabee's turn. Every year before the Battle of the Ravine, Henderson State has a bonfire. It's magnificent and it's enormous and it takes planning and time. A bonfire like this doesn't just happen, is my point. It's built the day before the event, to make sure everything is just so. Well, late one November night in 1973, Huckabee and some pals from Ouachita Baptist snuck onto the campus at Henderson State, got near the bonfire and lit a match.
About 35 years later Huckabee was the two-time Arkansas governor running against John McCain and Mitt Romney for the 2008 Republican nomination. Huckabee did all right, winning primaries in the South and Kansas before bowing out. The bonfire story never came up. Had he won the nomination, maybe it does. Maybe the country debates whether it can elect a president who would sneak onto another school's campus and ruin its bonfire. Nah, you're probably right. The bonfire story wouldn't have derailed Huckabee's nomination. But it's a good story, right?
And you're still here, so that's great. Told you, The Battle of Ravine is good stuff -- and it's about to get better. You know about the kidnapped tiger. In a minute I'll tell you about the kidnapped homecoming queen.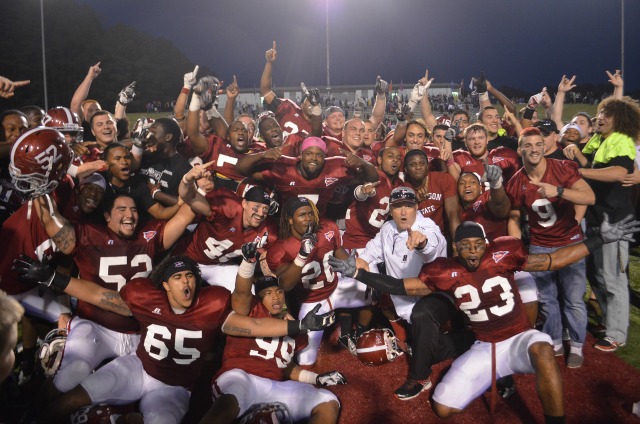 •••
They also compete at football. The Battle of the Ravine isn't just about the pranks, though there was the time some kids at Henderson spent all night hand-painting thousands of marshmallows a deep red -- they're the Henderson State Reddies -- and commissioned someone with a crop-dusting plane to drop that payload over the Ouachita Baptist campus.
But anyway, the football is good too. Through 84 games the programs of Ouachita Baptist and Henderson State -- which was founded as a Methodist school -- were so close, not even God could tell them apart. By 2010 they'd played 84 times and were tied at 39-39-6. Why so many ties? Don't know all the stories, but I know the one from 1988. The score was 3-3 at halftime when a rain of Biblical proportions flooded Arkadelphia, Ark. The second half was called off.
There have been some crazy games. Know how the series was a dead tie through 84 of them? This is how No. 85 ended: With Henderson State leading by 18 points in the second half, then less than that, then less, and finally Ouachita Baptist has the ball at the Henderson 1, trailing 41-36. Two seconds left. Third down, as Henderson State play-by-play man Phil Elson recalls from that 2011 game.
"Ouachita gives it to Chris Rycraw -- he's still their star fullback -- who goes up the middle and is stopped, or so we thought," Elson says. "Nobody was quite sure because the pile at the goal line was so big. There's no video board, no replay in Division II. Nobody knew where the ball ended up."
Referees peeled back players until they found Rycraw just short of the goal line. Game over. Henderson State won.
"That was the controversy for the next year in Arkadelphia," Elson says. "Did he get in? Did he not? I saw all sorts of photo-shopped versions of the play. That's still the most exciting ending I've ever seen to a football game."
Easy for him to say -- he wasn't at the Battle of the Ravine in 1949. Or 1975. Before I tell you about those, though, I have to tell you about the kidnapping of the homecoming queen. What happened to her in 1946 resonated in the game of 1949 -- and 1975.
•••
Her name was Ann Strickland, and she grew up in Arkadelphia. This is a town of 10,700 people and two colleges. Ouachita Baptist University was founded in 1886, and four years later the Methodists countered with Arkadelphia Methodist College, which was renamed in honor of trustee Charles Christopher Henderson in 1904 and went through a handful of name changes before settling on Henderson State University in 1975.
Ann Strickland grew up in the shadow of both schools. She attended Ouachita Baptist but knew lots of kids at Henderson, which is why she got in the car with a few of them in late November 1946, shortly after being named the OBU homecoming queen. The Battle of the Ravine was in two days. Ouachita's homecoming queen had just been kidnapped by Henderson State.
"If it happened today it would be national news. The FBI would be involved," says Rex Nelson, the play-by-play voice of Ouachita Baptist since 1978. "But these were some of her high school friends, and what they did was take her to a lake house in Hot Springs about 30 miles away -- and kept here there a few nights. They didn't let her go, and they didn't let anyone know where she was. Ouachita was in an uproar."
The kidnapped OBU homecoming queen was dating OBU star defensive back Bill Vining, so it wasn't just the town that was looking for Ann Strickland -- it was the team, too. Vining and teammate Ike Sharp got word that Strickland was being held in Arkadelphia, at the Caddo Hotel, and they pounded on doors looking for her. Good thing they didn't find her: According to legend, Ike Sharp was wearing overalls. According to legend, he was hiding a shotgun under his clothes.
Strickland was returned unharmed before the game, which Ouachita Baptist won 26-14, and the Tigers continued to exact revenge on the field. After a scoreless tie in 1947, Ouachita Baptist won in 1948 but found itself trailing Henderson 14-0 in the fourth quarter in 1949.
Enter Ike Sharp. The guy with the overalls and the shotgun.
Sharp successfully booted three onside kicks -- the last one just for spite -- as the Tigers scored three times in the final 10 minutes to win 17-14.
Move ahead to 1975, to a game many consider the greatest in series history. By then Bill Vining -- boyfriend of the kidnapped homecoming queen -- was the basketball coach at Ouachita Baptist, which now plays in Bill Vining Arena. Well, by 1975 Bill and Ann Vining's son was the quarterback on the OBU football team. That year Henderson came in at 9-0, a game ahead of Ouachita at 8-1. In the final minute Ouachita trailed 20-14 and faced fourth-and-25 when Bill Vining Jr. completed a 25-yard pass to Gary Reese. On the last play of the game he threw a touchdown to Ken Stuckey, and OBU won 21-20 to take Henderson's spot in the national playoffs.
"Greatest college football game I've ever seen," says Rex Nelson. "At any level."
Ann Strickland Vining died in August 2009. Over the years the homecoming queen's house up on a hill had become a hangout spot for kids in Arkadelphia. They learned to swim in the Vining pool. On snow days they trooped up the Vining hill with sleds. Some of those kids went to Ouachita. Some went to Henderson. Some will play Saturday.
•••
From 1967-70 Stan Parris played football at Henderson State. He was an All-American defensive back who holds the career record for interceptions and was inducted into the Henderson Hall of Honor in 2000. He bleeds Henderson red, but it's not that simple. His son, Kyle Parris, bled Ouachita purple -- and might have made the landmark fountain at Henderson State spit out purple-colored water before one particular Battle of the Ravine.
"I only did that as a student," Kyle Parris says. "If at all."
Today, Kyle Parris is the sports information director at "the Christian school," which is what his dad calls OBU. Turnabout being fair play, Kyle asks his father about his alma mater, which Kyle calls "the school across the street."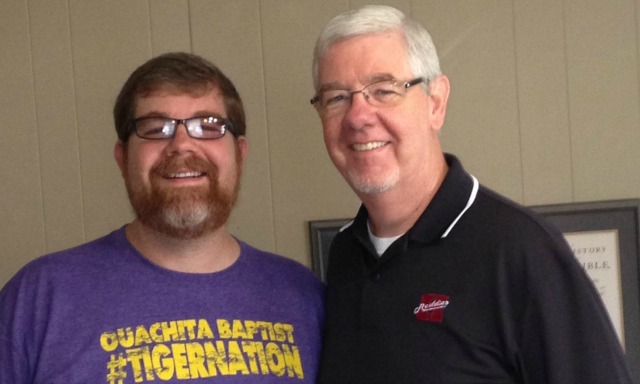 And that's a literal statement. The schools are separated in one part of town by a kudzu-covered ravine, hence "The Battle of the Ravine" moniker, but where the kudzu gives way to civilization the schools are separated by Highway 67. It's a two-lane road.
On game days in this series, the visiting team dresses in its own locker room and walks across the street to the other school's stadium. On Saturday the Reddies of Henderson State will leave their locker room at 12:30 p.m. and walk toward Highway 67. State troopers will stop traffic and fans will gather -- some cheering, some not -- as the Henderson State football team crosses the road and heads for A.U. Williams Field on the OBU campus. Kickoff is at 2.
It's billed as the shortest road trip in college football, but the schools are closer than that. Kids at Ouachita are welcome to take classes at Henderson, and vice versa. Credits at one school are honored at the other, and what kind of rivalry has athletes taking summer classes on the campus of its archrival? This one.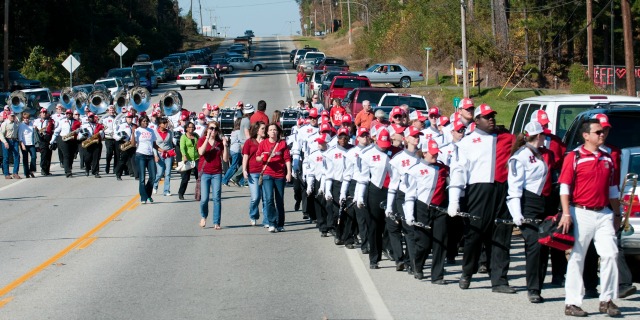 One of the biggest churches in town is Second Baptist, whose pastor is Stan Parris, the former Henderson State defensive back. Church members include the star quarterback at Henderson, Kevin Rodgers, and the star cornerback at Ouachita Baptist, Etauj Allen, who will try to intercept Rodgers on Saturday before praying with him on Sunday.
•••
We started with a prank and we'll end with a prank, which is more than they can say around Arkadelphia -- where both campuses are locked down so tight, the only way to pull off a prank this week might require a crop duster. And that's been done.
"That's really going above and beyond," Kyle Parris, the SID at Ouachita, says of the time students from Henderson made it rain red marshmallows. "I don't know who it was who did that for the school across the street, but I'd like to shake their hand."
Civility is about the only option this year, with both campuses guarding against mischief by leaving on the lights at the football stadium -- all night, all week. You can't find a sign to deface, either, because every street sign on campus, both campuses, is covered with a garbage bag.
"If you're looking for the Henderson State sign, forget it. It's covered up," says Elson, the school's radio voice. "If you need signs to find your way around either campus this week, good luck."
Ouachita built a wrought-iron fence around its iconic tiger statue, and students are camping out next to it this week. Just in case. At Henderson, the school band is guarding the fountain where Stan Parris' kid might have used purple dye and liquid dish detergent in the late 1980s to make a purple, sudsy mess.
In lieu of a fresh prank, you'll have to make do with a story from the 1970s when the Henderson ROTC corps marched across Highway 67. They were going to paint the Ouachita tiger, and they didn't care who knew about it. Students from each school spilled onto the OBU campus to watch, including football players from both teams, who gathered on the tennis courts. Some OBU students emerged from the campus fire station with hoses and ladders, and they held off the Henderson ROTC with water coming hard from various angles.
This week, alas, pranks are out. Civility is in. And on Saturday when the population of Arkadelphia doubles, visitors arriving on I-30 will drive past the colorful water tower that has paintings of a boat and a building and trees, a tower that tries to unite this two-campus town by ignoring both of them. Instead, the tower offers a humble message that doesn't mention the kidnapping or crop-dusting or fire hoses, or speculate on the location of those buried tiger's tails. The water tower says simply:
"Arkadelphia: It's a great place to call home."
There's no purple on the tower, but the sailboat is painted red . You don't think ...