Bengals QB Andy Dalton dodges his role in loss better than he does INTs
Andy Dalton, citing the 'quarterback gets too much blame and too much credit' line of logic, dodges responsibility for the Bengals' loss, though the facts state otherwise.
CINCINNATI -- Andy Dalton wouldn't hear it. He damn sure wouldn't say it. He wouldn't go anywhere near the issue of blame, specifically the blame on him, for the Bengals' 27-10 loss to San Diego on Sunday in an NFL wild-card playoff game.
And we tried. Not me personally, but we in the media? We tried. We asked Dalton over and over about his role in this loss, his mistakes, his turnovers. We asked him about the time he fumbled without being hit and the time he threw an interception without being pressured and the other pick he threw -- under pressure but stupidly off his back foot toward double coverage. All of that happened on three consecutive possessions, a 10-minute fusillade of fail that turned a one-possession game into a blowout loss that had Bengals fans booing as they walked out with time left on the clock.
But Dalton, as nice a guy as there is in the Bengals locker room, refused to do the nice thing and point the finger away from his teammates and at himself. That's what quarterbacks do, or are supposed to do. It's how leaders lead. They screw up, they admit it. Even if it wasn't entirely their fault, even if things happened that football fans and football media don't understand. A quarterback plays as badly as Andy Dalton played on Sunday, and the quarterback takes the blame.
But not this quarterback.
"Everyone knows the quarterback gets too much blame and too much credit," Dalton said during the portion of his press conference when the questioning shifted from the Bengals to the Bengals' quarterback.
It started with someone asking Dalton what went wrong. He was asked a lot about that, and throughout his answers he used the pronoun "we" a lot. Stayed away from "I," even though there are two such letters in the word "interception."
Bob Holtzman of ESPN lobbed a soft one at Dalton, acknowledging that quarterbacks get a lot of the blame for losses, and wondering how much Dalton deserved for this one. Dalton said some stuff, said he could take the criticism, but that "a lot goes on in a game ... a lot goes into it."
Recognizing a non-answer when he hears one, Holtzman came with a fastball: "Do you deserve it?"
Dalton fouled it off, noting that "everyone knows the quarterback gets too much blame ..."
This went on for several minutes, other reporters asking Dalton variations of the same question -- how is his confidence, how will he be judged for this game, did he feel he was trying to do too much -- but it was Holtzman who threw a heater under Dalton's chin:
"What went wrong in the third quarter?"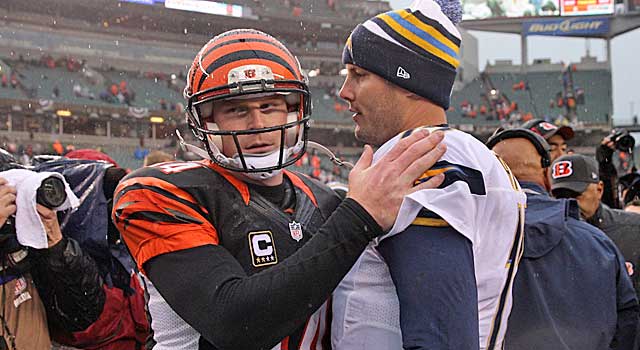 That's the quarter when Dalton drove this game off a cliff, starting with his scramble on third-and-14 that ended when he dived headfirst for the first-down marker 15 feet away and fumbled without being touched. On the next possession he reacted to pressure by going backward, throwing a pass off his back foot and watching Chargers cornerback Shareece Wright intercept and return it to the Bengals 3, leading to a field goal. On the next possession, now early in the fourth quarter, Dalton dropped back, set his feet for a short pass and threw it right to Chargers linebacker Melvin Ingram.
So, Andy, what went wrong in the third quarter?
"We weren't able to pick up enough yards on first down to put us in position to get first downs," he said. "Unfortunately, the turnovers happened."
The turnovers happened.
Dalton has been good for the Bengals, helping lead this franchise from the spineless, egomaniacal embarrassment of Carson Palmer and Chad Johnson, etc., to three playoff appearances in three years. The Bengals have lost all three playoff games, though, and after this loss the quarterback wasn't accountable. Maybe he was thinking about his next contract and not wanting to say anything to give the Bengals ammunition against him. Maybe he really doesn't think this game was his fault.
Let's look at that. The Bengals ran 22 more offensive plays than San Diego, outgained the Chargers 439 yards to 318, forced twice as many punts and even had one fewer penalty. And yet the Bengals lost by 17 points. How? The four turnovers they committed, compared to none for San Diego. Dalton committed three of them. All three were absolutely his fault.
Not even Bengals coach Marvin Lewis, never one to be tough on his players through the media, could pretend this game wasn't a bad look for his quarterback.
"He's going to be very disappointed in himself, obviously," Lewis said. "He is the [quarterback of this] football team, and I'm sure he's very disappointed."
Don't be so sure. Dalton avoided every question about his personal failings, but jumped on one about whether he had grown in three years at the position.
"I definitely have," Dalton said, finally unloading the first-person pronoun. "I've improved a lot and it shows with everything we've done this year."
Fair is fair: The Bengals offense finished in the top 10 in yards (10th) and points (sixth), and Dalton threw for a career-best 4,293 yards and 33 touchdowns. But truth is truth, and the truth is Dalton came up tiny in the regular-season finale when the Bengals were playing for a first-round bye -- didn't work, even though they won -- and he threw for a career-high four interceptions against the Ravens.
And the Chargers? They watched that film.
"We saw him throw four interceptions last week against the Ravens," Wright said. "First play of the game, he threw a pick. We knew he'd throw us some."
Knew? Interesting. I took that answer to the other San Diego defender who picked off Dalton, Ingram, and asked him about it: Did you hope Dalton would throw interceptions today, or did you know?
"We didn't hope," Ingram said.
Don't tell Dalton. Or do. Either way, he's not listening.
Raisman said she is 'beyond disgusted' by Nassar's actions and says it's 'about time' he's...

A Florida woman allegedly stalked and harassed Stewart for more than a year after he failed...

Jonah Keri talks to with Vox senior politics reporter Jane Coaston
The movie also stars Channing Tatum, James Corden, Zendaya and Danny DeVito

Travel plans for the PyeongChang Games have been 'stagnant,' one agency told USA Today

'Generous roll' doesn't exactly do this one justice