Big Boss Man's greatest WWE rivalries: From Nailz to Hulk Hogan
Here are the five most memorable WWE rivalries involving Big Boss Man, who will be a member of the Hall of Fame's 2016 class in April.
There are many ways to measure the success of a WWE superstar. Popularity and profitability are two such ways, but another is the legacy he or she leaves behind retirement.
The newest inductee into the WWE Hall of Fame, Big Boss Man (real name Ray Traylor Jr.) was never known for his cool merchandise or being the main attraction on a live event card, but he is fondly remembered as a talented ringmaster.
"I really, really liked Ray," former WCW president Eric Bischoff said of Boss Man to Ric Flair on his podcast last year. "He was great to work with. He was easy, he was a pro, he was talented. You didn't have to spend a lot of time trying to explain to him what you wanted. He had a great instinct for things. And he just made it fun. He made the business fun."
Boss Man was the rare superstar who remained relevant despite not holding a meaningful title. Though he had many matches for the top championship belts, he won the tag team titles just once and the now-defunct hardcore title four times while with WWE. It's clear the Big Boss Man character will live on because of his ability to work with the industry's top stars and make matches shine, not due to his hardware.
In fact, Boss Man was known for those rivalries more than anything else. The prison guard-turned-bad guy was a perfect foil for the WWE's heroes, and when Boss Man made a face turn, he worked well as a sympathetic figure fighting against those who looked to do wrong and break the rules.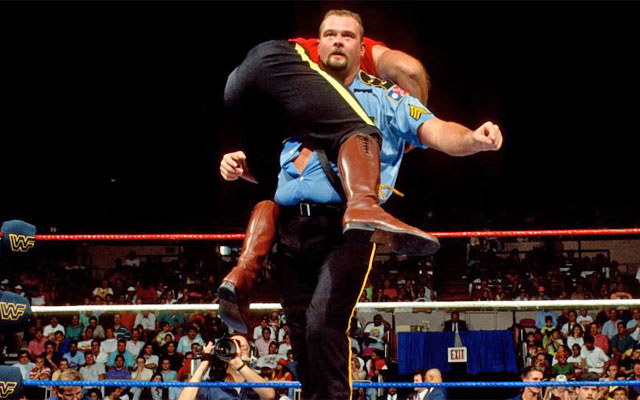 With that, here are the five most memorable rivalries involving the Big Boss Man.
5. Bobby Heenan and Curt Hennig: Soon after Boss Man became a fan favorite, mouthy manager Bobby "The Brain" Heenan cracked jokes about Boss Man's mother. It didn't take very long for Boss Man to retaliate. It kicked off a feud between Boss Man and Heenan's stable featuring "Mr. Perfect" Curt Hennig. The rivalry culminated with Hennig squaring off with Bossman for Hennig's intercontinental Title at WrestleMania VII, a match Boss Man won by disqualification with the belt not changing hands.
Outside of the ring, Boss Man and Hennig were actually close friends. Later in their careers, they'd team up in tag matches. When Hennig passed away in 2003, Bossman penned a tribute to him on WWE.com. "Even though Curt Hennig and I were not blood brothers, I knew we were brothers," Bossman wrote. "He watched out for me, I watched out for him. I had great respect for Curt and felt he had the same respect for me. In all the times that we knew each other, going from town to town, up and down the roads all over the world, we never once said a cross word to each other. We talked about family, business and life -- all sorts of personal business that was just between us."
4. The Mountie: When the Big Boss Man evolved into a symbol of good ol' American justice, The Mountie was there to represent a different type of law in Canada -- sneaky and underhanded. Canadian authorities were portrayed poorly by The Mountie, who shocked his opponents with a cattle prod as often as he could. But when Boss Man became a victim of The Mountie, a feud between members of major law enforcement agencies commenced. The brouhaha culminated with WWE's only "loser spends the night in jail" match at SummerSlam in 1991. 'Murica!
3. Nailz: Because Boss Man was actually a real prison guard in Cobb County, Georgia, prior to his professional wrestling career, it was only a matter of time before Vince McMahon put him in a storyline about an ex-convict. In 1992, Nailz debuted; wearing a bright orange jumpsuit, the alleged ex-con from Boss Man's former prison jumped Boss Man while he was in a match, setting off what might have been Boss Man's most interesting feud as a fan favorite.
For half a year, Bossman and Nailz barreled toward the only kind of match that made sense to end the feud: a "nightstick on a pole" at Survivor Series 1992. Guess one-of-a-kind stipulations were the Boss Man's thing. Anyway, there was so much intrigue in the match that it earned top billing behind only the main event of the pay-per-view. Boss Man ultimately won, and Nailz never wrestled for the company again.
2. Big Show: A lot happened in the near-decade after Boss Man dispensed with Nailz. He left WWE for WCW, became a member of the nWo, then came back to WWE as a riot-gear-wearing bodyguard for McMahon. As part of the muscle-bound conglomerate known as The Corporation, Boss Man got involved in a forgettable feud with The Undertaker but had a much more macabre series with Big Show.
As the storyline went, Big Show's father passed away. While Show honored him on Monday Night Raw, Boss Man interrupted and read a poem expressing his lack of care or concern for Big Show or his father. He then appeared at his funeral, which incensed Big Show further and led to a world championship match in 1999 that lasted less than five minutes. The rivalry was shorter than many of Boss Man's feuds, but it was an intense one nonetheless.
1. Hulk Hogan: It's pretty incredible that Big Boss Man's most memorable rival was also his very first in WWE. Upon arriving to the company, Boss Man aligned himself with the Doctor of Style, Slick, and the two set their sights on destroying Hulkamania once and for all. Of course, every bad guy had his sights set on destroying Hulkamania ...
At the time, it was pretty normal for a new "big bad" to be "fed" to Hogan. WWE needed people to come in, wage war with Hogan and eventually lose so Hogan could continue being a hero. But the Boss Man managed to be a thorn in the Hulkster's side for a while. They not only had single matches in every city across America, eventually they fought tag team matches as The Twin Towers (Boss Man and Akeem) and The Mega Powers (Hogan and "Macho Man" Randy Savage).
Boss Man and Hogan resumed their singles feud after Hogan won the world title, culminating in a steel cage match on Saturday Night's Main Event and one of the greatest spots WWE had in the early 1990s.
Boss Man became an established main player on the WWE roster -- and a recognizable figure in the eyes of millions -- due in large part to his being pit so often against Hogan. It was this rivalry that catapulted Boss Man into stardom and ultimately led to a career that resulted in a WWE Hall of Fame induction.
SportsLine's Jody Demling called Gun Runner winning the Pegasus World Cup last year

Joseph Baena shared the photo in an Instagram post

Jody Demling nailed the Arkansas Derby and Florida Derby last year
Seven states have joined Nevada in legalizing sports betting, and New York could be next u...

Everything you need to know to tune in for this week's showdown at the WVU Coliseum

Stevens Point is still undefeated on the season