Canelo, De La Hoya seem ready to make fight with Golovkin after KO
Canelo Alvarez and Oscar De La Hoya are talking a big game about making a GGG fight a reality after Canelo's thunderous KO of Amir Khan.
• 5 min read
Canelo Alvarez and Oscar De La Hoya might have played this to perfection. 
After out-boxing Miguel Cotto to a unanimous decision victory to win the WBC middleweight title, the boxing world was clamoring for Canelo to face Gennady Golovkin. It is the best fight that can be made in boxing right now -- in any weight class -- and features two fighters that can produce spectacular knockouts. 
Instead, Canelo and Golden Boy convinced Golovkin and his camp to sign a waiver to push their mandatory bout back and allow Alvarez to fight a different opponent. Many -- including myself -- were disappointed and accused Canelo and Golden Boy of dodging GGG. 
So in the last few weeks, instead of getting Canelo-GGG, we've seen Golovkin decimate Dominic Wade by way of second-round knockout and then on Saturday night, Alvarez produced the most vicious knockout of the year with a thunderous overhand right that knocked Amir Khan out cold. 
That Canelo Alvarez we saw on Saturday night is the one that we want to see and is the one advertisers and television networks drool over. That is the Alvarez that is billed as one of the world's best pound-for-pound power punchers.
And that is why all of a sudden, Alvarez-GGG has more buzz than it ever has. 
After the fight, Alvarez invited Golovkin into the ring and called him out, saying that he doesn't [expletive] around and doesn't fear anyone in his post-fight interview. "Let's fight now," Canelo said. 
He said the same after beating Cotto, but this time it felt different. This time it came after a vicious knockout and he said it with real emotion to Golovkin's face.
It all felt like a promo shoot in wrestling. 
Golovkin stood there, smiling as he always does, reveling in the moment and the potential fight. Alvarez forcefully challenged him, with his promoter Oscar De La Hoya standing behind him, grinning maniacally as he counted the potential millions he stands to make in his head. 
While still in the ring, Golovkin tweeted this response to Canelo's fiery challenge. 
Big respect to all fighters tonight. I am ready, @Canelo. #CaneloKhan

— Gennady Golovkin (@GGGBoxing) May 8, 2016
It was all perfect, hopefully not too perfect. 
Anyone that follows boxing knows the perfect fight rarely happens. Promoters, television networks and the boxers themselves often find ways to derail potential fights. The most recent instance of this was Floyd Mayweather and Manny Pacquiao, who danced around each other for years until making a fight with both fighters beyond their prime years. 
That fight still ended up being the most watched boxing pay-per-view ever. It was the highest grossing boxing fight in history, but for the casual fan that tuned in to watch it, they walked away disappointed. 
Canelo-GGG has a chance to undo all that goodwill burned away by Mayweather-Pacquiao. They can make this the best fight boxing has to offer in any weight class happen, and they can do it when both fighters are in their primes as the most visible, marketable athletes in their sport.
There are hurdles to be had for sure. 
The most glaring issue is what weight they will fight at. Golovkin said on the HBO PPV telecast that he still wants the fight at 160 pounds, not at the 155-pound catchweight that Canelo prefers.
However, if that is the only thing standing in the way of this fight, Golovkin stands to make too much money from this fight not to accept a catchweight. A 157-pound catchweight appears to be the most likely compromise, but De La Hoya said in the post-fight press conference that weight won't be an issue to get it done.
Canelo echoed that statement, going on record to ESPN's Dan Rafael that he would fight at 160. 
The good news is the other major hurdle -- Canelo's willingness to step in the ring with Golovkin -- is, at least on the surface, removed. Between Canelo calling out Golovkin in the ring with him there and De La Hoya's post-fight statements, we seem headed towards some real dialogue about making a fight happen. 
"You better answer your phone tomorrow morning," De La Hoya said to GGG in the post-fight press conference, adding that Miguel Cotto is not being discussed as Alvarez's next opponent. "[GGG-Canelo] is the fight you all want to see, right." 
De La Hoya is right, GGG better be answering and De La Hoya better be calling with a legitimate offer. If so, we could be looking at one of the most anticipated megafights in recent boxing history and one of the great boxing promotional successes.
Taking the Khan fight was a calculated move by Golden Boy and Canelo. They took a fighter that has tremendous speed but is the significantly less powerful puncher with a historically fragile chin, and fed him to Alvarez.
Now, a promotion for a Canelo-GGG fight can be billed as power vs. power -- as opposed to the speed vs. power hook they used for the Khan fight -- with both fighters recording spectacular knockouts in their most recent fights. 
After months of concern that a Canelo-GGG fight would never happen, there is optimism that the fight won't just happen, but could come this fall. Everyone wants this fight. The fans want it. HBO wants it. Golovkin wants it. Even Amir Khan wants it. 
"I think it's time for Canelo to step up to GGG, just like I stepped up to fight him," said Khan after the fight. "I tried as much as I could and trained very hard for this fight. Unfortunately, I didn't get the result I wanted. Although I feel strong at this weight, I am naturally a lighter fighter and plan to go back down to welterweight. But, I like to challenge myself and that is why I took this fight. I want to be the best, and to be the best I have to fight the best."
Now, it seems like for the first time Golden Boy and Canelo might really want it.
It would be a once-in-a-generation occurrence in boxing: a true megafight between power punchers in their primes and it's time to make it happen.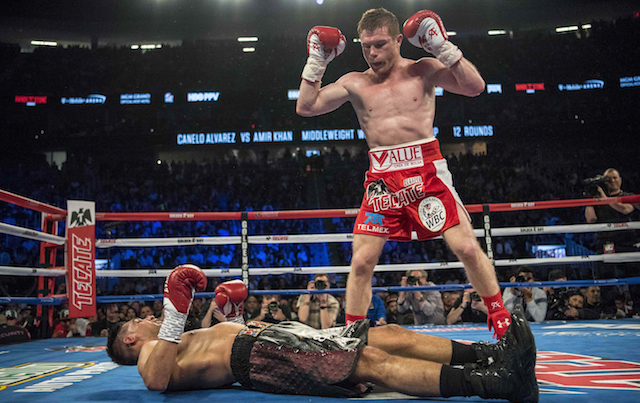 The Cowboys QB spent his summer helping kids, including on in particular who suffered from...

The video game takeover continues

What to know to catch a top-10 water polo matchup on Saturday
Everything you need to know to tune in for this week's critical Big East showdown

Everything you need to know to tune into this weekend's action

Justin Gallegos has a goal to finish a half marathon in under two hours, and Nike wants to...