Can't wait to see if reality matches legend of Texas A&M's Seals-Jones
Haven't seen Ricky Seals-Jones? Neither have we. But waiting to find out if the legend of Texas A&M's freshman receiver matches reality is killing us.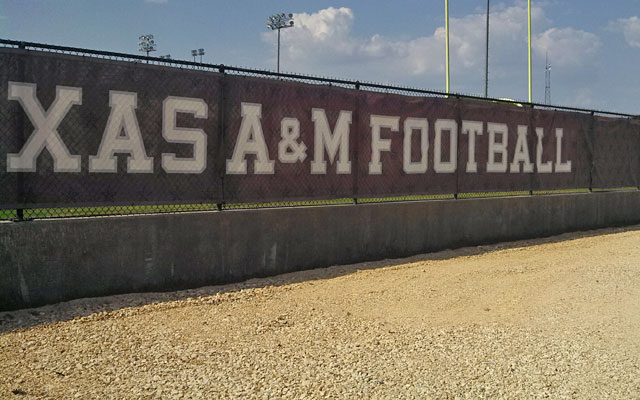 COLLEGE STATION, Texas -- He's in there, somewhere. Behind that fence. Somewhere. He's big and he's fast and he's skilled and he's almost surely going to play in the NFL someday, but for now he's a college football player who has yet to play his first game for Texas A&M.
His name is Ricky Seals-Jones, and if you don't know who he is, you will. According to legend, which you will find hard to believe, he stands 6-feet-5 and weighs close to 245 pounds and runs the 40-yard dash in 4.5 seconds.
And plays wide receiver.
That's what I hear. That's what they say. I'll see this guy for myself -- lots of us will -- Saturday when the Aggies open the season against Rice, but I wanted to see him sooner. That's why I'm standing outside the fence at the Texas A&M practice fields, just looking, and seeing nothing. It's a chain-link fence, six feet tall, and it's wrapped in opaque maroon canvas. Also, the fence was built on top of three feet of concrete. So to watch Texas A&M practice, you would have to be more than nine feet tall, or have a ladder. Neither applies to me, so I'm staring at the fence, knowing he's back there. Somewhere. Doing unspeakable things that nobody can see.
He did one of those things a few weeks ago during a scrimmage when he faded into the back of the end zone for a lob that was thrown too high. Only, Ricky Seals-Jones is 6-5 and a former basketball player with hops. So it wasn't too high. Seals-Jones elevated and pulled in the ball with one hand. Nastiest touchdown you never saw.
So the legend goes.
And I believe it. Scout.com ranked Seals-Jones as the No. 1 receiver in the high school class of 2013, and he's showing up on all sorts of lists as a freshman to watch. This site here ranked Seals-Jones the No. 8 freshman in the country, although that site is like everyone else on the outside: aware of the legend, noting it, waiting to see it with our own eyes.
Texas A&M is trying to quiet the legend down, but good luck with that. The Aggies' most recent depth chart, released eight days before the season opener, lists eight different receivers -- none of them named Ricky Seals-Jones. The depth chart has three true freshman receivers. Again, none named Ricky Seals-Jones. How can this be? Don't know. Last week Aggies coach Kevin Sumlin was asked about Seals-Jones, about what the freshman receiver offers beyond size.
Sumlin started to answer, stopped so he could smile, then answered some more. Here's what he said, and here's how it sounded (30-second mark):
"He's big, he's fast and he's got real good hands," Sumlin said. "That's why he was rated the way he was rated out of high school. And he's still learning."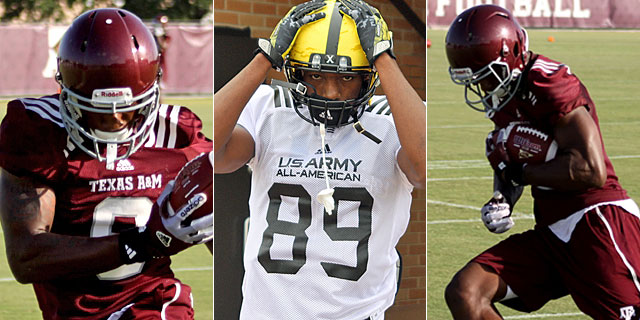 The size is the staggering part. At 6-5, 245 pounds, he's in the realm of Calvin Johnson. Which is probably why the Aggies coaching staff has compared him to Megatron -- and not, interestingly, to the enormous star receiver already on the Texas A&M roster, 6-5, 225-pound sophomore Mike Evans. Seals-Jones is faster than Evans. He's not as fast as Johnson, but he's faster than Evans, and Evans caught 82 passes for 1,105 yards last season.
How many passes will Seals-Jones catch this season from Heisman-winning quarterback Johnny Manziel? We'll have to see. The A&M staff is trying to keep him the right size for the season, but his genetics are getting in the way. The coaching staff was expecting Seals-Jones to play at about 225 pounds this season, but after several weeks with the team's training table and weight room he was approaching 245 pounds. Sumlin had Seals-Jones' body fat tested -- and the legend grew.
"He's about as lean as you can get," Sumlin said. "That's just him. Just a big dude."
Earlier this month A&M receivers coach David Beaty was speaking about Seals-Jones to the Dallas Morning-News when he said: "That guy, he looks at weights and he grows another muscle somewhere in his body."
Team strength coaches have told Sumlin the only way to be sure that Seals-Jones won't grow to 260 pounds is to keep him out of the weight room. That's the legend, though the legend isn't always so savory. Legend also has it that Seals-Jones was the target of a recruiting war between schools in the SEC and ACC. His father has said the family was offered hundreds of thousands of dollars for Ricky's signature on a scholarship. Crazy stuff, over-the-top stuff, but then everything about Seals-Jones is crazy and over the top. He's larger than life -- only, he really is. Larger than life. Which is why Sumlin is trying to shrink the legend as best he can.
"He's got real talent," Sumlin said. "We'll see what the plan is. We'll bring him along. He'll play this year, but he doesn't have any pressure on him because of how Malcome [Kennedy, a junior who caught 26 passes for 285 yards last season,] is playing."
We'll bring him along?
He'll play this year?
That's not legendary, and I want to see the legend. You can't see him behind that damn canvas-covered fence, but you can see him on video and there's not a thing Texas A&M can do to stop you.
Here's one of a recent scrimmage. Jones makes a few catches on this video, including a deep pass where he's running stride for stride with players 50 pounds lighter, but the highlight happens at the 1:28 mark. It's a short touchdown catch with a defensive back trying to jar the ball loose in the end zone. The defensive back runs into Seals-Jones and hits the ground as if he had run into a building. Seals-Jones doesn't even seem to notice. And in the back of the end zone is some guy, some lucky guy, standing 10 feet away and smiling at Seals-Jones like he has just seen something special.
Which he has.
And Saturday, it's our turn.
How to watch the Professional Rodeo Cowboys Association's 2017 National Finals Rodeo event

John John Florence and Gabriel Medina will look to catch the wave to a championship

Froome was found to have double the legal limit of an asthma drug in a September doping te...
Flanagan, after winning the New York City Marathon, is out to win her 'hometown race'

It's probably better to just buy your shoes online these days