Carroll's Seattle success puts him in elite company among coaches
Pete Carroll wasn't an overnight success in the NFL, like Jim Harbaugh, but winning a Super Bowl would only underscore that he's one of the greatest ever.
Kirwan: Ground games step up | La Canfora: Playoff chameleons | Playoff Bracket
Two more wins, and Pete Carroll joins the list. Two more wins, and he joins the only two head coaches in NFL history to add a Super Bowl title to their college championship: Jimmy Johnson and Barry Switzer.
That's an objective list, cut-and-dried, stated as a fact and not an opinion. Johnson and Switzer did it. Pete Carroll is two wins away -- the NFC Championship Game on Sunday against the 49ers, then the Super Bowl on Feb. 2 in New York City against the Broncos or Patriots -- from giving that club a third member.
What would that list mean in a subjective sense? To me, not much. Because I've seen enough from Pete Carroll to call him something I was never -- and by that I mean, ever -- prepared to call him when he was at Southern California, or even last season with the Seahawks:
Pete Carroll, I'm now willing to concede, is one of the greatest football coaches alive.
As it happens, one of the only coaches I'm willing to even consider as his superior will be waiting Sunday in the NFC championship game. And as that happens, Pete Carroll and 49ers coach Jim Harbaugh don't like each other. Haven't since they were both in the Pac-10, Harbaugh at Stanford, Carroll at USC. Their relationship became a rivalry in 2007 when Harbaugh's first team, a 41-point underdog, stunned Carroll's No. 2 Trojans -- and their rivalry became a national story two years later when Stanford beat USC 55-21 and Harbaugh tried to run it up late, going for two points after taking a 48-21 lead with 6:47 left, after which Carroll asked him at midfield, "What's your deal?"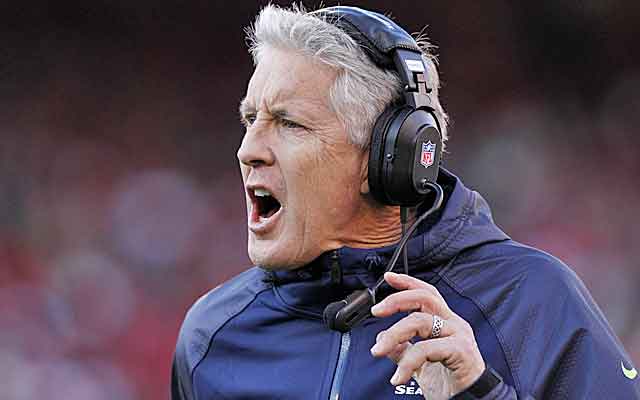 Since then they've moved to the NFL, to the NFC West, where they've built the best two franchises in the conference if not the whole league. Harbaugh's NFL success never surprised me. For some reason, Carroll's did. And I say that knowing the guy needed exactly one year at USC -- which had been distressingly mediocre from 1983-2001 -- to rebuild the Trojans into a national power. He averaged 11 wins from 2002-09, won national titles in 2003 and '04 and finished ranked in the top four seven years in a row (2002-08).
But his success in the NFL caught me off-guard. He started slowly in Seattle, going 7-9 each of his first two seasons starting in 2010, but he has turned the Seahawks -- who had won just four games in '08 and five in '09 -- into a 24-8 juggernaut the past two seasons. Overall he's 41-28 with three playoff appearances, and three playoff victories (so far), in four seasons.
Great coach, Pete Carroll? One of the greatest in the sport? Wasn't clear a few years ago. Seems clear now. The guy won big in college, where recruiting and motivation are required as much as X-and-O brilliance -- and now he's doing the same in the NFL, where the X's and the O's are at a premium.
And maybe this is the time to point out Carroll's previous NFL head-coaching experience, with the New York Jets in 1994 and then at New England from '97-99, when he "flopped" ... with a combined record of 33-31.
And in hindsight, maybe he did flop. Maybe we should take the quotation marks off that word and recognize that, for Pete Carroll, a four-year record -- even with two (at the time) dysfunctional franchises -- of two games above .500 does constitute as a flop.
When you're one of the greatest football coaches alive.
Seems like I'm done here, but some people will disagree with this. People who, like me in July 2010, didn't like how USC got into NCAA trouble under Carroll's watch. People who, like me, didn't appreciate the way Carroll sometimes acted at USC -- not bad or mean, just stupid, like the time he pretended to get into a spat with tailback LenDale White and had a tackling dummy wearing White's practice jersey launched off the roof of a nearby building. Because suicide pranks are just so funny.
Anyway, what happened at USC happened, and some folks are going to hang onto it and let it obscure what they're seeing now from Pete Carroll, and those folks aren't going to include me. What I see from Carroll is a motivational genius -- yeah, genius -- who knows how to get paid professional athletes to care about each game, each series, each play as much as the college kids care. Think it's easy? Watch your NFL team sleepwalk though stretches of games. It happens. But not in Seattle, where Carroll knows how to milk every last drop of performance from his guys.
Carroll also has a genius (yeah, genius) for putting together an NFL roster. The Seahawks have a general manager, and John Schneider deserves credit for the specifics of this roster, but Carroll is the philosophical driving force who wanted a punishing running game and a pass-rushing defensive front -- that's the area he most wanted to upgrade after last season -- and an overall tone of controlled violence on both sides of the ball, because those three things travel from game to game, regardless of location and weather.
The NFL is a quarterback's league now more than ever, and the Seahawks just manhandled the Saints despite getting 103 passing yards from Russell Wilson. How does that happen? It happens because the head coach knows exactly what he's doing -- and he knows how to get the good ol' college try from his millionaire athletes.
So which active coaches would I put on the level of Pete Carroll? The list is short, but here goes: Nick Saban, who coached just two years in the NFL -- and went 9-7 in one of them -- but has won national titles at two different schools. Urban Meyer, who has never coached in the NFL but has won huge at schools big (Florida, Ohio State), medium (Utah) and small (Bowling Green). Bill Belichick, who has never coached in college but has won three Super Bowls with the Patriots.
And the guy who will be on the sideline opposite Sunday, Jim Harbaugh, who turned around downtrodden San Diego (29-6 in three years) and rebuilt academically brutal Stanford (29-21 in four years) and then went to the NFL and made the 49ers (41-13-1, with three NFC title-game appearances in three years) one of the best teams in the league.
I've always thought Jim Harbaugh is the single greatest football coach, at any level, working today.
And now I'm not sure he'll be the greatest football coach at CenturyLink Field on Sunday.
Everything you need to know for Sunday's race in the Monster Energy NASCAR Cup Series

Micah Roberts pioneered wagering on NASCAR races and just locked in his QuikTrip 500 picks

SportsLine's Mike McClure, a DFS pro with more than $1M in winnings, gives optimal lineup...
SportsLine simulated the Folds of Honor QuikTrip 500 race 10,000 times and has some surprising...

Hamlin wasn't thrilled with Bubba's driving, or his post-race comments

The Richard Childress team went all out after their win on Sunday