Carroll's vision in '12 preseason put Wilson at QB, helped Seattle to SB
The Seahawks had to talk themselves into drafting Russell Wilson, let alone starting him. That is, until Pete Carroll knew he'd found his QB in the 2012 preseason.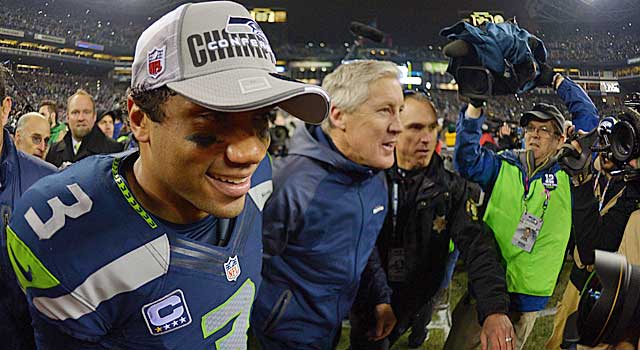 More SB coverage: XLVIII odds | Expert picks | SB weather | Latest news
NEW YORK -- It makes all the sense in the world now, but don't let hindsight confuse the issue. In August 2012, Seahawks coach Pete Carroll, with two straight losing seasons since leaving his dynasty at USC for another crack at the NFL, announced his starting quarterback wouldn't be the $19 million free agent Seattle had just signed, Matt Flynn. It wouldn't be another quarterback on roster, 2011 captain and 3,000-yard passer Tarvaris Jackson.
Pete Carroll was going with Russell Wilson. The rookie. Not even 5-foot-11, but 5-10 and 5/8. Shortest quarterback in the NFL since Doug Flutie, and Flutie had to cross the Patriots' 1987 picket line -- three full years after his Heisman Trophy senior season of college -- to start in the NFL. Then Flutie had to go to Canada for eight years and throw for more than 40,000 yards and 270 touchdowns before becoming a legitimate, strike-free starter in the NFL in 1998 in Buffalo. At age 36. And only because Bills starter Rob Johnson got hurt.
That's how unusual it was, and still is, for a guy as short as Russell Wilson to be named an NFL starter. And as a rookie? Over a big-money free agent (Flynn) and the incumbent team captain (Jackson)?
This move wasn't just a shock to people outside of Seattle. It was dangerous. If it backfires, a coach can get fired. And Pete Carroll, he wasn't doing so great at Seattle in August 2012. Again, hindsight is 20-20, and hindsight shows not only what it shows about Russell Wilson, but it shows what it shows about Pete Carroll. And what it shows about Carroll is that he is one of the best coaches in football. That's what we know a few days before his Seahawks take on the Denver Broncos in Super Bowl XLVIII.
But in August 2012? We knew that Pete Carroll had been fired from two previous head coaching positions in the NFL, with the Jets in 1994 and the Patriots in '99, and that his first two seasons with Seattle had resulted in 7-9 finishes in what was, at the time, the least respected division in football: The NFL Worst.
And this coach is picking that quarterback as his starter?
Seahawks assistant Sherman Smith remembers the day it happened.
"Let me make one thing clear," Smith, the Seattle running backs coach, said. "There was no vote. We didn't discuss it at all. We had one of our [coaches'] meetings, and Pete walks in with a smile on his face and says, 'We're going with Russell.'"
And your reaction?
"There was some concern."
Some concern, but not a lot. Smith was quick to add that about Carroll's decision in 2012. Maybe he was quick to add that, though, because hindsight is 20-20 and it's easy in January 2014 to note how defensible it was, in August 2012, to bench $19 million Matt Flynn and trade 3,000-yard passer Tarvaris Jackson to Buffalo and anoint 5-10 5/8 Russell Wilson -- former minor-league second baseman and NFL rookie -- as the starter.
But with the benefit of hindsight, too, we can see what Pete Carroll saw in August 2012. And he saw more than the stats from that preseason, though the stats were jarring. Wilson completed 67.3 percent of his passes with five touchdowns and one interception. He ran for 150 yards. But preseason stats are misleading, especially because two of his appearances were in the second half against the reserves and eventual waived defenders of Tennessee and Denver. In the third preseason game, with Flynn out because of a sore elbow, Carroll gave Wilson the start against Kansas City and Wilson was electric: points on the first six possessions and ultimately 13-for-19 passing for 185 yards and two touchdowns, with a passer rating of 134.8 and even 58 yards rushing.
Those numbers were startling, but again, it was preseason. And preseason numbers aren't real. But what was real was what Carroll and the coaches had seen from Wilson all camp, behind the scenes. Wilson was one of the first people into the football facility each day, beating not just some coaches into the building but also beating Flynn and Jackson. Coaches noticed. Teammates heard.
"No one prepares as hard as Russell Wilson," said veteran Seahawks fullback Michael Robinson, a college quarterback at Penn State. "Hours and hours, he doesn't let it go. Seriously -- he's always preparing."
And preparing not just to play, but to win. And to be great.
"I definitely expected to be here," Wilson said this week, referring to the Super Bowl. "I believe in my talent. I believe in everything that I've been given. I expect to play at a high level, and I expect to be fighting for the Super Bowl every year.
"I expect great things when I put the hard work in. Like I always say: The separation is in the preparation."
What he did in 2012 in Seattle, Wilson had done the exact same thing one year earlier. He had transferred from North Carolina State to Wisconsin, where he learned the offense in two weeks. Not just enough to run it effectively, mind you. He learned the offense in two weeks. All of it. Every nook and cranny and audible. And then he was voted team captain before playing his first game at his new school.
And when the Seahawks were considering drafting the 5-10 5/8 quarterback, they heard from Wisconsin coaches about what those two weeks, and what that entire 2011 season, was like.
"Everybody had the same message about him -- what a pro he is," said Seahawks offensive coordinator Darrell Bevell, himself a onetime Wisconsin QB. "Obviously the story about how he learned the offense in just two weeks. He just put himself in a room [and learned it]."
Still, the Seahawks weren't sure whether to draft him. He's so small, you know?
"There were many, many conversations about that," Bevell said.
The prototypical NFL quarterback is about six inches taller, but Seattle studied every throw Wilson made in 2011 at Wisconsin -- which boasted an enormous, NFL-sized offensive line -- and they noticed not just that he threw for 3,175 yards, 33 touchdowns and four interceptions. They noticed he had just four passes batted down at the line of scrimmage ... all season.
So Seattle drafted him, with the expectation on the outside that Wilson would compete with Jackson to back up Matt Flynn, one of the most-coveted free agents on the market. To Pete Carroll, though, Russell Wilson had been drafted to compete with Flynn.
"That's the way coach Carroll has built the program," Bevell said. "Everything is based on competition. We really just let it play out on the field, and it became obvious pretty quickly that [Wilson winning the job] was going to be the case. Russell just took handle of the job. It was becoming clear to us, but we wanted to make sure it played out on the field."
It did, but still. The easiest thing for Pete Carroll to do in August 2012 would've been to miss the unconventionally obvious -- that the little rookie was the best quarterback on the field -- and to give the job to the top-dollar free agent, Flynn, signed to be the quarterback. Carroll doesn't do the conventional, though. His way works because it's his way and he believes in it and transfers that belief to everyone around him, and he believed in Russell Wilson before hindsight made that easy.
"He just kept being Russell and he showed us what he was all about," Carroll said. "The right thing is to get the best players out there."
It's so obvious today, but let me tell you this: There are coaches in the NFL who wouldn't have seen what Pete Carroll saw in 2012, clinging to his job after two 7-9 seasons and knowing a third consecutive losing season could be his last. But the Seahawks went 11-5 that season, then 13-3 this season. Wilson's career passer rating is 100.6, which is second in NFL history to Aaron Rodgers' 104.9.
Sherman Smith can still see Carroll smiling that day in August 2012, the day he gave the job to Russell Wilson.
"Smiling, like he could see the future," Smith said.
Pretty sure he did.
Here's everything you need to know for Sunday's Monster Energy NASCAR Cup Series race

SportsLine simulated the 2018 STP 500 race 10,000 times and has some surprising picks

Lieberman is replacing Clyde Drexler on the bench as coach for the Power
This guy has either never been happier or more upset

Truex makes history by winning everything this weekend in Phoenix: the pole, the stages, the...

SportsLine simulated the 2018 Auto Club 400 race 10,000 times and has some surprising pick...