Cheaters as MLB All-Stars? No biggie, since it's not Hall of Fame
People want to see Biogenesis cheats Ryan Braun and Nelson Cruz in the All-Star Game, and writers don't want to see drug cheats in the Hall of Fame. You know what? Both are right.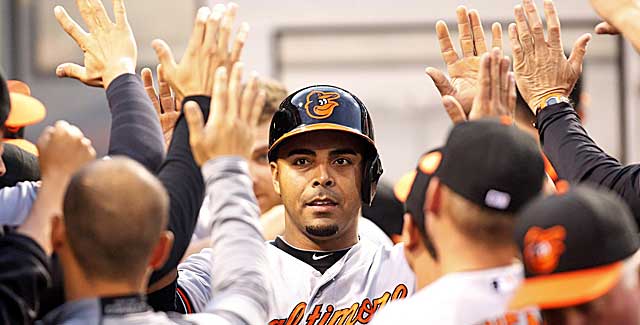 More MLB: Power Rankings | Expert Picks | Latest news & notes | Fantasy news
Baseball fans want to see drug cheats in the All-Star Game. Baseball writers don't want to see drug cheats in the Hall of Fame. So which side is right? Near as I can tell...
Both of them.
And that's no fun. What's fun is deciding that one of them is wrong, and pitting one side against the other in a game of righteous one-upmanship. What's even more fun is deciding that both sides are wrong, and deciding it like this -- THEY'RE BOTH WRONG -- and then unleashing 800 words of hot-take buttery goodness that asserts everyone in this story is stupid. Everyone but the guy writing it, of course. Because he's smarter than they are.
But the truth is, baseball fans are right to want who they want for the All-Star Game -- even if they want known cheaters Ryan Braun, Nelson Cruz and Melky Cabrera -- just as baseball writers are right to deny known cheaters a place among the game's immortals.
First, let's get a false equivalency out of the way: Why is it OK to reward cheaters with the All-Star Game -- but it's not OK to reward them with the Hall of Fame?
This is how: One is not the other. The All-Star Game is not the Hall of Fame. Bo Jackson played in the All-Star Game. Hell, Bo Jackson was MVP of the 1989 All-Star Game. MVP in 1988? Career .271 hitter Terry Steinbach. Neither is in the Hall of Fame, because the All-Star Game is nothing like the Hall of Fame.
The All-Star Game is a popularity contest, nothing more. Should it be more? Maybe it should, but it's not. And it hasn't been for a long time, even if Bud Selig did decide in 2003 to give the World Series' home-field advantage to the league that wins the All-Star Game. That league in 2013 was the American League, and so the 97-65 Red Sox were given home-field advantage against the 97-65 Cardinals -- Boston's All-Stars, David Ortiz and Dustin Pedroia, were a combined 0 for 4 with a strikeout and a double play in the American League's 3-0 victory -- and the Red Sox won the 2013 World Series in Game 6 at Fenway Park.
Fair? Baseball isn't fair. Baseball is stupid, doing stupid stuff like give fans control over the All-Star lineups, which isn't so stupid at all. The NBA All-Star game is unwatchable. The NFL's Pro Bowl almost literally isn't watched. Baseball? Its All-Star Game is appointment television because fans get to see who they want to see. Derek Jeter will start in the game this year, and not because he's the best shortstop in the American League. Fans want to see him.
Fans also want to see Ryan Braun, who is heir to Alex Rodriguez -- who was heir to Barry Bonds, who was heir to Mark McGwire and Sammy Sosa -- as the most notorious cheater in the game. Until Tuesday Braun was third among National League outfielders in the fan vote (he has dropped to sixth), and it's not simply because fans in Milwaukee are stuffing the ballot box. The Brewers are 11th in baseball, sixth in the National League, in attendance. Braun gets a boost from that, but home cooking doesn't describe what's happening here. Fans around baseball want to see him in the All-Star Game. That describes what's happening here.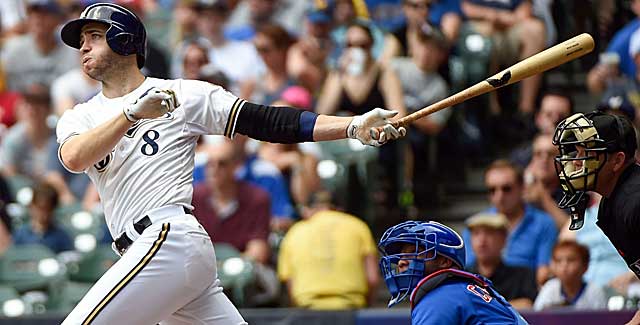 They also want to see fellow Biogenesis cheat Nelson Cruz, whose power numbers have surged at age 33, in the year after he was sat down for being linked to performance-enhancing drugs. How does a guy who hit .272 and slugged .511 with an .842 OPS from 2009-13 become this .314 hitter, slugging .672 with an OPS of 1.055 in 2014? How does a guy who averaged 27 home runs and 81 RBI from ages 28-32 become a guy at 33 who is on pace to hit 60 home runs and drive in 156 runs?
Baseball fans aren't asking those questions. They're asking: How can I get Nelson Cruz into the American League's starting lineup July 15 at Target Field in Minneapolis? And they know the answer: By voting for him. The Orioles are sixth in the American League in attendance, 12th overall, and yet Nelson Cruz leads AL designated hitters in voting. Fans want to see him.
They also want to see Blue Jays outfielder Melky Cabrera, who is third among AL outfielders in All-Star voting thanks to offensive numbers he has surpassed only once, in 2012, when he was caught cheating. The Blue Jays are 22nd in baseball in attendance.
This is not hand-wringing information. Fans want to see cheaters? Big deal. If I tune into the All-Star Game on July 15, I'd like to see those guys, too. For whatever reason, and we all know the reason, Braun and Cabrera and Cruz are some of the most fascinating creatures in baseball. They're bugs I'd like to see under the microscope on July 15 at Target Field. Unsavory is interesting, and interesting is fun, and despite Bud Selig's botched idea, the All-Star Game is three four hours of mindless fun.
But the Hall of Fame isn't that. The Hall of Fame is an honorable place, or should be, reserved not just for the best of the best -- but for those who got there the right way.
Quick, another logical fallacy to discuss: Are you saying there are no cheaters in the Hall of Fame? Are you saying there are no bad guys in Cooperstown?
No. Not saying that, because saying that would make me as illogical as whoever would ask such questions. The point is not the purity of Cooperstown. The point is: What do we know, today and going forward, about the purity of Cooperstown? And we know this: Bonds and McGwire and Clemens and Sosa and Palmeiro and too many others with Hall of Fame numbers achieved some of those numbers with the help of steroids. They cheated. You ask me, Bonds and Clemens were Hall of Famers before they cheated, and therefore belong in Cooperstown. But that's a complicated issue, and there's a legitimate reason to deny anyone known to have cheated if for no other reason than to send a message to future candidates that cheating will not be rewarded.
Those we know cheated? They don't get voted into the Hall of Fame, because the Hall of Fame is forever. An All-Star Game is fleeting, a light snack on the night of July 15. So enjoy yourself that night, Ryan Braun. Hit me a home run, Nelson Cruz.
But understand this: Neither one of you is getting into Cooperstown. Not without standing in line with the rest of us paying customers. And you can stand behind me, Ryan Braun. I'll go into Cooperstown first.
Hamlin wasn't thrilled with Bubba's driving, or his post-race comments

The Richard Childress team went all out after their win on Sunday

Wallace is a jumble of emotions after finishing second in his first Daytona 500
Danica got in some beach time with her famous boyfriend before Sunday's big race

Junior reflects on the legacy of his father at Daytona at an emotional pre-race press conf...

Dillon won the race while driving the famed No. 3 car originally driven by Dale Earhardt S...