Cleveland's hopes are high; will LeBron deliver heartbreak again?
Fans in Cleveland are setting themselves up for heartbreak if LeBron doesn't come home. LeBron or his camp ought to do something about it.
More free agency: Riley, LeBron to meet | LeBron's agent likes Cavs? | FA Tracker
LeBron couldn't do it again -- could he? He wouldn't rip out Cleveland's heart again.
Would he?
Right now Cleveland is dreaming itself a LeBron James dream, and if Cleveland is wrong -- if Cleveland is setting itself up to be crushed in 2014, just as Cleveland was crushed in 2010 -- this won't be Cleveland's fault.
It'll be LeBron's fault.
LeBron has done this. He said in February 2012 that "I think it would be great" to return to Cleveland and that "I don't rule that out" and furthermore: "If I decide to come back, hopefully the fans will accept me."
For two years LeBron has refused to back off those statements, and then last month he opted out of his contract with the Heat to become a free agent. The narrative in some circles, especially in South Florida, is that LeBron opted out for technical reasons, not because he was truly going to leave Miami. He and the other one-third of the Big Three -- LeBron is two-thirds of that thing; aging Dwyane Wade and fading Chris Bosh are the other 33.3 percent -- opted out for the most benevolent reasons: to give Heat president Pat Riley the freedom to rewrite their contracts and upgrade the roster.
That was the narrative -- and it made sense, right? But then LeBron's agent scheduled meetings with teams in other cities, including the one in Cleveland. And then someone leaked it, someone from LeBron's camp most assuredly, that LeBron wasn't going to take a discount in this contract like he did in the last one. LeBron is a max player and he wants a max contract, and whoever signs him -- it'll be Miami, right? -- will have to give him what he wants.
But the longer this thing goes, with LeBron's agent said to be pushing for Cleveland and neither LeBron nor Wade nor Bosh actually re-signing and the Heat being unable to upgrade their roster -- adding Josh McRoberts and Danny Granger is "changing" the roster, not upgrading it -- Cleveland gets its hopes up. As well it should.
And not a word from LeBron. Not a quote, not a tweet, not an Instagram picture, not a damn thing. Not even a leak from a well-placed source to suggest that Cleveland needs to start preparing for the inevitable disappointment.
Nothing from LeBron.
Does LeBron owe Cleveland something? Oh, you're damn right he owes Cleveland something. He doesn't owe Cleveland his return, but he owes that fan base and even that franchise the decency he didn't show in 2010 when he tore out their heart on national television and ate it with a nice Chianti while Jim Gray leered. In 2010 Cleveland didn't see it coming -- nobody saw it coming -- when LeBron left for the Miami Heat. Stars like LeBron don't leave their team, and certainly not their hometown team (Akron is basically a Cleveland suburb), without having the courtesy of giving them some advance warning.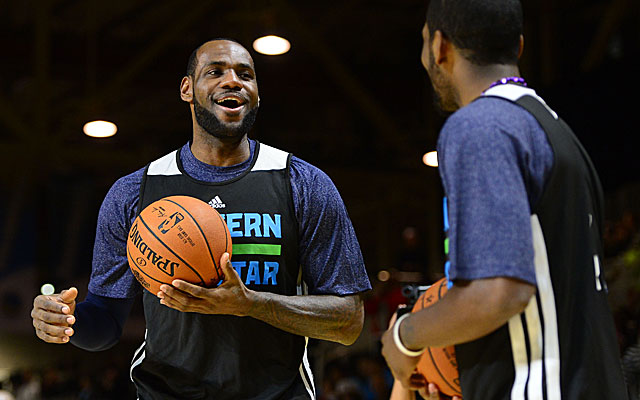 Cleveland had no advance warning in 2010, and I'll be damned -- LeBron's doing it again.
Now maybe, in his defense, he's not warning Cleveland because he's coming to Cleveland. The Cavaliers are trying to free up cap space to take on a max contract, and LeBron's camp has already leaked it that LeBron wants a max contract.
But LeBron's camp hasn't leaked it that he won't come back to Cleveland.
So he's coming back? He's seriously considering it? Those are two different things, and for someone in LeBron's unique position -- hometown kid, greatest player of his generation -- only one of them is an acceptable option at this point. I wouldn't write this about any other player in any other sport, but for this player and that franchise and with what happened in 2010, he owes Cleveland more than another heartbreak.
Tell Cleveland he isn't coming -- or come to Cleveland. Those are his options now that he has let it get this far. And don't act like LeBron has no way of telling Cleveland it's out, or that such a leak would hurt his leverage with Miami or Houston or whatever franchise you want to name. For one, LeBron has more leverage than anyone because he's LeBron. He needs no more leverage. He is leverage.
For another, there are basketball writers all over the country just waiting for a morsel from LeBron's camp about what he's doing. His camp has been using the media all along, whispering things about max contracts and displeasure with Heat owner Micky Arison's spending. But they won't whisper something about Cleveland being out of the running? Why not? Because LeBron's actually considering it?
Considering it isn't good enough. Not this time. Not today. Not with that entire city being told by LeBron himself in 2012 to keep dreaming of his return. Not with free agency and the offseason unfolding in a way that makes Cleveland, with star point guard Kyrie Irving locked up and future star wing Andrew Wiggins drafted first overall, realistically look like one of LeBron's best options from a competitive standpoint.
Not with all the silence from LeBron's camp, when a single leak to a single reporter would prepare Cleveland for more disappointment.
Cleveland is past the disappointment stage if it loses LeBron. Now it's at heartbreak. If this goes on another couple of days, LeBron might as well have himself a Chianti with Jim Gray and announce he's taking his talents to Houston on national television.
He did it once. He could do it again.
Or could he?
With three races to go, 13 drivers have secured a chance at a Monster Energy NASCAR Cup Series...

Wooldridge, who won gold for Australia in 2004 in Athens, took his own life

Kevin Plank is attempting to distance the sportswear giant from Trump's administration
Larson has won three straight at Michigan International Speedway since winning his first career...

Slumping Kyle Larson looks to rebound with his third straight win at Michigan International...

The Dota 2 Championships are showing just how far behind the United States is in eSports