College football's kindest fans? The ones cheering Pelini on Saturday
Doyel: Every Huskers fan has now heard Bo Pelini's 2011 rant, so what kind of reception should the head coach expect Saturday? If you're expecting boos, you don't know Nebraska.
The jackal in me wanted to get to Nebraska on Saturday for the South Dakota State game, and not because of the game. South Dakota State may well be a salty opponent from the Football Championship Subdivision, but the Jackrabbits won't win Saturday. And even if I thought they would, an upset isn't what made me want to be in Lincoln.
The reaction is what made me want to be in Lincoln.
What was the crowd going to do, how furious was it going to be, when Huskers coach Bo Pelini jogged onto the field? Earlier this week Deadspin.com released audio of Pelini in 2011 when he blasted Nebraska fans with verbal grenades like, "F--- you, fans. F--- all of you."
The reaction on Saturday. That's the mystery I wanted to see unfold. Alas, travel arrangements didn't work out, and in the meantime I've talked to people all over Nebraska, inside and outside the athletic department -- so the mystery's gone. I know exactly what the crowd will do when Bo Pelini jogs onto the field Saturday, and now I'm crushed I won't be there to see it, and to hear it.
Because Nebraska fans are going to show Bo Pelini they love him. Still.
It's going to be a goose-bump experience, a moment where one of the most special fan bases in college football reminds us why we love the sport. It's the connection, the camaraderie, the sense of family between the school and community that make college football so awesome. The NFL is awesome in different ways, but not that way (except for Green Bay). The NFL has things the college game doesn't -- superior quality of play, and a more frenzied fan experience that swings in either direction -- but there isn't another American sport that can match the way a town and team come together like college football.
And it's happening Saturday in Lincoln. That's what people from that state are telling me. They're telling me fans in Nebraska were taken aback, and hurt, by Pelini's rant in 2011. As well they should've been. That was some bad stuff, nothing a coach should ever say about his fans, especially not a fan base that had just sold out Memorial Stadium for the 315th consecutive time since 1962.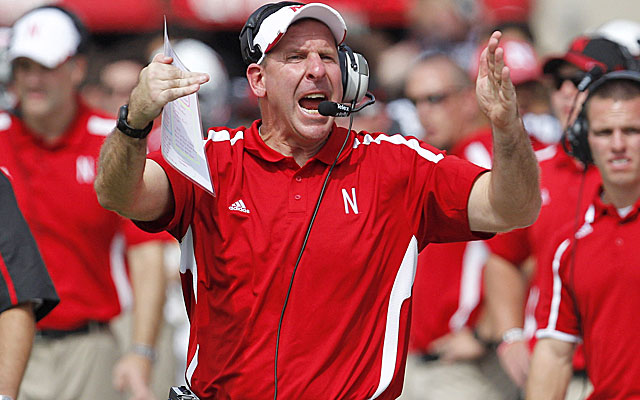 And especially not this fan base. Nebraska fans are known to be among the nicest in the country, and don't take it just from me. Here's a fan of Georgia, trying to fire up his own fan base before the Bulldogs played Nebraska last season in the Capital One Bowl. This guy listed five reasons, the fifth being the Nebraska fan base, which he described like so:
"They're too nice to dislike. Nebraska fans have a national reputation for being among the classiest in college football, and for being especially gracious to opposing fans. Every Cornhusker fan with whom I ever have come into contact seemed to be a genuinely nice person. They're polite to the point of being rude. I mean, really, people; we're trying to hate y'all over here. Do you mind?"
Those are the people Pelini ripped, which is awful, but also his saving grace -- because those are the people Pelini ripped. Nice people. Forgiving. And Nebraska football is unique among big-time college football programs in that it's the biggest thing in the state, hands down. No NFL teams in Nebraska. No NBA, no MLB, no nothing. Nor is the Huskers basketball program a big deal. Nebraska football is what Alabama would be, if Alabama football didn't share a state with Auburn.
None of this is news to Nebraska fans. I suspect they're reading this (welcome), but this is for everyone else. For people like me, who didn't understand the relationship between Nebraska fans and Bo Pelini until his 2011 rant went public.
What they know in Nebraska is that the sellout streak will reach 329 against South Dakota State. That was assured months ago, but now it will happen in actual attendance, not just tickets sold. Memorial Stadium will be full Saturday, and that wasn't guaranteed -- there's a difference between a "sold-out stadium" and a "completely full stadium" -- until Pelini's 2011 rant went public.
Tickets were available online through the secondary market, and still are, but prices have gone up in the past few days. Fans wondering whether to go, because of the inferior quality of opponent or Nebraska's play in a disillusioning loss last week to UCLA, have made up their mind. They want to go to support Nebraska football, and that means supporting Bo Pelini.
Thing is, these people like Pelini. They always have. To some folks, to outsiders like me who know Pelini only for his angry demeanor on the sideline, this comes as a shock. But it's true. Nebraska football is a year-round existence, not just a toy that comes out 12 or 13 times a year, and year-round Bo Pelini is a likeable guy. Nebraska fans know this. He's genuine, he's honest, and he's not smooth when it comes to winning over the media -- not a bad thing in a state like Nebraska, where slick and backslapping is no way to go through life, son.
Around Nebraska they know Bo Pelini as the guy who cleaned up what had been an embarrassingly unruly program off the field, the guy whose team's graduation rate is good and gets better every year -- and the guy who received a verbal commitment from Class of 2014 quarterback Zack Darlington and then reaffirmed the scholarship offer even after Darlington suffered a pair of concussions that jeopardized his career. Whether he plays again or not, Darlington has a scholarship to Nebraska because that's how Pelini is. This is also who Pelini is, a tidbit in Jeremy Fowler's story this week on Darlington: Pelini calls the kid almost every day. Even now. During Nebraska's season.
That's who Pelini is. This is also who Pelini is, and this comes from somebody who visited the Camp of Champions, held every summer at Cardinal Mooney High School in Youngstown, Ohio. That's the small town, and that's the high school football juggernaut, that produced Pelini, the Stoops brothers -- Bob, Mark and Mike -- and a handful of current NFL players. And somebody who visited Cardinal Mooney for a recent Camp of Champions said of all the famous players and coaches there, of all the nice people on hand, there was one guy who was nicer, more giving of his time, than anyone else:
Bo Pelini.
Nebraska fans know who this guy is. They also know there are mitigating circumstances around that 2011 audio tape leaked to Deadspin. They know Pelini made those comments minutes after Nebraska had beaten Ohio State 34-27. They know that one week earlier Nebraska had been blown out by Wisconsin 48-17 when Nebraska quarterback Taylor Martinez had thrown three interceptions. In the week between the two games, fans called into local radio shows calling for backup quarterback Brion Carnes, and football writers wrote so many negative stories that Martinez's teammates were printing them and showing their quarterback, hoping to fire him up.
And Pelini stewed.
Then came the Ohio State game, when the nicest fan base in American booed the Cornhuskers into halftime after Martinez had thrown a late interception to set up an OSU field goal. The unranked Buckeyes, en route to a 6-7 season, led 20-6. It became 27-6, and fans left Memorial Stadium by the thousands.
And Pelini stewed some more.
After rallying to beat Ohio State -- behind Martinez's 191 passing yards, 101 rushing yards and three touchdowns overall -- Pelini was still stewing.
"Everyone wants to doubt him," Pelini told the media. "Whatever. You guys can choose to write whatever you want and attack him like the fans will, and now they'll praise him."
A grizzly protecting its cub, Pelini lashed out some more after the game in a private moment of pent-up frustration. Deadspin released the audio. Pelini was ugly, and he was wrong, but Nebraska fans understand. They get the big picture, a picture I didn't understand until I started looking into it. And even if Pelini's comments blurred the picture, legendary former coach Tom Osborne brought it back into focus this week with a statement urging "players, coaches and fans to pull together, as unity of purpose has been one of our major assets over the last 50 years."
Pelini might yet be replaced after this season, but not because of his rant. His teams have gone 9-4 or 10-4 in each of his first five seasons, and his sixth team has the same look -- good on offense, mediocre on defense, good enough to win nine or 10 games but bad enough to lose four. Most places, that gets you a contract extension. Nebraska isn't most places. What happens after the season, we'll just have to see.
What happens Saturday, I already know. Days after learning their coach had cursed them out in 2011, Nebraska fans will shower Bo Pelini with love.
Like I said: Nebraska isn't most places.
Patrick plans to call it a career after running at the two most iconic U.S. auto races

Let the truth set you free, sir

The poor kid never even saw it coming
The burglars that Childress fired at were carrying military-grade weapons on them, the cops...

'Kong Infinity' and 'Happy Ending' headline two additions to the ultimate endurance course...

Nik Kayler's body has been found after going missing last week during a fishing tournament