Confident Mayweather ready for Alvarez's threat to throne
Brash five-division champion to meet popular 23-year-old phenom in potentially record-breaking pay-per-view clash of unbeatens at MGM Grand in Las Vegas.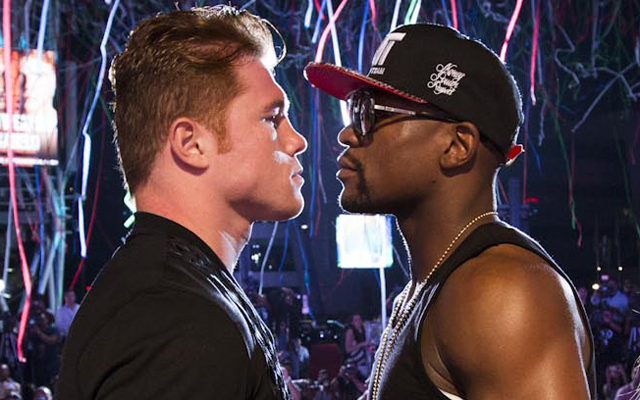 Among the constants of boxing in the last 17 years has been the insistence of Floyd Mayweather Jr. that he's among the most special athletes to ever choose the sport as his main vocation.

"It's fight time, what else can I say?" the now 36-year-old asked, this time just days before meeting Saul "Canelo" Alvarez for a pair of 154-pound division championships at the MGM Grand in Las Vegas. "If the game plan is to keep pressure, I can handle it. If the game plan is to out box me, nobody can out box me. You have to be able to out match me mentally, and I'm the strongest mental fighter in the sport of boxing."

The fight's arrival signals the end of a multi-month promotional bombardment that began with a 10-city, nine-day press tour in late June and early July and has continued with a four-part "All-Access" documentary series on Showtime, which will broadcast Saturday's fight on its pay-per-view arm.

Executives from both Showtime and Golden Boy Promotions—which works with Alvarez and has teamed with Mayweather on several past fights—say this event could take a legitimate run at the record for pay-per-view buys, which was set at 2.4 million when Mayweather fought Golden Boy Promotions founder Oscar De La Hoya in Las Vegas six years ago.

Among the reasons for the optimism is the drawing power of the 23-year-old Alvarez, who turned pro as a teenager in 2005 and has gone 42-0-1 with 30 knockouts while becoming a sensation in Mexico.

His magnetism in the United States was evident on the early-summer tour, in which he attracted vocal support from fans in most of the cities, and was surprisingly close to 50/50 when it came to crowd noise in Mayweather's hometown of Grand Rapids, Mich.

When the fighters and their entourages appeared in Mexico City on a scorching Sunday afternoon, they were greeted by 30,000 fans in a sprawling downtown park.

It was there that Alvarez's countryman, 82-year-old World Boxing Council president Jose Sulaiman, was convinced that the fighter—nicknamed "Canelo" because of his red hair—had passed contemporaries like Juan Manuel Marquez and Julio Cesar Chavez Jr. to become the biggest attraction in a boxing-centric environment.

"Since the retirement of Chavez Sr., the fans have been waiting for another one to come along," he said. "I don't think there's any question that he's the one now. They respect Mayweather as a great champion, but they adore Alvarez and they're very passionate for him."

Still, when it came to Mayweather, now 44-0 with 26 KOs, Sulaiman's praise took a more majestic tack.

"I believe without a doubt he is one of the top 15 fighters in boxing history," he said. "And I definitely think this is the most important fight for Mexico in many years, as well as for the WBC. Mayweather is without question the best pound-for-pound fighter, and Alvarez is very valiant and will give everything that he has."

Though it's billed as a match for the WBA and WBC championships in the super welterweight (154-pound) division, the fighters agreed to meet at a 152-pound catchweight that's been the source of dissension during the pre-fight run-up.

Leonard Ellerbe, the CEO of Mayweather's promotional company, insisted that it was Team Alvarez that suggested the amended weight in order to guarantee their man an opportunity with Mayweather, who holds the WBC's championship at 147 pounds in addition to his WBA 154-pound belt.

In fact, Ellerbe labeled Alvarez's management as "inept" for ceding that negotiating ground for a fight he said would have occurred anyway.

"We take advantage of those kinds of things. Why would we go in a different direction?" he said. "They suggested it, why would we say no and do something different? They put him at a disadvantage. His management did. Floyd would have fought him regardless, but his management put that out there. So if you have an idiot manager, that's what it is. (Alvarez is) an excellent young fighter. But he's in over his head. He's in over his head. Come Sept. 14, Canelo's got a problem."

Not surprisingly, Alvarez, who won the WBC's 154-pound title in 2011 and has defended it six times since, disagreed with the Ellerbe assessment. "That's a complete lie," he said. "They wanted me to drop the weight. They were the ones crying about the weight. They know it very well."

Either way, the weigh-in at 152 pounds or below will be the first in more than two years for Alvarez, who was 151½ for his title-winning decision over Matthew Hatton on March 5, 2011 in Anaheim, Calif.

In six fights since, the broad-shouldered 5-foot-9 slugger has weighed exactly 154 pounds three times and 153¾, 153½ and 153¼ once apiece. He's not completely unfamiliar with the terrain, though, having begun his career at 139 pounds and scaled at the welterweight limit as recently as 2010 for a three-round defeat of Brian Camechis.

Mayweather will presumably make his third appearance in a ring after weighing in at more than 147 pounds. He weighed 150 for a split-decision defeat of De La Hoya in the pay-per-view high watermark in 2007 and came in at 151 for a unanimous nod over Miguel Cotto to win the WBA belt in 2012.

Perhaps more importantly than the weight, though, Mayweather's last fight – a unanimous decision over Robert Guerrero on May 4 – was just four months, 10 days before the Alvarez match.

Assuming all goes as scheduled, it'll be the first time he's fought twice in the same calendar year since 2007 and the shortest turnaround between two fights since he defeated Diego Corrales (TKO 10) and Carlos Hernandez (UD 12) on Jan. 20 and May 26, 2001.

But it'll still make no difference come Saturday, claims Mayweather's father, and lead trainer, Floyd Mayweather Sr.

"Alvarez has got a name and the same amount of fights as my son, but that's it," he said. "The guys he fought were bums. He was fighting Mexicans in Mexico. While my son was fighting all top-caliber fighters, Alvarez was in kindergarten and first grade. And now my son's gonna whoop his ass."
CBS Sports' Bill Reiter shares how he thinks the superfight could play out

Rowdy is the only driver in NASCAR history to accomplish the feat and he has now done it t...

Rowdy took to Twitter after winning Friday night's NASCAR Xfinity Series race
Rowdy will go for the sweep Saturday night after winning both the Xfinity and Truck races.

Truex's Furniture Row Racing teammate Erik Jones will lead to field to green on Saturday n...

Rowdy swept all three stages en route to his eighth NASCAR National Series victory of the...