Conor McGregor calls out Floyd Mayweather, challenges him to fight
Conor McGregor has no fear of the undefeated boxer Floyd Mayweather, along with a few other comments for the recently retired fighter.
Conor McGregor continues to love everything coming his way. The curent featherweight champion is reportedly set to take on Rafael dos Anjos for his lightweight title at UFC 197 and is now taking to Instagram to unleash from recent frustrations. 
The recently retired welterweight boxing champion Floyd Mayweather recently spoke with Fight Hype, who noted that "racism still exists in boxing." 
"And what's so crazy, I don't really know the McGregor guy; never seen him fight. I heard his name actually from one of the runners that works for our company; a little kid named Ken Hopkins, he's a runner and takes care of a lot of the daily business," Mayweather said. "Whatever we need, he takes care of. He's a cool little kid, I like him, and he does MMA. He told me about the guy McGregor. They say he talk a lot of trash and people praise him for it, but when I did it, they say I'm cocky and arrogant. So biased! Like I said before, all I'm saying is this, I ain't racist at all, but I'm telling you racism still exists."
Well, McGregor didn't really appreciate that, as you can see below.
"Floyd Mayweather, don't ever bring race into my success again. I am an Irishman. My people have been oppressed our entire existence. And still very much are. I understand the feeling of prejudice. It is a feeling deep in my blood," McGregor wrote. "If you want, we can organize a fight, no problem. I will give you a fair 80/20 split purse in my favor [seeing] as your last fight bombed at every area of revenue."
Now, while the prospect of that type of fight has us salivating, we know it will never happen. Floyd is now 38 years old and denies he will get back in the ring. McGregor has his eyes on holding two UFC belts and if you think Dana White is going to put his top talent anywhere but the octagon, you are sorely mistaken.
I think the best we can hope for is these two setting up for a TV special or press conference where they can just jaw back and forth at one another for our entertainment.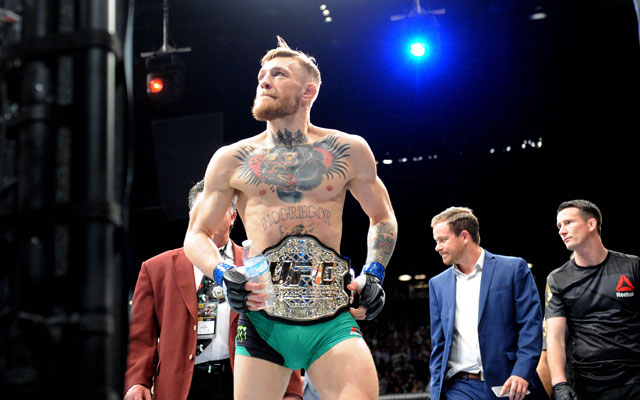 How to watch the Professional Rodeo Cowboys Association's 2017 National Finals Rodeo event

John John Florence and Gabriel Medina will look to catch the wave to a championship

Froome was found to have double the legal limit of an asthma drug in a September doping te...
Flanagan, after winning the New York City Marathon, is out to win her 'hometown race'

It's probably better to just buy your shoes online these days