CP3, Clippers demolish Rockets and look Heat-worthy
Chris Paul and the Clippers demolished the Rockets 137-118 Monday night in a game that suggests the Clippers, not Houston, are the West's biggest threat to LeBron James and the Miami Heat.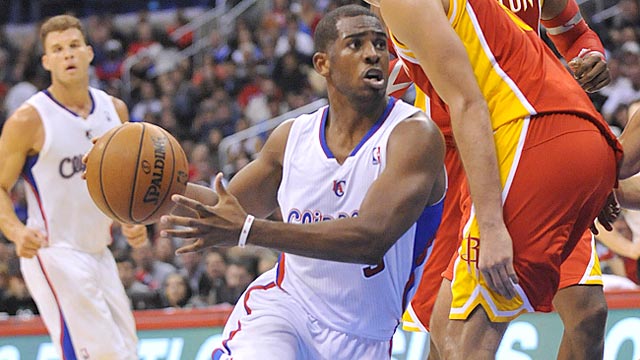 LOS ANGELES -- Chris Paul is a cute, cuddly little basketball killer. He doesn't look like all that on the court, 6-foot-nothing, but he has become the league's best chance to stop LeBron James from reeling off another sweep of the MVP and NBA championship trophies.
Paul has been one of the league's best point guards since he got here in 2005, but this is different. This Chris Paul is better than any Chris Paul we've ever seen, and again, the Chris Paul we've seen has been good enough to put up career averages of 18.6 points and 9.8 assists and earn spots on the All-NBA first team three times. But this one is different, better, more ruthless in a way that should force you -- as it has forced me -- to at least consider the possibility that LeBron won't win his third consecutive MVP, and that LeBron's Miami Heat won't win their third consecutive NBA title.
Here's what Chris Paul did Monday night. He led the Clippers to a 137-118 demolition of the Houston Rockets, one of the two or three best teams in the West.
Here's how Paul started the night: By dominating the first quarter despite scoring a single basket. At the end of 12 minutes the Clippers led 42-25 and Chris Paul had nine assists. On the Clippers bench, coach Doc Rivers was trying to ignore the specifics of Paul's carnage but his assistants were tracking Paul's rising number of assists, and they kept calling the number out -- seven, eight, nine -- and Rivers was telling the media afterward, "I don't want to hear that. Just keep playing." But he did hear it. Nine assists in a quarter for Chris Paul. Forty-two points for the Clippers. Doc Rivers heard it all.
"He's a special talent," Rivers said. "No doubt."
That's how Paul got this rout started. Here's how he finished it: By harassing Rockets emotional leader Francisco Garcia into a technical foul, and using that as the starting point for his own merciless, game-closing rally.
All of that happened shortly after the Rockets had rallied to within single digits, cutting the Clippers' lead to 107-98. A few minutes later Paul threw the ball away, and he was so frustrated with himself that he pestered Garcia as the ball went the other way. Garcia dribbled and Paul whacked at the ball once, twice, three times, finally drawing contact with Garcia and drawing a foul call and drawing the angry attention of Garcia, who took a step toward Paul with apparent malice on his mind. Clippers big man DeAndre Jordan stepped between the two, but Paul wasn't interested in fighting. He was walking toward the other end for a free throw because officials had called a technical on Garcia.
After Paul made the free throw, Garcia had two free throws of his own. The whole time Garcia was shooting, Paul was standing near him, talking to him. Between free throws Paul walked toward the lane to say a few more words to Garcia. In the stands, fans were laughing. They thought Chris Paul was giving Garcia the business. He wasn't. He's cuddly, remember. Polite. Precious, really.
"He was making sure we were cool," Garcia told me, smiling in a way that said: And we are cool. Even after what he did to us.
He's a basketball killer, is Chris Paul. After Garcia's free throws, Paul brought the ball up the court and sank a pull-up 3-pointer. At the other end he grabbed a defensive rebound, then brought it into the offensive end and threw a lob to Jordan for a dunk. Then Paul stole the ball, started a fast break and ended it by throwing a lob to Blake Griffin for another dunk. The crowd of 19,404 was roaring and the starters for both teams were leaving and the game was over. The Clippers led 129-108 and Paul's night was done with 23 points and 17 assists.
For the season he is averaging 26.5 points, 13.3 assists and more steals (3.3) than turnovers (3.0). The season is just four games old, but those are MVP numbers. Can Paul keep that pace up? Yes, as a matter of fact, he can. Because this Clippers team is deep and talented and versatile, the perfect plaything for a point guard like Paul.
"It's fun basketball," Paul said. "When we get stops, eyes light up because we have so many options."
They scored 42 in the first quarter, remember, with Paul scoring just two of them. J.J. Redick had 15, Griffin 10 and Jared Dudley eight. For the game Redick finished with 26 points on 15 shots, because the game is easy for a shooter this good with shots that open. The Clippers also spread the floor with Dudley, Jamal Crawford (6 for 11 on 3-pointers), Darren Collison, Paul and even 7-0 center Byron Mullens (2 for 3 on 3-pointers). All of those perimeter shooters open up the inside for Griffin and Jordan.
Is this the team to beat the Heat? Not sure about that. Not saying that. The Heat, as long as Dwyane Wade is healthy and Chris Bosh is useful, might not be beatable. Not with LeBron James playing his way into the greatest of all time conversation.
But if the Heat are beatable, and if LeBron's grip on the MVP trophy is vulnerable, the prime candidate is out West, Los Angeles' other team, the one with that cute little tyrant running the point.
Rowdy took to Twitter after winning Friday night's NASCAR Xfinity Series race

Rowdy will go for the sweep Saturday night after winning both the Xfinity and Truck races.

Truex's Furniture Row Racing teammate Erik Jones will lead to field to green on Saturday n...
Rowdy swept all three stages en route to his eighth NASCAR National Series victory of the...

NASCAR drivers had some fun with Kenny Wallace after he posted a 'crazy story' to his Twitter...

Martin Truex Jr. could clinch the NASCAR Cup Series regular-season title Saturday night