Dick Vitale is a good man; can we please remember that, now?
Dick Vitale tweeted about Arian Foster. It was a bad tweet, but he's a good man.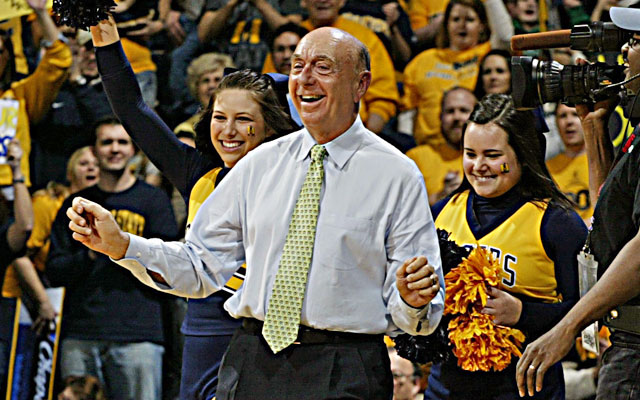 Let me tell you a story about the heart of Dick Vitale. There are lots of stories I could tell about that ticker, stories told elsewhere by other people about the way he raises funds and gives time to people in need, but those stories have been told, and anyway, those stories aren't personal to me.
This one is, and I'm telling it today because Dick Vitale is under attack, and he's under attack in a butterfly-effect way because of me. It was my tweet Friday -- about Arian Foster saying he had taken money on the side at Tennessee -- that Vitale responded to on Twitter with an unfortunately chosen analogy. Since then Vitale has apologized, but he has been crushed for it by fans on Twitter, by bloggers, by lots of people.
And this is Dick Vitale we're talking about. A truly sweet man.
Here's my story:
Several years ago I wrote something mean about Vitale. It was brutal. (Here it is.) It was, I suppose, what the kids today would call a "hot sports take" about his placement in the Basketball Hall of Fame. I was different then, angrier, and I wrote something mean. It was sincere (at the time), and it was sincerely awful.
That was March, 2007.
In December 2008 Duke played at Purdue in the Big Ten Challenge, and I was there for CBSSports.com. Dick Vitale was there for ESPN. And as he tends to do, Vitale visited the press room before the game and walked around, introducing himself to writers. You've heard him on TV, complimenting this writer or that one as a nice guy who wrote a great story that day in whatever the local paper is? That stuff is real. Vitale goes around the press room meeting everybody, finding out what they wrote, and reading it right there if he can.
I saw him coming, and wanted to leave. Because I knew what was coming. And this is what happened:
Vitale (beaming): Hi, I'm Dick Vitale.
Me (nodding glumly): Hi. Gregg Doyel.
Vitale (no longer beaming): Ah.
That's how it started. But here's what happened next. Instead of chatting me up for a minute and moving on -- as he does; he doesn't have that much time, you know? -- Vitale walked away ...
... and grabbed a chair, and came back, and sat down. He wanted to know why I'd written what I wrote nearly two years earlier. Why I felt that way. What he'd done.
He wanted to know how someone could dislike him as much as I seemed to dislike him in that story.
You know what? It broke my heart. It breaks my heart right now, thinking about it. Here's a guy who had given every ounce of himself to college basketball, and to the people watching on TV, and I had crushed him for it because his passion was too loud for my ears.
Vitale sat with me for 10 minutes, talking and graciously listening, and when he walked away I knew there had been one great man involved in our conversation.
And it wasn't me.
A week later I got a book in the mail. One of his, on college basketball. He signed it, wrote me a nice note. I donate books after I read them, but I'm not donating that one. That's a keeper.
So anyway, Vitale's tweet. Yes, it was a bad analogy. Some people were offended by it for all sorts of reasons, but I would like everyone to remember who we're talking about here:
We're talking about Dick Vitale. One of the sweetest men on television, or anywhere else. A guy who has given himself and his time to people all over the planet. A guy whose kindness is known.
A guy who sure could use just a little bit of empathy, and forgiveness, at this moment.
How to watch the Professional Rodeo Cowboys Association's 2017 National Finals Rodeo event

John John Florence and Gabriel Medina will look to catch the wave to a championship

Froome was found to have double the legal limit of an asthma drug in a September doping te...
Flanagan, after winning the New York City Marathon, is out to win her 'hometown race'

It's probably better to just buy your shoes online these days