Donovan not only redefined Florida basketball, he's evolved as coach too
Billy Donovan swears his 'recruiting philosophy hasn't changed.' But the way the Gators coach builds the program now is different, and so is he.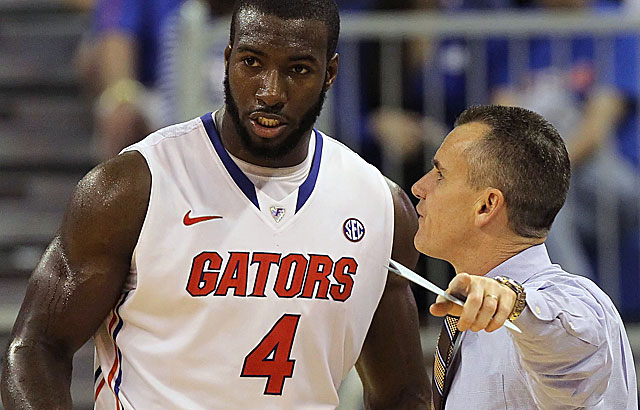 More Final Four: Parrish: Expect unexpected in Dallas | Saturday's X-factors
ARLINGTON, Texas -- Back in the day, Billy Donovan was the bad guy. That's how rival coaches saw him. They were scared of his ability to recruit kids, connect with stars, turn the sleeping giant at Florida into an SEC contender and then a national powerhouse.
Did you forget? Not me. Back in the day, he was at Florida in the late 1990s and I was covering the ACC for the Charlotte Observer and people in my league noticed him. People in every league noticed him. He was the guy who got himself onto the radar of Shavlik Randolph, the most coveted recruit out of Raleigh in decades, during a so-called dead recruiting period. Coaches couldn't call or visit recruits, so Donovan got himself a flight from Gainesville to Raleigh, rented a car at the airport and drove to Raleigh's Broughton High School. Then he sat in the parking lot and waited. When Randolph finally walked into sight, Donovan waved at him.
Then got back into the car, drove to the airport, flew back to Gainesville.
Randolph picked Duke, but as he told me in 2001, "That got my attention."
Hey, it got plenty of people's attention. Lots of Donovan-related stuff on the recruiting trail got attention, like the summer trip for top recruits set up by a friend of his, Bret Bearup. Three of the kids who went on the trip to France -- Mike Miller, Matt Bonner and Brett Nelson -- ended up signing with Florida. South Carolina coach Eddie Fogler wondered aloud, "It's all legal, but is it ethical?"
The Mike Miller recruitment in particular raised eyebrows. Miller was from South Dakota, and it was sort of understood in 1997 that he would do what most stud recruits in the Midwestern hinterlands would do and pick Kansas. It was practically a given that he wouldn't sign with Florida; McDonald's All-Americans didn't sign with Florida. Before Donovan arrived in 1996, the Gators had signed three ever (Eugene McDowell in 1981, Dwayne Schintzius in '86, Stacey Poole in '88); they weren't getting one from South Dakota. Until they did, and Kansas coach Roy Williams said, "I'm turning Florida in."
The NCAA looked and found nothing, and I'll close this part of the story by emphasizing that: The NCAA looked, and found nothing. The point here is not to smear Donovan -- that is not the point at all -- but to compare how he transformed the Gators into a national power with how he has kept them there.
Because what he did then? He doesn't do that now. He has changed, evolved -- improved, you could say, because in the late 1990s Billy Donovan's plan was to overwhelm teams with talent. It's a good plan, if you can get the talent. And Donovan could. He got McDonald's All-Americans Miller and Teddy Dupay in 1998, and then Donnell Harvey and Brett Nelson in 1999. David Lee and James White came in 2001. Anthony Roberson in 2002.
Then something changed, and I like to think it was the Lee-Roberson team that also featured Matt Walsh. The chemistry on that team, those teams in the early 2000s, was all screwed up. After leading Florida to the Sweet 16 in 1999 and the national title game in 2000, Donovan couldn't get the Gators past the second round in three of the next five years -- and couldn't get them out of the first round in the other two.
Donovan said Thursday that "my recruiting philosophy has not changed," but that doesn't jibe with the facts. And the fact is, his epic recruiting class of 2004 -- Corey Brewer, Joakim Noah, Al Horford, Taurean Green -- changed the way he has built his program. Today we know Noah and Horford as multiple NBA All-Stars, but in 2004 Noah was a project, a gangly colt, known more as the son of Yannick Noah than as a basketball player. Horford also was known more for his father, Tito, than his own game. Only one of those players, Corey Brewer, was a McDonald's All-American.
Donovan wasn't trying to overwhelm teams with talent anymore; he was going for character and player development. Instead of being a guy who could accumulate stars, he became a guy who could coach. Maybe he could coach at a high level when he arrived at Florida in 1996, but his development left something to be desired. Dupay, the McDonald's All-American from 1998, never got any better at Florida. Nelson, the McDonald's All-American from 1999, actually got worse. Anthony Roberson, the 2002 McDonald's All-American, didn't improve much in his short time in Gainesville.
But that 2004 class changed everything, and not just the trajectory of Florida basketball. The Gators won national titles in 2006 and '07, and then after two rebuilding years because everyone left -- and because Donovan had hurt himself on the recruiting trail by taking the Orlando Magic job for a few days in 2007 -- the Gators have reached five straight NCAA Tournaments, including four straight Elite Eight showings, this most recent one culminating in the 2014 Final Four.
Instead of reloading as he used to do, recruiting Donnell Harvey and Mike Miller and Anthony Roberson and even Nick Calathes and losing them to professional basketball -- and then replacing them -- Donovan builds. Just like he did in 2004 with Noah, Horford, Brewer and Green. Donovan has built this Final Four team around one McDonald's All-American, Patric Young, and three other seniors (Scottie Wilbekin, Casey Prather, Will Yeguete).
Florida has gone from looking like a future NBA team to looking like a mid-major deluxe, and I mean that in the nicest possible way. The one-and-done thing works for John Calipari at Kentucky. The mid-major thing works for Gregg Marshall at Wichita State. Donovan is somewhere in the middle, getting the occasional superstar recruit like Young or Bradley Beal but surrounding those guys with pieces that are brimming with character and growth.
And in doing so, Billy Donovan hasn't redefined just the Florida basketball program. He has redefined the Florida basketball coach.
Everything you need to know for Sunday's race in the Monster Energy NASCAR Cup Series

Micah Roberts pioneered wagering on NASCAR races and just locked in his QuikTrip 500 picks

SportsLine's Mike McClure, a DFS pro with more than $1M in winnings, gives optimal lineup...
SportsLine simulated the Folds of Honor QuikTrip 500 race 10,000 times and has some surprising...

Hamlin wasn't thrilled with Bubba's driving, or his post-race comments

The Richard Childress team went all out after their win on Sunday