Don't think Shockers deserve a top seed? You're not paying attention
When it comes to Wichita State as an No. 1 seed, do not do these two things: Heed only the schedule and listen to dopes who pay attention only to that slate.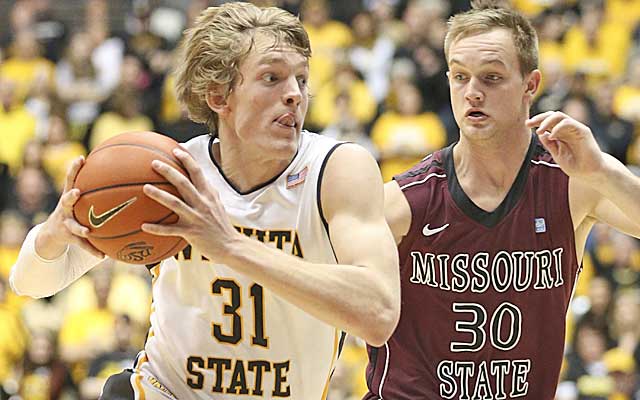 More on Wichita State:

Should Shockers be a No. 1 seed? | Bracketology
Before we have this debate, let me ask a serious question: We're not having this debate, are we? About Wichita State as a possible No. 1 seed?
That debate isn't really happening.
Is it?
To me, on the heels of its perfect regular season, the only debate about Wichita State and a No. 1 seed in the 2014 NCAA Tournament is this one: Should the Shockers be the No. 1 overall seed? And at this moment, the answer -- well, my answer -- is no. Florida should be the No. 1 overall seed, if the season were over today. Which it's not. But if the seeds went out today, Florida would be first and Arizona would be second and Wichita State would be third, and after that I'm not sure, because after that there's a drop-off. Syracuse is slumping, and Kansas just lost its seventh game. Wisconsin and Villanova and Virginia are worth watching, worth considering for a No. 1 seed depending on the conference tournaments, but they're not close at this moment to bumping Wichita State off the line of No. 1 seeds.
This whole thing, Wichita State as a No. 1 seed, seems obvious -- and yet clearly it's not. I hear you on Twitter, mocking the Shockers' No. 101-rated strength schedule, but it's not just fans of other schools trying to diminish the Shockers. It's basketball people, smart basketball people like ESPN's Bruce Pearl and Miles Simon, saying Wichita State are unworthy. It's even smart basketball people at CBS, Doug Gottlieb and Jon Rothstein, saying Wichita State doesn't belong as a No. 1 seed. Gottlieb went so far as to say "many" teams would be undefeated if they had the luxury of playing Wichita State's schedule.
If by "many" he means "probably zero," he's dead-on accurate. Because the last team to finish the regular season undefeated was Saint Joseph's in 2003-04. That was 10 years ago. Do the math for a second, or allow me: Ten years have passed. There have been roughly 330 schools playing Division I basketball. That means roughly 3,300 seasons had happened before Wichita State matched Saint Joseph's with a perfect regular season.
Because this doesn't happen, going undefeated in the regular season. But its perfect record, by itself, isn't the sole reason why Wichita State deserves a No. 1 seed. Another reason -- the other reason -- is what happened last season.
Listen, I know. The NCAA Tournament selection committee isn't supposed to consider anything but this season when evaluating teams. Terrific. The committee also isn't supposed to consider a team's last 12 games, which wasn't a perfect tool to analyze any given school but was damn sure a good piece of evidence to consider when comparing two teams with similar resumes for a spot on a seed line or one of the final at-large spots in the 68-team field. The last 12 games? The selection committee can pretend those games aren't critical, but they are. That's the team that will be entering the NCAA Tournament, not the team that was making hay in Hawaii or New York or the Bahamas in November.
Same goes for last season. It happened. We all know it happened, and we all know the Shockers had a ton of victories (30 last year) against a weak schedule (No. 91 last year) and parlayed that easy schedule and fraudulent resume into ...
The Final Four.
Again, I know. Last year isn't supposed to matter. I'm just saying: How can it not? How can we look at Wichita State's perfect record this season and not give any credence to the fact that it returns the same head coach, five of the six assistants and staff personnel, and six of the top nine returning scorers from last season's team?
That reached the Final Four?
You telling me all of that -- the first perfect regular season in a decade, achieved by a team that returns the bulk of the staff and roster from a Final Four team -- doesn't add up to a No. 1 seed?
Don't be silly. Ignoring last year is one of those rules meant to be broken, like the one that says professional writers shouldn't use sentence fragments. Like this. Sometimes you break a rule not because you can, but because you should. Because rules were written to encounter most situations, not every single one.
This situation is unique. Wichita State circa 2014 isn't Saint Joseph's 2004, Alcorn State in 1979 or any other apple you might want to compare to this orange. Wichita State's 2014 season started like all others do -- with one game -- and then veered off the tracks, outside the box, into a world all its own. See it for what it is, and to do that, you have to see last season for what it was.
Everything you need to know for Sunday's race in the Monster Energy NASCAR Cup Series

Micah Roberts pioneered wagering on NASCAR races and just locked in his QuikTrip 500 picks

SportsLine's Mike McClure, a DFS pro with more than $1M in winnings, gives optimal lineup...
SportsLine simulated the Folds of Honor QuikTrip 500 race 10,000 times and has some surprising...

Hamlin wasn't thrilled with Bubba's driving, or his post-race comments

The Richard Childress team went all out after their win on Sunday