Enough's enough when punishing Colorado St. D-line coach for slur
Colorado State defensive coordinator has paid plenty for his homophobic slur, and will keep paying for it the rest of his life. So why can't we all move on?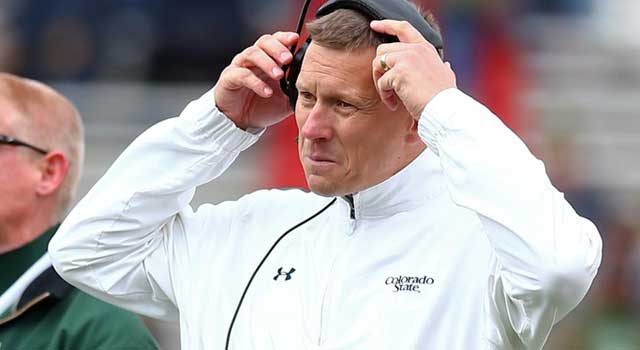 On Twitter, they're out for blood. Greg Lupfer's blood. He's the guy ... well, you know who he is. He's the guy who coaches defensive line at Colorado State and was caught spitting out a furious profanity -- and a gay slur -- at Washington State quarterback Connor Halliday during the New Mexico Bowl on Saturday.
TV cameras caught it, the Internet figured out what he said -- it wasn't all that hard -- and Colorado State acted immediately. The school publicly rebuked him, ordered him to undergo anger management and diversity training, and suspended him without pay for two weeks.
And people, lots of people based on my Twitter feed, want more. Not sure how much more they want, because they didn't say, but several of them did tweet me to ask, hopefully, if I planned to write on the "very weak" suspension of the Colorado State assistant who was "only suspended two weeks."
Hadn't thought about it, honestly, until they asked. And then I thought, well, yes. I am going to write on that suspension. And the reaction to it. And my conclusion is this:
The discipline is enough. Enough for me, anyway. Lots of gray area here, and had Colorado State suspended Lupfer for longer than two weeks, I'd have been OK with that as well. Not sure how much discipline would be too much, but another few weeks, maybe even a few months, wouldn't have seemed excessive.
Firing the guy? That would be excessive. For one thing, there's precedent here. Kobe Bryant and Joakim Noah used the same gay slur during NBA games in 2011 and were fined but missed no game time. 49ers defensive back Chris Culliver plainly expressed his homophobia five days before the 2013 Super Bowl, and he played in the game. He was admonished by his team and forced to undergo sensitivity training, but he missed no playing time and, as far as I know, no paychecks.
But Greg Lupfer will miss two weeks of work, two weeks of pay from his annual $150,000 salary -- Kobe's $100,000 fine and Noah's $50,000 fine amount to less than two days pay -- and in addition he has been outed as a homophobic creep, even if he's not a homophobic creep. It's possible Lupfer is as enlightened as the next guy but, like Kobe and Noah a few years ago, still clings to a word that needs to go away (and someday will be as reviled as the n-word).
Whatever he is, Lupfer paid for his mistake with two weeks pay and national humiliation. He has apologized twice for his comment, too, though neither apology mentioned Connor Halliday. So along with improving his vocabulary, Greg Lupfer has to work on his apologies.
But still, the man has paid a steep, steep price. Last week, most of us -- me included -- had never heard of Greg Lupfer. Now we know him as the Neanderthal who, in the heat of battle, reached for the meanest word he could think of and came up with a homophobic slur.
And people think he hasn't paid enough?
Look, Lupfer's slur is the self-destructive gift that will give to him for the rest of his career. The next time he wants to move up the coaching world -- maybe become a defensive coordinator for a BCS school, or interview again to be head coach of his alma mater, Portland State, as he did in 2006 and '09 -- he can forget it. Nobody's hiring Greg Lupfer any time soon. You've heard of winning the press conference, right? Greg Lupfer loses the press conference. He's toxic, and deservedly so. No pity for Lupfer. No sympathy.
But a two-week suspension and national scorn are severe penalties -- enough for me to put down my pitchfork and move on.
ABC is looking to revive the popular '90s hockey film franchise

Patrick will drive the No. 7 Premium Motorsports Chevrolet in her final NASCAR race

Patrick plans to call it a career after running at the two most iconic U.S. auto races
Let the truth set you free, sir

The poor kid never even saw it coming

The burglars that Childress fired at were carrying military-grade weapons on them, the cops...