Eric LeGrand almost as popular as Seahawks and Broncos on Media Day
Paralyzed former Rutgers player Eric LeGrand, promoting the New Jersey Hall of Fame at Super Bowl 2014 Media Day, remains an inspiration.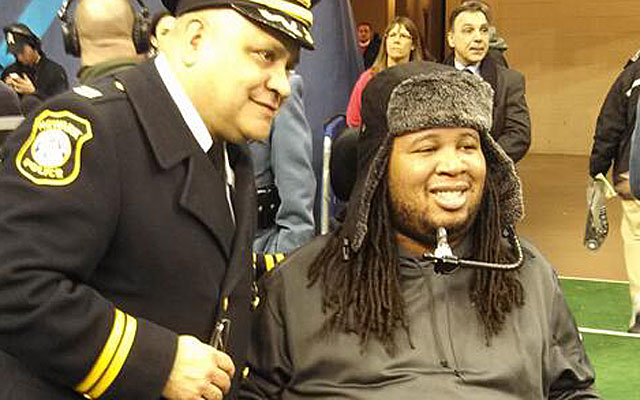 More SB coverage: XLVIII odds | Expert picks | Latest news
NEWARK, N.J. -- Newark Police Capt. Felipe Gonzalez has seen a thing or two. Twenty-eight years on the job? You can't imagine what he's seen. He was at the Prudential Center on Tuesday for Super Bowl Media Day, and he wasn't there to see the NFL players or coaches. Standing next to Wes Welker's booth, not far from Peyton Manning, Capt. Felipe Gonzalez was there for crowd control. Not pictures. Not impressed, this guy.
But when he saw the former defensive tackle from Rutgers, Felipe Gonzalez walked right up to him for a favor. Not as a captain of the Newark police department but as a fan. And not a fan of football, but of human perseverance.
"Can I take a picture with you?" he asked the former Rutgers defensive tackle.
And Eric LeGrand smiled that huge smile of his and said, "Of course."
LeGrand caused a stir at Media Day, the good kind -- not the vapid, look-at-me nonsense that happens every year on Tuesday of Super Bowl week. This year the nonsense was brought by a journalist from Denmark who dressed like Waldo from "Where's Waldo." Why would a journalist from Denmark do that? Same reason that another journalist from America would dress up like Mozart and ask players to recite a few lines of Rock Me Amadeus.
Because people can be pointless.
But Eric LeGrand, he can't do it. He can't be pointless, not when he causes a stir everywhere he goes because people want to get a word, get a picture, get a little bit of whatever it is that Eric LeGrand has. And I became one of those people on Tuesday, following around Eric LeGrand like the magnetic star he is, more impressive in his own way than Welker and Manning and all the other stars of the Denver Broncos and Seattle Seahawks, men who were born with special gifts and used those gifts to reach the pinnacle of their sport.
Eric LeGrand was born with special gifts, too. He was big, fast, strong. He was a 6-foot-2 and 240 pounds in high school, a running back and linebacker. He wore No. 30 just like his favorite player, Terrell Davis, the reason LeGrand became a Broncos fan. And that's why LeGrand was at Media Day on Tuesday. He wanted to see his favorite team.
Once upon a time, Eric LeGrand had a future in football. The pinnacle? We'll never find out, because on Oct. 16, 2010 LeGrand was playing for Rutgers against Army when he lowered his head while making a tackle on a kickoff return and was paralyzed before he hit the ground. He had fractured the C3 and C4 cervical vertebrae. Severed the spinal cord.
Life-changing, but in the most amazing way possible. Less than four years later he is captain of Team LeGrand, partnered with the Christopher & Dana Reeve Foundation to care for victims of paralysis while seeking a cure. LeGrand is a coveted public speaker when he's not working for Rutgers radio or making appearances like the one Tuesday, before Media Day, when he was at the New Jersey Hall of Fame Mobile Museum with other Hall members -- LeGrand was inducted in 2012 -- to promote the Hall during Super Bowl week.
And at the Hall of Fame, Eric LeGrand was a star. Comedian Joe Piscopo wanted a picture. So did Olympic hurdler Joetta Clark Diggs. One person, a visitor to the Hall of Fame, got LeGrand alone for a moment and said the damndest thing.
"He said, 'I wish I was like you. I wish I had your platform to help people,'" LeGrand said. "And here he is, able-bodied, and I can't walk right now -- and he wants to be like me? I hear something like that and I'm just so grateful for the opportunities I've had, and for the progress I'm making."
About that progress, I asked Eric. You're not walking "right now." Does that mean ...
"I'm going to walk someday," he said. "I believe it. That's what drives me. I wish it would go faster, but I'll take whatever gains I can get, and I appreciate it."
And your last breakthrough? What was that?
"My fingers starting twitching in March," he said. "They twitch every now and then. I can't make it happen, but that's another step. And also I can move my torso around pretty good."
LeGrand starts moving in his chair, shoulders going left and right several inches in either direction. Maybe that's not a miracle, but if on Tuesday you were standing next to Eric LeGrand, who was paralyzed from the neck down in October 2010, you might think otherwise as he shook his torso.
Fans in the bleachers of the Prudential Center, there for the Broncos and Seahawks, yelled LeGrand's name when they saw him rolling through traffic in his chair. TV cameras surrounded him, so much so that at one point the crowd around Eric LeGrand was almost as big as the crowd around Wes Welker.
"This happens everywhere we go," said his mother, Karen LeGrand, and she laughed a big old happy laugh. "I'm used to it by now, and he's not just inspirational to other people -- he's inspirational to me. Whenever I'm tired, I think of him and his positive attitude and he inspires me. We've come a long, long way from that day."
And brought a lot of people along for the ride. One of them reported to work Tuesday to work crowd control at the Prudential Center. Afterward, his picture with Eric LeGrand in his phone, Newark Police Capt. Felipe Gonzalez tried to talk about what this day meant. He started a sentence and started sniffling. Tears welled in his eyes.
"I'm sorry," he said.
What, I asked Newark Police Capt. Felipe Gonzalez, is making you cry?
"That guy right there," he said, gesturing at LeGrand in his chair. "He's been through so much, hurt himself playing something he loved. And he has maintained such a positive attitude. Look at that smile. It's infectious. I just wish ..."
More tears.
"I'm sorry," Capt. Gonzalez said. "I've seen the good, and I've seen the bad. That guy right there ...
"I'm sorry," he said.
No problem, Captain. I can finish that sentence for you: You've seen the good and you've seen the bad. And that guy right there? Eric LeGrand? He's the best.
We Need To Talk's Laila Ali narrates an inspirational story of the power of boxing

Settle in for the holidays by watching other people do grueling obstacles like the Funky M...

Skipper leaves behind a legacy of blockbuster broadcast-rights deals with the NFL and the...
Patrick and Stenhouse have called it quits after five years as a couple

John John Florence and Gabriel Medina will look to catch the wave to a championship

How to watch the Professional Rodeo Cowboys Association's 2017 National Finals Rodeo event