Falling forward brotherhood: Quin Snyder joins Sampson, Pearl
New Utah Jazz coach Quin Snyder is the third ex-disgraced college coach to land a plum job this offseason, joining the University of Houston's Kelvin Sampson (fired by Indiana) and Auburn's Bruce Pearl (Tennessee). Snyder was fired in 2006 by Missouri after the Ricky Clemons fiasco, among others.
More Offseason Analysis: Coaching changes, news | Free Agency | Draft
About three years ago it became apparent. Depressing? Yeah, a little. Because about three years ago it became apparent that Quin Snyder and Kelvin Sampson were falling forward -- falling forward in slow motion, but falling forward nonetheless -- after being shamed out of college coaching. They were going to become big-time head coaches again, probably in the NBA. The race was on. Who could fall forward fastest, Quin Snyder or Kelvin Sampson?
And then we had a winner:
Bruce Pearl.
Before Snyder could get hired, before Sampson, Bruce Pearl completed his comeback from show-cause pariah to hottest coaching candidate in the country by taking the Auburn job. That happened on March 18, and that opened the falling-forward floodgates.
Two weeks later Kelvin Sampson was hired at the University of Houston.
Two months later Quin Snyder fell forward farther than any of them, landing the head coaching position on Friday with the Utah Jazz. Of the NBA.
Quin Snyder, fired in a disgrace at Missouri in 2006, is now a head coach in the NB-Freaking-A.
And you know what? I'm fine with it. Today, that is. Today and going forward, but let's be clear about this: I'm fine with it today, because today is not three years ago. Three years ago, it was depressing. Three years ago, it seemed too soon. Three years ago Kelvin Sampson was interviewing with the Houston Rockets and Detroit Pistons. And that came a year after the Cleveland Cavaliers in 2010 were reportedly interested in Sampson.
Sampson had been fired just two years earlier from Indiana, guilty there of the same serial lack of ethics he had shown at Oklahoma -- where he simply ignored NCAA rules about phoning recruits -- but now the NBA wanted him. The NBA didn't follow through in 2010 or '11 for whatever reason, maybe one as simple as this: There were too many other candidates. Candidates like Quin Snyder, who had been run out of Missouri in 2006 for having too little control over his players, his assistants, his whole damn program. Quin Snyder coached Missouri with two hands over his ears, two over his eyes and one over his mouth. That adds up to five hands. How can a coach have five hands?
Snyder didn't play by the rules. That's how.
Neither did Bruce Pearl at Tennessee, breaking a minor NCAA rule when he had a recruit at his house for a barbeque and then breaking a major one when he lied to the NCAA about it. Pearl was pushed out in March 2011.
But time passes, you know? Times passes, and people get second chances. Does everyone deserve a second chance? No, not everyone. But that's a moving line, defined like the Supreme Court once defined pornography -- you know it when you see it -- and I don't see any of these three coaches (Snyder, Sampson, Pearl) as having irreparably crossed that line.
Eight years have passed since Snyder was fired at Missouri. Almost from the moment he was fired, it seemed clear he was going to be a head coach again, probably in the NBA. He was a head coach in the NBA's D-league within a year, and in 2010 he was an assistant with the 76ers. From there it was a matter of time, and he landed interviews with the Bobcats and Magic in 2012. You could see it, because you knew Snyder had the Coach K pedigree, the brilliant mind -- trust me; the guy's brilliant -- and an overflow of energetic charisma. If he can stay out of his own way, Quin Snyder is going to be a great coach for the Utah Jazz. And eight years have passed since he was chased out of Missouri after turning that place into a punch line.
Six years have passed since Sampson arrogantly, inexplicably broke the same rules at Indiana that he broke at Oklahoma. And like Snyder, his eventual ascension to a head coaching position -- I thought it would be in the NBA -- was obvious. He was out of work just two weeks before the Milwaukee Bucks hired him as an advisor in March 2008. He held that vague job description just two months before being elevated to assistant coach. From there the race was on: Who gets a big-time head coaching job first, Sampson or Snyder?
Turns out it was Pearl, who was hired by Auburn with five months still left on his show-clause ruling from Tennessee. If anyone was hired too soon, it was Pearl -- but it hasn't been too soon. Pearl had been out of coaching three full years, and he was out because he had impaled himself on the same rock-bottom cliffs as Snyder and Sampson.
Me, I'm a big believer in the cleansing powers of rock bottom. Curious as to what you're really made of? Do a swan dive into a pool of rock bottom. That'll show you, but be careful: Rock bottom destroys some of us. It saves others. Which will it be with Sampson, Snyder and Pearl? We'll find out. They just got a second chance to do the thing they were put on this earth to do.
You could waste your time being mad about it, or you could be happy you live in a world that believes in second chances. Who knows? Maybe someday that guy at rock bottom, that guy hoping for a second chance, will be you.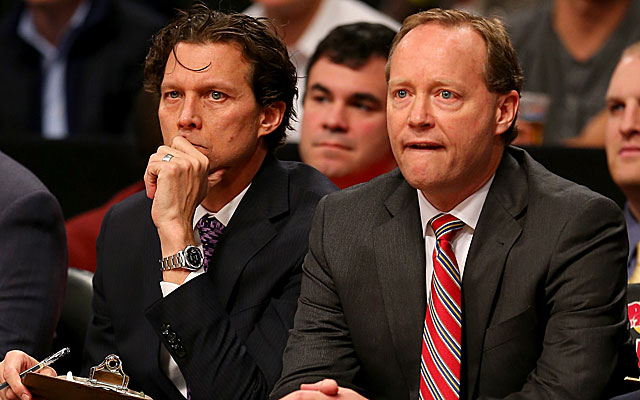 How to watch the Professional Rodeo Cowboys Association's 2017 National Finals Rodeo event

John John Florence and Gabriel Medina will look to catch the wave to a championship

Froome was found to have double the legal limit of an asthma drug in a September doping te...
Flanagan, after winning the New York City Marathon, is out to win her 'hometown race'

It's probably better to just buy your shoes online these days