Falling, then rising Jadeveon Clowney becomes knock on mocks
Everyone agrees Jadeveon Clowney is a once-in-forever kind of athlete. So how can rational people have his draft status oscillating so much based on hula hoops and tennis balls?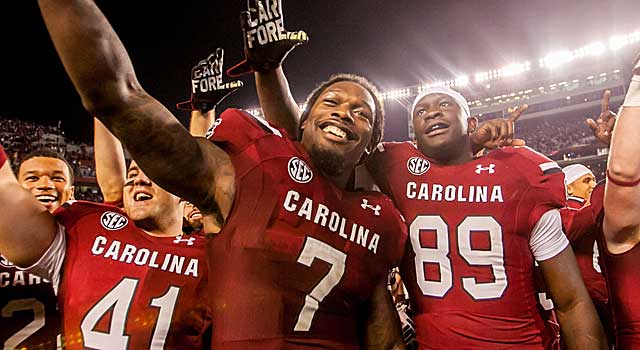 More NFL offseason: Mock Drafts | Prospect Rankings | Pro Days | Top free agents
It happened at 11:59 in the morning, Eastern time, on April 2. That's when Jadeveon Clowney ran backward quickly, swiveling his hips back and forth like the cornerback he will never be, and the makers of mock drafts around the country screamed, "Give me rewrite!"
Or maybe it had already happened seven minutes earlier, at 11:52 a.m. on April 2, when Clowney ran around some hula hoops on the ground, reaching down to pick up tennis balls along the way.
Or maybe it was a few minutes before that, when Jadeveon Clowney jumped -- God help us -- over seven large bags.
It was one of those things, or maybe it was all of those things, that enabled Clowney to claim his spot atop the 2014 NFL Draft. And why is that? Because we're stupid. That's why.
But really. Draft Clowney first, don't draft Clowney first, but do it -- or opine about it -- because of what we know in the real world, not because of what we think we learned at the faux football of pro day. What did we learn at the South Carolina pro day on April 2? Well, after watching Clowney backpedal and pick up tennis balls and leap seven (!!) large bags in a single bound, we learned that this 6-foot-5, 266-pound defensive end is the freakiest of the freak athletes.
But wait. We already knew that. Didn't we? Haven't we known since he was a high school senior that he was a physical specimen the likes of which we'd never seen? Back then he was called not just the top recruit of the year -- but of the past five years. When he signed a few months later with South Carolina, the footage was shown on ESPN's SportsCenter, and it was shown live.
Clowney has been the presumed No. 1 draft pick in the 2014 NFL Draft since 2012, when he was SEC Freshman of the Year. As a sophomore he finished sixth in the Heisman Trophy voting and then nearly took off a Michigan running back's head in the bowl game and spent the summer the object of speculation that he should just sit out his junior year rather than hurting his draft stock with injury or something else.
Then came his junior year, when he hurt his draft stock with injury ... or something else.
Something held Clowney back last season. After picking up eight sacks as a freshman and 13 as a sophomore, he had only three as a junior. Whether it was fatigue from an early-season illness, bone spurs in his foot, a rib injury ... something else, Clowney wasn't the player he'd been. Which means he wasn't the draft prospect he'd been, and not because all of a sudden he wasn't a once-in-forever athlete. He was still a once-in-forever athlete; the tape and stopwatch don't lie. But he was a once-in-forever athlete with three sacks in 11 games.
And that was a problem.
And so the people who study the NFL Draft, who are fed tidbits of information from NFL teams, they solved that problem by dropping Clowney in their mock drafts. Not very far, mind you, because he's still a once-in-forever athlete. Clowney was a universal top-five pick, but still, he wasn't the guy anymore.
Who was? Great question. It seemed to be a quarterback, because that's another thing we do, and so it was Teddy Bridgewater or some guy named Blake Bortles or maybe, according to this genius, Johnny Manziel.
But it wasn't Jadeveon Clowney, because he had laid an egg during the 2013 season and we had watched it and we had been scared away by it. And by "we," understand that I'm referring not to the Houston Texans but to the media and to the makers of the mock drafts and presumably to people like you who talk about such things online. We'd moved on from Jadeveon Clowney because he was that big, and he was that fast, and he was that freaky of an athlete -- and even with all of that, and with so much riding on his junior season, and with so much financially at stake, he had recorded only three sacks in 11 games as a junior.
That's what we call "a red flag."
But then something changed. Part of it had nothing to with Clowney, I'm sure. Part of it was Teddy Bridgewater's reportedly subpar pre-draft workouts. Part of it was Johnny Manziel's measurements -- he's not even 6 feet tall, the poor little guy -- and lingering questions about his maturity.
Part of it is this: We have too much time to kill. We love the NFL, and we love the NFL Draft, and there are nearly three months between the Super Bowl and the draft and we have to do something. So what we do is this: We tinker with the mock drafts. They do it there, and we do it here. We move this player up and that player down because Bridgewater has tiny hands and because Bortles had a good game against Penn State -- coached then by Bill O'Brien, the coach now of the NFL team with the No. 1 overall pick -- and because what else are we going to do? Use all of our insight to make the best mock draft possible in February and then just let it sit there?
Of course not. So we move people around, pieces on our imaginary chess board, and when something crazy happens on April 2, something like Jadeveon Clowney running in circles and picking up tennis balls and jumping beanbags, we react to this new information like it's new information.
And so a player whose draft stock sunk because he didn't look great last fall against college linemen has seen his draft stock soar because he looked great on April 2 against air.
We're stupid, you know that?
Let the truth set you free, sir

The poor kid never even saw it coming

The burglars that Childress fired at were carrying military-grade weapons on them, the cops...
'Kong Infinity' and 'Happy Ending' headline two additions to the ultimate endurance course...

Nik Kayler's body has been found after going missing last week during a fishing tournament

Florida officials are still searching for Nik Kayler after his boat didn't show up