FIFA rankings: Argentina No. 1, USA below Iceland, Mexico, Algeria
FIFA's October rankings have been released, and the US dropped one spot to No. 29.
• 1 min read
FIFA's rankings for October have been released, and the United States has fallen a spot ahead of next week's CONCACAF Cup against Mexico, where the winner books a spot in the Confederations Cup in 2017.
#FIFARanking #Germany return to second, #Portugal up to 4th & #Spain back into top 10 http://t.co/ZDQgD2qmDs pic.twitter.com/f3ihbUWNFw

— FIFA.com (@FIFAcom) October 1, 2015
The US fell one spot to No. 29, while Mexico is No. 27. Argentina is still No. 1, while the top five include No. 2 Germany, No. 3 Belgium, No. 4 Portugal and No. 5 Colombia. 
Let's take a look at the top 10:
1. Argentina
2. Germany
3. Belgium
4. Portugal
5. Colombia
6. Spain
7. Brazil
8. Wales
9. Chile
10. England
The Americans are behind countries such as No. 8 Wales, No. 13 Romania, No. 19 Algeria and No. 23 Iceland. 
Here's where they stand:
23. Iceland
24. Ukraine
25. Ghana
26. Russia
27. Mexico
28. Denmark
29. USA
30. Bosnia and Herzegovina 
Mexico vs. US will take place on Oct. 10 in Pasadena.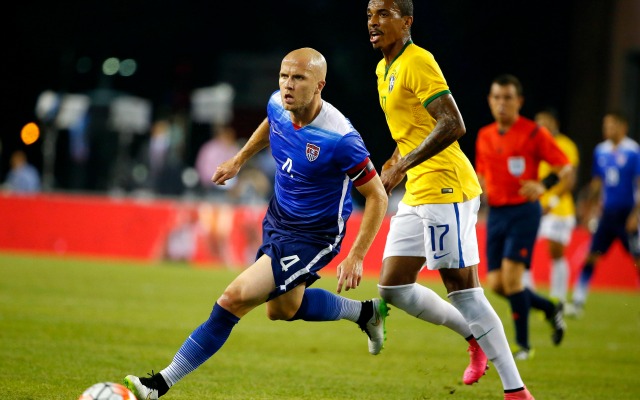 Five Maryland teens are charged with attacking four teammates in the school's locker room

Jonah Keri breaks down the midterm Election Day with Daily Beast political writer Sam Stei...

Anthony Butler and Jessie Rix have one of the best stories of this year's NYC Marathon
News, notes and final results from Saturday's action at Churchill Downs

SportsLine's Jody Demling called Gun Runner winning the Breeders' Cup Classic last year.

Accelerate and West Coast are the favorites, but does our expert think they can win?