Floyd Mayweather, Manny Pacquiao fight talks hit snag
In late January, an announcement of the long-awaited superfight between Floyd Mayweather and Manny Pacquiao seemed close. Once again, negotiations hit a snag.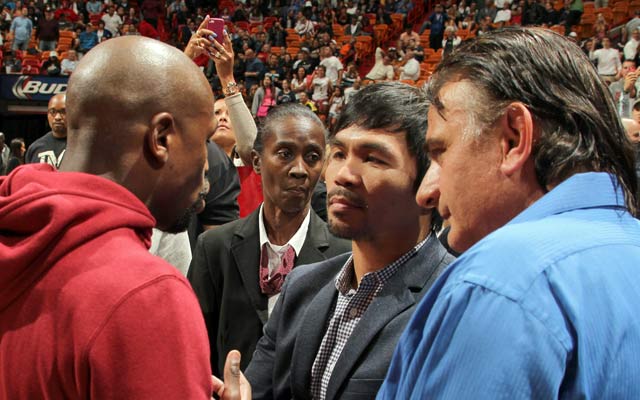 Negotiations for a long-awaited superfight between Floyd Mayweather Jr. and Manny Pacquiao, which had been making progress in late January, have once again hit a snag. 
The two fighters met twice on Jan. 27 and worked out many of the sticking points that have kept the fight from taking place for the last several years. 
According to ESPN's Dan Rafael, the Mayweather and Pacquiao camps agreed on the purse-money for the fight, pre-fight drug testing protocol, the time and place of the event, and even the order in which the fighters would enter the ring. 
A week later, the fight still wasn't finalized, and the agreed-upon date of May 2 now appears to be in jeopardy. 
"We are running out of time for May 2," Pacquiao's promoter, Bob Arum, told Rafael.
Part of the problem is negotiating an agreement for a joint pay-per-view telecast between HBO and Showtime. Pacquiao has an exclusive contract with HBO, and Mayweather is under contract to Showtime. 
The fighters also have several unnamed sticking points preventing the deal from being finalized. 
If the fight can't be made, Mayweather plans to fight on May 2 against either Miguel Cotto or Amir Khan. Pacquiao also has Khan as a backup plan, with a possible May 30 date. 
Patrick plans to call it a career after running at the two most iconic U.S. auto races

Let the truth set you free, sir

The poor kid never even saw it coming
The burglars that Childress fired at were carrying military-grade weapons on them, the cops...

'Kong Infinity' and 'Happy Ending' headline two additions to the ultimate endurance course...

Nik Kayler's body has been found after going missing last week during a fishing tournament