Football legends belong in Canton; Pat Tillman is one of those
After leaving the NFL to become an Army Ranger in the wake of 9/11, Arizona Cardinals safety (and Arizona State linebacker) Pat Tillman died 10 years ago today in combat in Afghanistan from friendly fire. He belongs in the Pro Football Hall of Fame in Canton.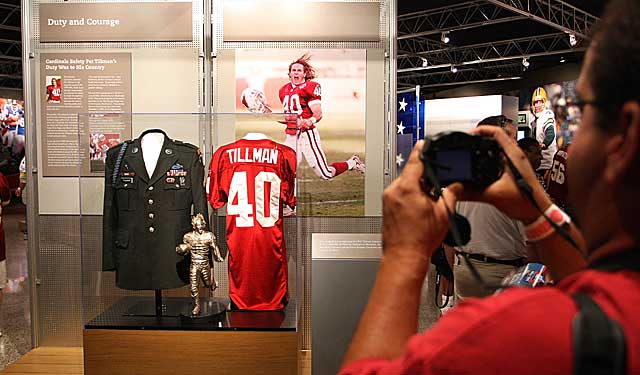 More: Dodd: Tillman -- 10 years after | College football news | NFL news
Put him in the Hall of Fame. Not from pity or guilt or the emotional tug that comes up every year on the anniversary of his death in combat in Afghanistan, but put Pat Tillman in the Pro Football Hall of Fame because Canton is a place for the true legends of the NFL.
And they don't get more legendary than Pat Tillman.
No, there are no precedents for Pat Tillman's HOF candidacy. There's not a single guy enshrined in Canton who's a legend because of something that happened away from football -- who's a legend because he walked away from football -- but that doesn't bother me in the slightest. Because what Pat Tillman did, who Pat Tillman was, is unprecedented. Nobody in the modern NFL, millionaire athletes who can retire in their early 30s with enough money to last a lifetime, has ever given all of that up to serve his country. Knowing there is a war. Knowing he would go there. Knowing he could die.
Pat Tillman gave it up. Spurred by patriotism less than a year after 9/11, he left his starting safety job with the Arizona Cardinals at age 25 to join the Army Rangers. He served several tours of duty. On his final tour, on April 22, 2004 -- 10 years ago today -- he was killed in action.
What does that have to do with NFL greatness? Nothing, I suppose. Or everything. Pat Tillman was an NFL player. And Pat Tillman was greatness. They are different but they are entwined, because Tillman will go down in history not as the soldier who was killed -- killed by friendly fire, most tragically of all -- in action. He will go down in history as the former NFL player who was killed in action.
Pat Tillman's shrine in Canton wouldn't be like everyone else's, or anyone else's, but that would be OK. He wasn't like everyone else. Or anyone else. He was unique and special and heroic. For reasons unlike those shown by the 287 members of the Hall of Fame, Pat Tillman was quite possibly the most heroic person the NFL has ever produced.
The question is not: Should Pat Tillman be in the Hall?
It's this:
Why the hell isn't he in there already?
Denny Hamlin and Kevin Harvick will look to build off momentum in order to catch Martin Truex...

The team of children agreed among themselves to follow Colin Kaepernick's stand against in...

Did Elliott cheat to finish second in the NASCAR playoff opener? You be the judge
Kahne has been with Hendrick Motorsports since the 2012 season and is currently in contention...

After finishing second in the first playoff race of the season, can the 21-year-old son of...

Find out if you're as smart as you think you are