For blue-chip OT's family, recruiting has been crazy since '05
For blue-chip recruit Kc McDermott's family, the recruiting process has been crazy since '05 and now features a very curious dynamic as the offensive tackle is down to two schools, Miami and Notre Dame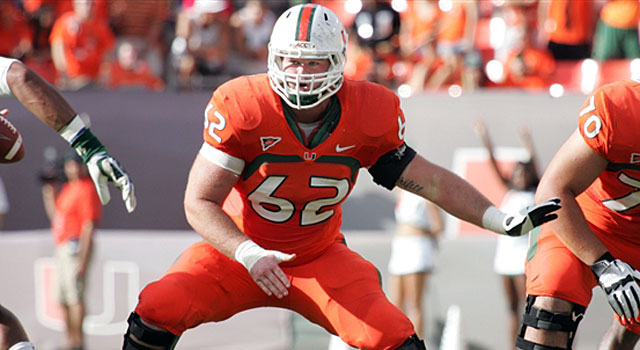 In 2005, an undersized offensive line recruit from Florida was scrapping so hard to get noticed by the Ole Miss staff at the Rebels summer camp that he literally finished his 40-yard dash in a tumbling heap, scratching up his knees and palms. Tyler McDermott was about three inches under and at least 20 pounds lighter than what college coaches want in an O-line prospect, but the kid sure wasn't going to come up short in grit or tenacity. From the sidelines, McDermott's dad Randy, a former baseball player at Ohio University, nervously observed, same as many other parents did that morning. I was in the Ole Miss indoor facility working on my book Meat Market, which chronicled the recruitment of several prospects that Ole Miss was chasing, including Tyler McDermott.
The younger McDermott, a 6-1, 269-pound center from Lake Worth, Fla., with a 3.6 GPA, had received offers from FIU and Auburn, his dad told me. But he added that the Tigers were no longer interested in his son because another lineman from Alabama had committed to Auburn. Ole Miss had an in with Tyler McDermott. Ever since he was 7 years old, he had wanted to play for then-Rebels line coach Art Kehoe. For years, McDermott had heard the former Miami lineman as the featured speaker at the Down & Dirty Camp in Florida.
As impressive as McDermott was that day -- he won most of his one-on-one battles -- the Rebels head coach, Ed Orgeron, wasn't sold that McDermott had the size or enough athleticism to be a top prospect. They opted to chase other linemen. McDermott ended up signing at Colorado State, where he started a handful of games as a junior and senior.
For Randy McDermott, the real recruiting drama was only beginning. His second son, Shane, had the size that Tyler didn't. Shane was 6-4 with a broader frame. He picked Miami over Stanford, West Virginia and a bunch of others, committing three weeks after UM extended an offer. Shane McDermott, now 6-4, 296 pounds, started all 12 games at center for Miami last fall and earned honorable mention All-ACC honors from the league's coaches. Interestingly enough, his position coach at Miami is Art Kehoe, who resurfaced at UM after the Ole Miss staff got fired, and Jeff Stoutland, the line coach who McDermott committed to, left for a job at Alabama.
But this year, coaches from all over the country have coveted Kc McDermott, a junior at Palm Beach Central High and the youngest son of 6-3 Randy and Johnnie, a 6-footer who ranks fourth all-time in rebounding in the history of Ohio University women's basketball. [Note: Initially, the youngest McDermott was referred to as "K.C." in this story but I was later told it's actually "Kc" and the latter is correct. "It's not initials for anything. It's just a weird way we came up with 16 years ago to spell "Casey". Seemed like a good idea at the time, now not so sure," Randy McDermott joked.]

The 6-7, 285-pounder, ranked as the nation's No. 31 overall prospect and No. 4 offensive tackle in the 2014 recruiting class by 247 Sports, received his first scholarship offer in the spring of his sophomore season from Miami's Al Golden, the school Kc McDermott grew up rooting for. "His room was orange and green," said Randy McDermott. "The bottom half was painted green and the top was painted orange." Since the Miami offer, things have only gotten more hectic for him and his family.
"The biggest difference between when Tyler was getting recruited and now is the proliferation of the Internet media," said Randy McDermott. "Back in '05, there were really only a couple of sites -- Rivals and Scout, basically. The Internet wasn't anywhere near what it is now volume-wise. Notre Dame, for example, probably has seven or eight sites where they're trying to attract subscribers, and content drives that so they're searching for any angle or any story to try and get people to spend the nine or ten bucks a month to be a member. On top of that, there's Twitter and all the rest of it that's out there, so that leads to a lot of misinformation and it throws gasoline on the fire. And that leads to coaches feeling the pressure of getting in the game early.
"We'd read, '(Kc)'s making a trip here.' No, no we're not. The places just pound him on the phone or via text message -- I don't know how they get your phone number. I guess one guy gets it and they just share it with everybody else. They all want to be the guy who gets a scoop. But then we read these things about how he 'loves' this school or 'he told me' that. And we're like, 'No, that's not true.'"
Adding even more intrigue to McDermott's recruitment is that Tyler is now a college coach and was hired in February at Notre Dame as a graduate assistant.
Randy McDermott says Tyler always wanted to become a coach -- that he loved the strategic side of the game, the way people are fascinated by chess. He calls his son getting hired by Notre Dame "the break of a lifetime" but also said that Tyler was up front in the interviewing process.
"One of the things that came up was, 'Hey, I'm not interested in this job if you're only interested in me recruiting my brother because it's gonna get awkward.' He's been involved with some other kids there and doing stuff. He's not been too involved and they really haven't asked him too much about Kc I think it creates a weird dynamic."
The McDermotts took a visit to South Bend this week as Kc prepares to make his college choice. He's narrowed things down to Miami, where brother Shane will be a senior during his freshman year, and Notre Dame, where Tyler would be in his second season as a G.A. in 2014.
Kc, who his father says has a 3.4 GPA and wants to be an engineer, will announce his decision at his high school on Tuesday.
"He couldn't make a bad decision with either school," said Randy McDermott. "With Miami and Notre Dame, you're talking about two world class institutions. They're razor thin in regards to the differences if you break it down from an education standpoint, from a coaching standpoint. Notre Dame is obviously coming off a great year, going 12-0 and playing for the national title. That's impressive. The biggest difference, and what we told Notre Dame, is location."

Beyond that, the dynamic of having a brother at either school cancels each other out, Randy McDermott said, adding that both older brothers will probably be happy once Kc makes his decision public.
"I think they'll both be relieved," Randy said. "Believe it or not, they're probably both under more stress and pressure than Kc is. These coaches are around them all the time. They're not around Kc all the time. They're not pounding Kc all the time. At Miami, they're around Shane all the time. At Notre Dame, Tyler is in all the meetings. 'Hey, so we getting your brother? What's your brother saying. What's your brother doing?' It's kinda different.
"To be honest, I think it's tougher on Shane because he's been there a longer time. He started there last year. I think the coaches are looking at him, going, 'Hey dude, you can't get this done?' They have more history there, so there's maybe a little more ribbing. For Shane, this is going on for two years."
Reminded that, even after his son announces his college choice, it will still be almost 10 months from signing day and that it won't stop the flurry of recruiting activity surrounding his son, Randy McDermott disagreed with a chuckle.
"Oh, I'll make it stop," he said. "If I have to call the head guy myself. I'll make it stop. This is just our opinion as a family, I don't know that the recruiting process is healthy for kids. It fills their heads with all kinds of different things for a 16 or 17 year that needs to be a high school student and work on their grades and not think he's all that and a bag of chips."
Kyle Busch is in danger of being eliminated just weeks after dominating the Round of 16

Who makes the cut to eight at Kansas Speedway? Follow all the action here

Talk about covering ground on the court: You've never seen anything like this
Kevin Harvick and Joey Logano will have a chance to tie Jimmie Johnson's wins record at Ka...

This is good parenting, folks

He's the most glamorous defensive coordinator to ever step foot on Earth