Former Vols AD Mike Hamilton on a mission to help millions in Africa
Truth be told, Mike Hamilton's track record at Tennessee can't compare to his track record in Africa. And that's not a knock on Hamilton.
Mike Hamilton is the guy who hired Lane Kiffin at Tennessee. He's the guy who fired Bruce Pearl. He's not sorry about any of that, not because he's convinced everything he's done is unassailable, but because he's convinced all of that led him to where he is today.
Where is he today? We'll get there in a second, but first remember where Mike Hamilton used to be. He used to be athletics director at Tennessee, a job he held for eight fascinating years. Philip Fulmer was fired. Lane Kiffin came, and Lane Kiffin went. Derek Dooley said hello to Vol Nation. Bruce Pearl said goodbye.
Mike Hamilton was there for all of it, and those were important times at the University of Tennessee. Athletic fortunes, not to mention financial fortunes, rose and fell. What Mike Hamilton did from 2003-2011 at Tennessee? That stuff matters.
What he's doing now?
It matters more.
• • •
"I don't have this great track record of 1,600 days in Africa. I've only been to Africa maybe 50 or 60 days."
That's Mike Hamilton talking, and that right there explains who he is, what he's doing now, even what he did at Tennessee.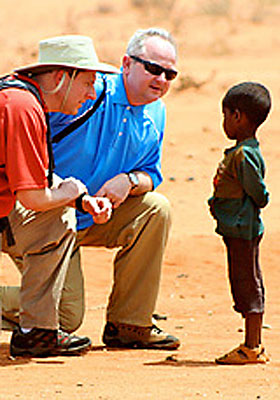 Mike Hamilton in Kenya. (Shirley Souryal/Blood:Water Mission)
Nothing is enough for him, and not from pessimism -- but optimism. Nothing is enough, because there's always more to be done. Tennessee could win more than it was winning late in Philip Fulmer's Hall of Fame tenure, so Hamilton fired him. Tennessee basketball could be represented better than it was by Bruce Pearl, so he replaced him. Within four years of Hamilton's promotion to AD, Tennessee athletics had doubled its fundraising. Not enough. Four years later, Tennessee had tripled it.
Mike Hamilton is an optimist and he's a realist, which makes him formidable in his role with Blood:Water Mission, a viscerally named non-profit founded in 2005 by the band Jars of Clay to help sub-Saharan Africa with two crises: not enough clean water, and too much AIDS. Two sentences about that:
1. Only 16 percent of the sub-Saharan population has home access to water, according to the World Health Organization; more than 200 million people walk at least 30 minutes for a drink.
2. Nearly 70 percent of the world's HIV-positive population lives there.
This is what Mike Hamilton is attacking today. This is how he spends his time, and his genius. He is a fund-raising savant, preternaturally gifted with the personality and passion to persuade people to join his mission, whether it's a scoreboard for Neyland Stadium or a water filter for a hut in Zambia.
Hamilton has visited some of those families in Zambia. He has watched them pour water into an $85 bio-sand filter, seen it come out hours later almost 99 percent clean. He has talked to people who have had to drink water you and I never would, because we've never faced the choice between thirst and death.
"This one lady was saying she never knew until we came and talked to them why they were getting sick and having disease," Hamilton says, and you have to imagine this coming out fast and folksy, because that's how he talks. "They were able to dig holes down and get to water easily, so their access to water was available -- but their access to clean water wasn't. So we connect that for them, and there's joy in that."
• • •
Mike Hamilton spent 11 days in Africa last month, pushing his total to 50 or 60 days there overall -- he doesn't have this great track record of 1,600 days in Africa -- and he went for two reasons. One, to help people there. And also to see it for himself so he can sell the vision to others in the United States.
Hamilton walked the 7 miles one family had to go for safe drinking water, he explored the mountainside shanties where thousands were moved in Ethiopia's ongoing "poverty reduction plan," and he saw the rampant prostitution that helps sustain the region's skyrocketing rate of HIV.
Then he can come back to America to tell others in his unique form of fast-moving motivational patter.
"If you're coming to save Uganda, we don't want your help," he says. "If you're coming to partnership, we want you part of it. Our work is not coming in as Americans and saving Africans. Our work is finding African-led groups and walking alongside them to empower them -- provide technical and financial capacity to help them achieve their goals."
Hamilton helped raise nearly $50 million annually for Tennessee athletics and chaired the Greater Knoxville United Way's $12 million drive in 2010 and helped increase Blood:Water's giving nearly 70 percent in two years. He's good at what he does. Was he good at what he used to do, when he was directing the Tennessee athletics department? He thinks so, but he knows not everyone agreed.
He knows, for example, that I did not agree.
"I've read some things you wrote -- I know you've been pretty critical," he says, laughing. "But this is how I view stuff like that: I know who I am. Sometimes people write things not from a space of knowing who you are, but from a space of what they see. I may not agree, but I have to respect what they see.
"I don't believe in revisionist history, and my biggest regret is that things didn't work out better at Tennessee. I'll admit the things I needed to do better, and hopefully people will recognize what I did well. But in the end you have to know who you are and find peace and rest in that, and I do."
Hamilton resigned in June 2011, about two months after firing Bruce Pearl. He swears he wasn't forced out -- "I had a couple major donors who wanted me to leave, but I was not asked to resign by anybody in the administration" -- but says the time was right.
"What we went through with Bruce, that was pretty ugly on me personally -- the hit I took on that," Hamilton says. "I think sometimes people stay too long at places. I'd been at Tennessee 19 years, and athletics director eight years. My time was up. It was time for a transition."
Her name was Kalu.
• • •
Mike and Beth Hamilton's children were 13 and 10 when they decided to adopt two more. They were going to adopt them internationally, from sub-Saharan Africa, a region with 34 million orphans -- one-third of them orphaned by AIDS.
The Hamiltons were told about two brothers from Ethiopia, ages 7 and 4. They had a sister, too. She was a baby.
She was HIV-positive.
'Let's keep the family together," Beth said.
That was July 2009. In an Ethiopian airport, waiting to board a flight home, Mike Hamilton was talking with a local woman. He told her about his two new sons. He told her about his third new child, a baby girl named Kalu. The woman told him what "Kalu" meant in the local language:
"Get the word out."
"It hit me like a load of bricks," he says. "I have a platform to tell this story in an honest way and break down some barriers. More than 140 million orphans worldwide. Pediatric HIV. The three leading causes of the orphan crisis in Africa are water, malaria and AIDS. We need to be telling the story."
Again, this was July 2009 and Mike Hamilton was busy. He was AD at Tennessee and gearing up to chair the local United Way drive, but it's like you read earlier: Nothing is enough for this guy. There's always more to do, so he started the Kalu Grace Foundation to raise awareness about domestic and international adoption. From there he connected with Blood:Water.
In January 2011 he went with the group to northern Kenya. Back home, Tennessee was waiting for the NCAA to issue its final report on the basketball violations under Pearl. Hamilton knew what the report would say, and knew he probably would have to fire Pearl. In Kenya, Hamilton saw people living -- and dying -- in the 15th month of a two-year drought.
"I get back, I have all these things flying around my mind," Hamilton says. "Athletics means a lot to me, but is it time to transition? For the first time in life I had the chance to assess what was important, what we needed to be doing."
He resigned from Tennessee and took a full-time position with Blood:Water. That was two years ago. Mike Hamilton is just 50 years old, giving him plenty of time to transition back to college athletics -- or not -- but he doesn't know what the future holds. He does know this: He'll be going back to Africa, where Blood:Water has opened three medical clinics and helped nearly a million people get easy access to drinkable water. And he hopes he won't be going back alone. He's even willing to take a sports writer who used to rip him.
"Come to Africa with me," he says by way of ending the interview. "We'll rock your world. I promise."
Kahne has been with Hendrick Motorsports since the 2012 season and is currently in contention...

After finishing second in the first playoff race of the season, can the 21-year-old son of...

Find out if you're as smart as you think you are
Truex Jr. automatically advances to the Round of 12 and will have five more bonus points carried...

Martin Truex Jr. leads the way as the NASCAR playoffs begin Sunday at Chicagoland

Kyle Busch will be on the pole for the start of the NASCAR playoffs