Gag me: Another TV viewer calls in another penalty on another golfer
Justin Rose nearly lost two strokes at TPC Sawgrass because a TV viewer saw his ball "oscillate" on his high-definition TV. When is the PGA Tour going to stop letting fans on their couch have this much power?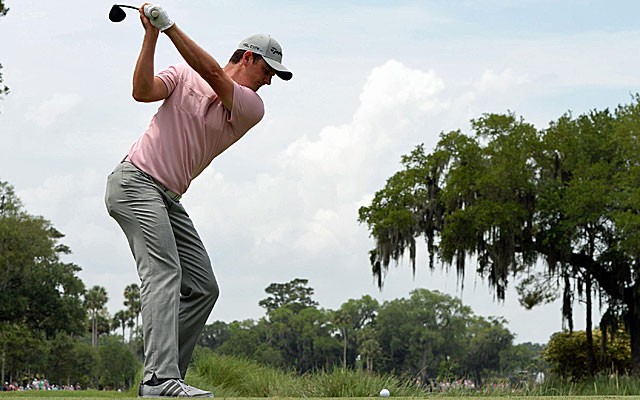 Enough's enough with the smarmy, know-it-all TV watchers calling penalties on world-class golfers.
It happened again over the weekend, and the PGA Tour is so out to lunch on this issue that it got the big picture right -- and still messed up. A TV viewer, a European Tour rules official no less, noticed on his high-definition TV thousands of miles away that Justin Rose's ball moved upon address. The move was so small that Rose wasn't sure it happened, though he backed off the ball to consider, therefore drawing attention to his (non) violation on the 18th hole Saturday at TPC Sawgrass. The ball moved, apparently, but it moved so slightly that it took multiple television reviews with the screen blown up to pixel-distorting levels to establish that, yes, the ball moved. Barely.
And for all that, hours after it happened, after the phone call from European Tour official David Probyn watching on Sky Sports, Rose was called for a two-stroke penalty.
Tour officials got it right by reconsidering and waiving the penalty, but by then the tee times for Sunday's final round had been established. Rose was playing earlier in the round than he should have been, thanks to his post-penalty score of 5 under, although it was eventually restored to 7 under before he teed off.
Enough's enough.
Enough with the viewers who call in penalties, and not to preserve the integrity of a game that allows a jerk on his couch in another country to affect the results. The viewer isn't reporting what he saw for integrity purposes. He's reporting what he saw ... because he saw it. And you didn't. And for one shining moment, the jerk on his couch gets to be something I promise you he has never been before and will never be again: The smartest guy in the room.
Am I writing uncharitably about viewers who call in penalties from their couch? Oh, you're damn right I am, because they deserve no charity. They're meddlesome know-it-alls doing what they do because they want the thrill of being smarter than everyone else.
Why the PGA Tour isn't smart enough to see what's going on, I can't tell you. Consider some of the players who have been ratted out by viewers over the years:
Tiger Woods at the 2013 BMW Championship.
Sergio Garcia at the 2013 Wells Fargo.
Ernie Els at the 2012 Scottish Open.
Camilo Villegas at the 2011 Hyundai Tournament of Champions.
It has happened on the LPGA Tour, too: To Juli Inkster at the 2010 Safeway Classic.
This has happened for decades, by the way. It happened in 1991 to Paul Azinger at Doral. And in 1987 to Craig Stadler at San Diego Open.
Look at those names. Add Justin Rose's name. See a common thread?
They're all stars. Every last one of them. Inkster is a Hall of Famer. Tiger is Tiger. Els has won four majors. Azinger and Stadler were ratted out within five years of winning a major, when their Q-rating was at a peak. Villegas has three PGA Tour wins and, by the way, was once named the "sexiest player on tour" by Golf Digest. Rose is the defending US Open champion, and Sergio has been must-see TV since he was 19.
The point? You know the point. The more famous you are, the more you're on TV. The more you're on TV, the more chances some jerk on his couch will see that your ball moved a hair (Rose), or that you put a towel under your knees so as to not get your pants dirty (Stadler), or that you attached a weight to your 9-iron and swung it to stay loose (Inkster), which is a violation because players can't use a training device during a round. Even if the player is two months shy of 50 years old and trying to stay warm during a 30-minute delay because of slow play up ahead.
Truth is, the outrage here isn't that a guy on his couch can spot something on TV and affect an entire tournament. Give someone the chance to show how smart he is, especially that he's smarter than everyone else, and he'll pull a hammy hurrying up to do just that. You've done it. I've done it. And it happened to me on Sunday, after I tried to be silly with an unrelated tweet and some reader felt smarter than me -- so he helpfully pointed out that, well, he missed a joke that wasn't all that clever in the first place:
@GreggDoyelCBS Your Wrong Gregg they were not solo homers

— DB (@TheBrakeDown) May 11, 2014
So anyway, the shock isn't that viewers call in mistakes. People are stupid, so they do stupid things. Not shocking.
The shock is that the PGA Tour (and LPGA Tour, in Inkster's case) would let those stupid people with their high-definition TV and their phone -- and their absolute lack of a life -- butt in where they're not welcome.
These idiots on their couches aren't welcome on the PGA Tour. Are they, PGA Tour officials? How much of this nonsense are you going to allow before you finally say the same words I used to begin this stupid story?
How to watch the Professional Rodeo Cowboys Association's 2017 National Finals Rodeo event

John John Florence and Gabriel Medina will look to catch the wave to a championship

Settle in for the holidays by watching other people do grueling obstacles like the Funky M...
Talladega is all decked out in white and all of Twitter wants to see some snow tire racing

CBS is excited to announce that Jordan Peele is producing a reboot of 'The Twilight Zone'

Jonah Keri talks to with CBS Sports NBA/Features Writer Brad Botkin to launch their Top 100...