Give Florida State and Auburn their due, but Alabama still best team
Timing is everything, and Crimson Tide has misfortune of losing late to an Auburn team that had almost everything go right in hits miracle season.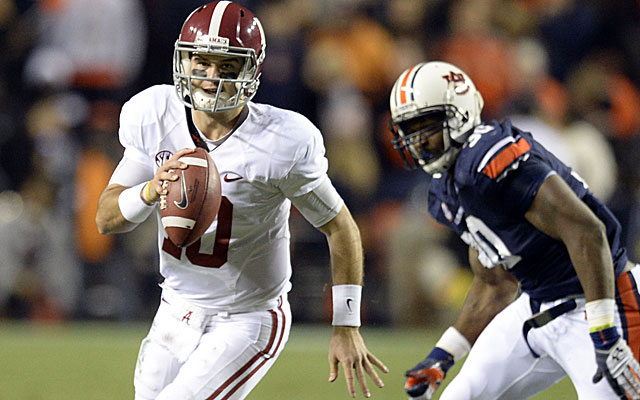 This is the perfect ending to the BCS era, because Florida State vs. Auburn is the right national championship game, even if the best team in the country -- my opinion -- is neither of them.
So we can bid adieu to the BCS with gratitude for doing what it usually did, putting the most deserving teams in the title game, while also being thankful that a better system is coming next year. One that would have allowed the best team in the country this season, Alabama, to have a shot at the national championship.
Two separate opinions here, so try not to lose sight of either: Florida State and Auburn deserve to play for the national title. They did what they had to do to earn their spot in the championship game Monday in Pasadena, Calif.
But Alabama is the best team in the country.
Is that disrespectful to Florida State and Auburn? Maybe. You tell me. But it would be a disservice to the truth -- the truth as I see it, and that's my picture up there next to what we in the business call "the byline" -- to not come out and say what I'm thinking, and what I bet a lot of people are thinking: Alabama is the best team in the country.
The beauty and cruelty of football is that it's not like the NBA or Major League Baseball. Teams don't play a best-of-7 series. It's a knockout bracket, and Auburn knocked out Alabama. Could Auburn beat Alabama four times out of seven? Doubt it, but it doesn't matter because Auburn had to beat the Crimson Tide just once. And did. In the most incredible fashion possible, at home, after a coaching miscue by Nick Saban that beat the clock by a fraction of a second. Hey, all of those things happened and Auburn won. Kudos to Auburn.
But all of those things happened. And that's what it took for anybody to beat Alabama.
And so Alabama will play Oklahoma on Thursday night in the Sugar Bowl, and that's fair, and if this game were in October and the Crimson Tide needed to win to keep alive their national title hopes, they'd blow the Sooners out. Alabama is that much better than an Oklahoma team that struggled with mediocre Texas Tech, bad TCU and even worse Kansas.
But this is early January and Alabama is the two-time defending national champion playing out the string on a season that turned cruelly in its last game, so if Alabama plays uninspired and Oklahoma comes to win, well, maybe Oklahoma wins. That's not me backing off my opinion about Alabama's greatness, but supporting it: In a vacuum, Alabama crushes Oklahoma. But they're not playing in a vacuum, are they? They're playing in a game nobody at Alabama wants to play. So we'll just have to see.
Whatever happens in the Sugar Bowl, the right teams will play Monday night in California. Florida State navigated its weak schedule by eviscerating everyone on it, and when you're loaded with a great coach and Sunshine State speed and the Heisman Trophy winner, and when you come from a BCS league, and you're all of those things and you're also undefeated? You belong in the national title game.
Ditto for Auburn. The Tigers absolutely belong there, in part for things they did and in part for the fortuitous timing with which they did them. Is Auburn lucky to be here? Not saying that. Auburn deserves to be here because it did everything asked of it in the system we have. The Tigers put up the single most impressive victory of the season, against Alabama, and they did it at the right time -- late in the season. So late that voters forgave Auburn for its loss to LSU way back in September, and also so late that voters couldn't forgive Alabama for its only loss. That's the thing with the BCS: If you're going to lose, lose early. Auburn lost early, then made sure Alabama lost late. Ergo, Auburn gets the bid.
Hey, it's fair. Had the two human elements in the BCS formula -- the Harris and coaches' polls -- decided to put Alabama ahead of Auburn because, you know, they think Alabama is better, I'd have screamed about it. Even if I'd have agreed with it. Because this is what I think:
1. Alabama is better.
2. But Auburn did beat Alabama.
3. So Auburn deserves its spot in the title game.
(4. As does Florida State.)
Next year, though, we'll have a system that ought to remove some of the BCS impurities. Namely, the timing of a loss. Early loss, late loss, one shouldn't matter more than the other. But in the unforgiving BCS, where only two teams qualify for the national title "playoff," someone has to be ranked ahead of someone else. And so last year when Alabama and Oregon entered November undefeated, but Alabama had the good fortune to lose at home to No. 15 Texas A&M a week before Oregon lost at home to No. 14 Stanford, the human element slotted Oregon behind Alabama. Timing was everything.
Next year the national championship committee will have four slots to give out. Had the committee been in place in 2012, I suspect Oregon would have made it into the playoff as the No. 4 seed (behind No. 3 Florida) and beaten top-seeded Notre Dame in one semifinal, giving the Ducks the chance to settle things with Alabama. Sadly, especially for Oregon fans, we'll never know.
If the committee were in place this season, Alabama would be the No. 3 seed and playing, again, No. 2 Auburn. And as good as Gus Malzahn is -- he just might be as good as any coach in college football, on par with Nick Saban and therefore a step ahead of Urban Meyer and David Shaw -- my guess is he's better off trying to beat Florida State in an elimination game than trying to beat Alabama in an elimination game.
Because Florida State is one of the best teams in America -- but Alabama is better.
Kyle Busch is in danger of being eliminated just weeks after dominating the Round of 16

Kevin Harvick and Joey Logano will have a chance to tie Jimmie Johnson's wins record at Ka...

This is good parenting, folks
He's the most glamorous defensive coordinator to ever step foot on Earth

Keselowski passed Ryan Newman on the final lap to clinch his spot in the NASCAR Playoffs Round...

NASCAR Playoffs Round of 12 contender sits in 7th place heading into this weekend's race at...