Go ahead, despise Meyer, Coach K comments -- even if they are right
Ohio State football coach Urban Meyer called the BCS "a flawed system." After an NIT Season Tip-Off game at Cameron Indoor Stadium didn't sell out, Duke basketball coach Mike Krzyzewski said the NIT's ticket system "stinks." America howled at both. Does it matter that both coaches right?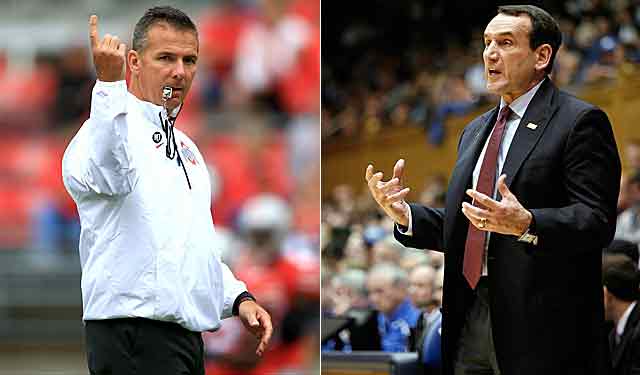 You over there? You don't like Urban Meyer. And you, there on the other side? You don't like Mike Krzyzewski. As for everyone else in the middle? You don't like either of them.
Got it.
But shaddup about it, know what I mean?
Shaddup, if all you have to complain about is a non-controversy -- the cool kids call it a nontroversy -- centered around some comments from each coach that are perfectly understandable, legitimate and therefore non-controversial.
Both coaches find themselves in a non-nontroversy, is what I'm saying, and it's not their fault.
It's yours.
Well, it is. It's your fault, if you're taunting Urban Meyer for saying the BCS is what everyone knows it is: "a flawed system." And it's your fault if you're mocking Coach K for saying the ticket distribution process for the NIT Season Tip-Off smells the way everyone knows it smells: "it stinks."
Both guys are right, which should matter. And it does matter to anyone who doesn't despise either coach. But that's a shrinking group, because we despise the winners among us. Look at the most disliked college coaches in America: Nick Saban, Urban Meyer, Mike Krzyzewski. Hang around long enough, win enough games, do it by beating everyone else along the way, and everyone else is going to despise you.
Are there things to dislike about Meyer and Coach K (and Saban, Bill Belichick, etc.)? Sure there are. There are things to dislike about the coach of your favorite team, whoever it is. There are things to dislike about me, you, our parents and our kids. Ain't nobody perfect, is my point, and we all know that.
So cool it with the manufactured outrage over nothing. The BCS sucks and we all know it sucks, and all Urban Meyer was doing -- after, as the story noted, some "prodding" from the media -- was say what we all know. The BCS is flawed. He wasn't saying it's flawed ... because Ohio State is on the outside looking in. He wasn't saying it's flawed ... because the Buckeyes are better than Alabama or Florida State. Remember, one of his players said the Buckeyes are better than Alabama and Florida State just last week, and Meyer blew that poor kid up in the media.
Did you forget that?
Did you forget that the BCS is flawed, and that even the head coach of Ohio State is allowed to notice?
As for the Coach K thing, it hasn't taken off like Meyer's comments, but it's coming. It has started on the message board below this story here, where readers are calling him a "control freak" and a "whiner" with "too tight underware" (sic).
When the reality is, the NIT Season Tip-Off wants the game at Duke because it wants a sellout. It wants to make money off tickets and it wants TV cameras to show a full house and it wants people to think the NIT Season Tip-Off is a really big deal. So it asks Duke to be in it, and it asks Duke to hold a game at Duke, and then it prices the tickets so high that very few fans of the visiting team -- East Carolina -- are willing to spend that much money to drive two-plus hours to watch their team lose. And then the NIT Season Tip-Off has this weird rule that says any tickets returned from the visiting team (East Carolina) cannot be resold for 24 hours, which limits the time and/or availability of Duke fans to scoop up thousands of high-priced tickets at the last minute.
And so Cameron Indoor Stadium, which almost never goes less than full, went less than full on national television on Tuesday night. Why? Because the NIT Season Tip-Off distribution process stinks. It's flawed, just like the BCS is flawed.
Never mind that, though. This is your chance to remind everyone that you despise Coach K, just like that BCS comment was your chance to remind everyone that you despise Urban Meyer.
Saddest thing of all: Almost everyone's going to read your comment and agree with you.
Let the truth set you free, sir

The poor kid never even saw it coming

The burglars that Childress fired at were carrying military-grade weapons on them, the cops...
'Kong Infinity' and 'Happy Ending' headline two additions to the ultimate endurance course...

Nik Kayler's body has been found after going missing last week during a fishing tournament

Florida officials are still searching for Nik Kayler after his boat didn't show up