Graceful Vick, Eagles giving Cooper story best chance at noble ending
Riley Cooper was being attacked for his vicious words. Then Michael Vick calmed everyone down, leading to unexpected civility in this episode.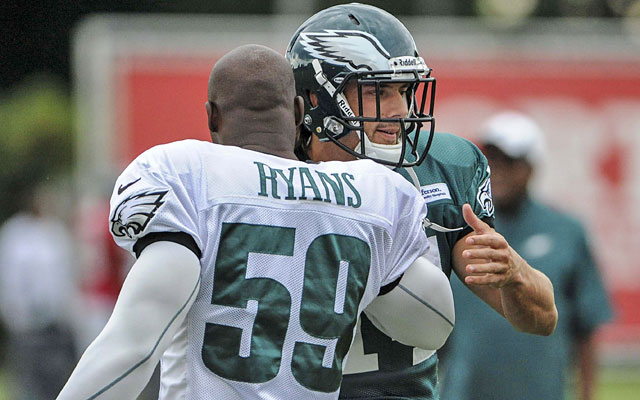 Riley Cooper said what he said, and the world freaked out. For starters, that video of Cooper at the Kenny Chesney concert couldn't be passed around fast enough. Did you see it yet? No? Quick, go here or there or somewhere else and click that thing. Watch Riley Cooper set his career on fire.
Within an hour Cooper was trending on Twitter, and not for great reasons. Obviously. People were cracking jokes about him or ripping him or wondering how soon the Eagles would cut this racist loser. What he said was ugly, the way the world reacted was a little bit scary, and what this situation called for was responsibility. It called for maturity.
And we got it from Michael Vick.
At the moment, that concept -- Michael Vick, voice of reason -- seems almost as shocking as the awful remarks from Riley Cooper that set this whole thing into motion. But shocking in a good way, a productive way. What Cooper said was, quite clearly, the opposite of good and productive. What he said was terrible. Destructive. Divisive.
What Cooper said could have ended the Eagles' season before it started, which might sound like a bunch of gobbledygook if you don't understand the delicate chemistry of an NFL locker room, a place unlike any other in professional sports. Football is so complicated and convoluted that it demands teamwork and an all-for-one mindset that tiptoes toward brainwashing. On an NFL team guys have to respect each other, believe in each other, or the whole thing dissolves.
Riley Cooper could have dissolved the Eagles, and it started to happen when running back LeSean McCoy responded to Cooper's videotaped remark by saying he "can't respect a guy like that." Cornerback Cary Williams called Cooper's comment "disheartening" and said it "hurts me."
So this is how the unraveling began, leaving the Eagles a choice: They can remove the tumor that is Riley Cooper, or they can hang onto him and hunker down and hope for the best.
Or they can be rescued by the soothing, healing actions of Michael Vick.
Crazy, right? Not that long ago Michael Vick was the most polarizing figure in the NFL. He was distrusted, disliked, even despised. Still is, to lots of people. He ran an illegal dog-fighting ring that cost him his $130 million contract, even his freedom. When the Eagles showed up in various towns with their new quarterback in 2009, they were greeted by animal-rights protesters.
Michael Vick, then: monster.
Michael Vick, now: voice of compassion.
It's not just Vick, though his reaction on the day the story broke was the first positive domino to fall in a story that had seen nothing but negative. Vick called Cooper "my brother" and "my teammate" and said, "What if your son or daughter made a mistake of this factor? How would you want people to perceive it? I've been there before."
That was an ugly day and could have gotten uglier, but Vick sent the momentum in another direction. Soon other African-American teammates were speaking soothingly of Cooper, most notably receiver Jason Avant ("guys are definitely over it"), linebacker DeMeco Ryans ("our teammate and our brother"), and receiver DeSean Jackson ("he's a friend").
Wasn't just words, either. When Cooper returned to practice after four days away he was greeted by Avant, who snuck up from behind for a playful tap before hugging him. Ryans patted Cooper on the helmet, drawing a huge smile from the receiver in a picture that went national.
After the initial outburst of nationwide anger that was followed by a smattering of significant solo voices -- Philadelphia mayor Michael Nutter said he would "have to evaluate terminating such an individual," and Hall of Fame receiver Jerry Rice said he would "have a problem playing with [Cooper]" -- people seem to be doing the impossible: moving on.
The Eagles, even, seem to be moving on. That's difficult to know for sure, given how the franchise has limited access to its players under new coach Chip Kelly. Eagles made available to the media -- Vick, Avant, Ryans, Jackson, safety Patrick Chung ("the situation is over with") -- have been supportive of Cooper's return.
Does that mean the entire team is fine? Of course not. As the Philadelphia Inquirer reported the day after Cooper's comments went viral, the locker room was divided right off the bat. But since then the organization has done what it can to move forward -- sending Cooper home for a few days to let emotions cool, then displaying a united front of acceptance upon his return -- and here it is, one more day in the past.
This story doesn't deserve an uplifting finish, but it looks to be headed that way. From bigotry came remorse. And from remorse, grace.
Petty says 'anybody that don't stand up for the anthem oughta be out of the country'

Kyle Busch claims a big win Sunday while Kyle Larson clinches a spot in the Round of 12 on...

New England native will start from the rear of the field in Sunday's playoff race
A playoff driver could join Martin Truex Jr. in the Round of 12 with a win on Sunday

Denny Hamlin and Kevin Harvick will look to build off momentum in order to catch Martin Truex...

The team of children agreed among themselves to follow Colin Kaepernick's stand against in...