Graham's position? Talented tight end wants to have it both ways
Jimmy Graham plays tight end, at least until it's time to get paid. Then he's a receiver. Funny, it wasn't a problem at Pro Bowl or All-Pro time.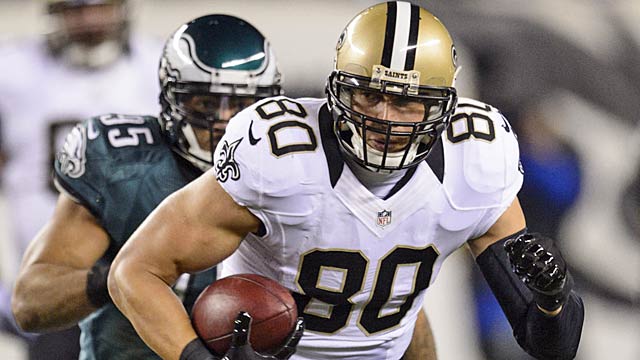 Because it's the offseason, football player Jimmy Graham doesn't want to play football. He wants to play Words With Friends, turning the eight letters that suited him in the draft, the developmental process and the trophy case -- t-i-g-h-t and e-n-d -- into eight different letters that would suit him better as he hunts for a new contract:
R-e-c-e-i-v-e-r.
There are reasons for Graham to seek the nominal position change, and not just financial reasons -- though the financial reasons are enormous. The Saints have given him the franchise tag at tight end, which means a 2014 salary of $7.035 million. Graham seeks to be called a receiver, which would pay him $12.312 million. That's a difference of ... well, you can do those numbers yourself. That's an enormous financial difference, and Graham wants that difference to work for him, not against him. Can you blame him for trying?
But he's failing, because the NFL has ruled he's not a receiver. That's the correct and even fair ruling, because Jimmy Graham has never been a receiver, not in college when he played something called "tight end" at Miami and not on his own Twitter page -- where he identifies himself as the "New Orleans Saints Tight End" -- and not in the Pro Bowl, which he made as a tight end, or in the All-Pro voting, which he won this year for the first time in his career. As a tight end.
Did you hear Graham trying to give back his Pro Bowl appearance, telling anyone and everyone that he's not a tight end and doesn't want to be sent to the Pro Bowl if he's competing against Vernon Davis and Jason Witten and Jordan Cameron for the honor? I didn't hear Graham say that.
Same goes for the All-Pro vote, the highest honor most players will ever receive -- seeing how the MVP pretty much goes to a quarterback -- and an honor that Graham won as a tight end. Only two guys make it at tight end. Just five at receiver. Did you hear Graham asking to be measured for the All-Pro team as a receiver? Neither did I, probably because he had a good idea he wouldn't make it as a receiver.
The five receivers on the All-Pro team -- Calvin Johnson, Josh Gordon, A.J. Green, Demaryius Thomas, Antonio Brown -- averaged 94 catches for 1,499 yards.
Graham caught 86 passes for 1,215 yards.
The five receivers averaged 11 touchdowns, while Graham caught 16 TDs. But here's the thing. He caught most of those touchdowns because he plays this position called "tight end" and in the red zone is an incredible weapon because the Saints spread the field with these smaller guys they call "receivers," which forces the defense to cover Graham with someone like a linebacker. And a great tight end abuses a linebacker. Which Graham did.
He's a great tight end. The best in the NFL, probably. When all is said and done, Jimmy Graham could well be a Hall of Fame tight end -- but he has just two ways of getting into Canton: as a tight end, or as a paying customer. Look at the logjam of receivers now who can't get into the Hall, guys like Tim Brown and Marvin Harrison. Look at the receivers coming down the pike, guys like Randy Moss, Terrell Owens, Isaac Bruce and Torry Holt. And some day, Calvin Johnson.
Is Graham a better receiver than all of those guys? Of course not. Is he a better receiver than any of them? Doubtful. But just as he kept his mouth shut when the Pro Bowl and All-Pro votes were tabulated, Graham would bite his tongue and accept a Hall of Fame bust if that bust were to label him a tight end. Just my suspicion.
The guy may split wide like a receiver at times, which is his reason for wanting to be paid like a receiver, but you know what? That's what tight ends do in the modern NFL. Antonio Gates splits wide. Vernon Davis is one of the fastest guys in the league, but he's a tight end. This has been happening for years, and it didn't start with Jimmy Graham, and here is where I stop complaining about Graham and get to the solution portion of today's story:
If the NFL wants to do away with the term "tight end," fine. Designate anyone who is eligible to catch the ball -- other than quarterbacks and running backs -- as a "receiver" and be done with it. Pay them all as receivers, but measure them all as receivers too. Pro Bowl, All Pro, Hall of Fame. One rule for all. That's fair.
Jimmy Graham wanting to be a tight end when it suits him in certain ways, and a receiver when it suits him in others? That's not fair. That's Words With Friends, Jimmy.
And the people running the NFL aren't your friends.
The NASCAR Playoffs Round of 8 field has been decided

Kyle Busch is in danger of being eliminated just weeks after dominating the Round of 16

Talk about covering ground on the court: You've never seen anything like this
Kevin Harvick and Joey Logano will have a chance to tie Jimmie Johnson's wins record at Ka...

This is good parenting, folks

He's the most glamorous defensive coordinator to ever step foot on Earth