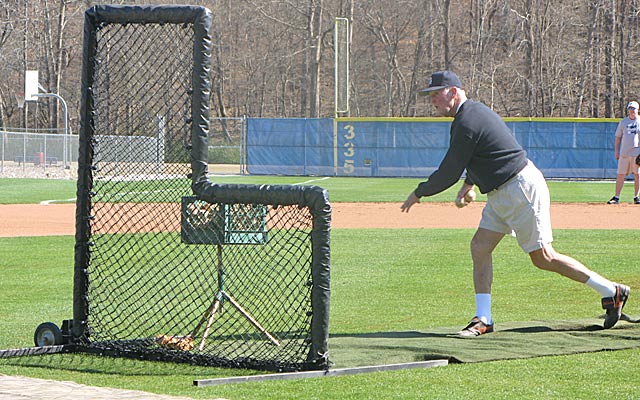 This is humility.
The man is 47 years old, throwing batting practice to a bunch of kids who have no idea who he is. Well, back up. They know he's Coach Hendley. He's an assistant coach on the high school baseball team at Stratford Academy in Macon, Ga., and the kids know that much. But they don't know who he is, because he's too humble to tell them -- and because they're too cocky, too self-important, too teenager to wonder.
I know. I was one of those kids.
It was 1986, and Bobby Hendley threw us batting practice every day. He grimaced and wrapped his elbow in ice when it was done, and the next day he'd do it again. And the next. And the next.
And the kids, we had no idea how badly he was hurting. Or why. Or who he was.
Or that all of those things were related.
We found out who Bobby Hendley is because I found out who he is, because I was a sports geek. Heard of the game Trivial Pursuit? It was big in the 1980s, so big that it had some spin-off versions. One was Trivial Pursuit, All-Star Sports Edition. Dad got that for me. When I couldn't find anyone to play, I'd play myself. Grab a card, read the six questions, try to get all six answers. Keep playing until you can answer an entire card correctly.
One day I'm playing, and I answer the first four questions. The fifth stumped me. It was baseball: Name the Cubs pitcher who threw a one-hitter against Los Angeles on Sept. 9, 1965 -- and lost -- because the Dodgers' Sandy Koufax threw a perfect game. No clue. So I turned the card over to see the answer.
Our batting practice pitcher.
****
This is heartbreak.
Bobby Hendley buried his granddaughter in 2005. She was blonde, she was beautiful, she was 6. What happened to Brooke Elizabeth Hendley is too complicated and too cruel to fully explain here, but she suffered from leukodystrophy, a degeneration of the brain. One day she's a normal little 4-year-old, twin sister to a beautiful little boy named Blake, and then not too much later she's a 40-pound infant, bedridden and helpless and heartbreaking.
Bobby Hendley buried Brooke in June 2005. Brooke and Blake were born to Bobby's older son, Brett, and his wife Kathy. Brett Hendley was one of my first athletic idols, the senior first baseman on my high school baseball team when I was a sophomore, new to Stratford, new to Macon. I'd moved from Wisconsin that year, a first baseman myself, and while I hit well enough to play on the varsity, I didn't hit as well as Brett Hendley. Nobody I've ever played with hit like Brett Hendley.
Brett had thick legs and shoulders and forearms, and he had absurd power. He was quiet then and he's quiet now, but he hit the ball harder and farther than anyone I'd ever seen. There were tall trees behind the right-field fence at Stratford, reaching 50 feet or more into the sky, and Brett hit the ball over those trees. Not into them. Over them. All the time.
I was happy to be moved to right field, because that's where I'd stand when Bobby Hendley was throwing batting practice and Brett Hendley was hitting, and right field seemed like a smart place to be. Brett was a lefty pull hitter, and I can tell you this: In 1986, in those batting practice sessions, standing at first base didn't feel smart.
Brett went to Georgia Southern and was a freshman All-American, and I became the first baseman in 1987. The following year Coach Hendley's other son, Bart, was a sophomore. He played first base, and his bat had to be in the lineup. So I moved to center field.
These are the most important men in Coach Hendley's life, his sons Brett and Bart. No father should bury a child. And no father should stand with his son to watch it happen. That's all there is to say about beautiful little Brooke Hendley, who was able to visit Disney World six weeks before she died. The Children's Wish Foundation made that happen. I tell you that story because I want you to know Coach Hendley. To know him, you have to know Brooke.
****
This is how the one-hit wonder became our batting practice pitcher.
Well, first let's talk about that one-hitter. Some people call what happened that day The Greatest Game Ever Pitched, and not just because Koufax threw his perfect game. There have been 23 perfect games in baseball history, but only one time has the losing pitcher been as near-perfect as Bobby Hendley was on Sept. 9, 1965. He gave up just one hit, a bloop by Lou Johnson over first baseman Ernie Banks in the seventh. He allowed only one other baserunner, walking Johnson in the fifth on a 3-2 pitch. Johnson was sacrificed to second, then stole third -- and scored when catcher Chris Krug threw the ball over third baseman Ron Santo and into left field.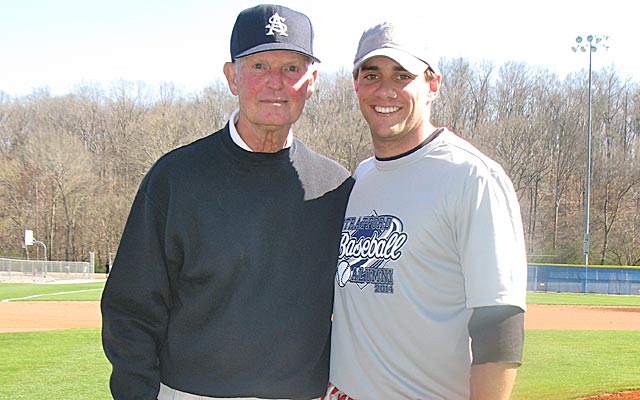 That was the only run scored in a game featuring one hit, one walk, two pitchers and 54 outs.
Like Koufax, Hendley was throwing with a bad elbow. Unlike Koufax, Hendley didn't have the mid-90s fastball or one of the greatest curves in baseball history. Hendley had a lot of junk, curves and knucklers and sliders, and those did a number on his elbow. In the years after dueling Koufax -- whom he defeated five days later in a rematch -- Hendley underwent three elbow surgeries. He had a bone chip in his elbow that occasionally broke free and made it impossible to bend his arm; those were the days he'd manually move the piece of bone with his finger until it was out of the way and he could throw some more.
Hendley was done at age 28, with a 48-52 record and a 3.97 ERA. He was involved in trades featuring Felipe Alou and Harvey Kuenn. Frank Howard took my former high school coach deep eight times in 47 plate appearances. Hank Aaron homered once off Hendley in 19 at-bats. Dick Allen completely owned him, going 9 for 14 with two triples and three home runs. Hendley owned his share of hitters, too, including Willie Stargell (seven strikeouts, four hits in 17 at-bats), Willie Mays (4 for 22), Pete Rose (also 4 for 22) and Roberto Clemente (6 for 29).
Hendley returned to his hometown, Macon, and became the coach at River North, which he turned into a baseball powerhouse that won a Georgia state championship. When that private school closed, Hendley joined Bubber Adams' staff at Stratford.
Yes, my high school coach's name was Bubber. Yes, former big-leaguer Bobby Hendley was content to work as Bubber's assistant, so content that he turned down every school that offered him a head coaching position. They were a team, Bubber and Coach Hendley -- that's what we called them: Bubber and Coach Hendley -- and we won state titles in 1986 and '87. Back then we'd caravan to road games, four or five players to a car, and Coach Hendley was somewhere up front, driving that ridiculous yellow Volkswagen station wagon. Team managers Kathleen Cook and Mary May called that thing the Banana Mobile.
The car didn't last forever, and neither did the pitching coach. When Coach Hendley retired a few years back, Stratford did right by Bubber -- and by the guy who threw all those batting practice sessions with the destroyed elbow:
The Eagles now play at the Bubber Adams Baseball Complex, and on Bobby Hendley Field.
Every year, alumni come back to see Bubber and Coach Hendley. There's a home-run derby. The guy who dueled Sandy Koufax in The Greatest Game Ever Pitched moves the bone spur out of the way and throws BP.
Today he turns 75. Happy birthday, Coach Hendley. You never told us who you were.
And what a great lesson that is.