More NFL: Photos |   Videos & GIFs |  Stories | Training Camps | Johnny Manziel watch
With the No. 22 selection in the 2014 NFL Draft, Cleveland drafted Johnny Manziel.
Could someone please explain why?
The Browns didn't draft Manziel to be the starter, apparently. They insist that it's Brian Hoyer's job to lose. And when the starting quarterback is a guy coming off ACL surgery and the guy is named Brian Hoyer, and the team's stance is that it's his job to lose, well, it begs the question: Why did the Browns draft Johnny Manziel?
They didn't draft him for his persona, because sources are coming out of the woodwork to say they're "alarmed" and even "shocked" at the way Johnny Manziel has enjoyed himself this offseason. And when a team drafts the hardiest-partying quarterback since Joe Namath his ownself, and then is said to be "alarmed" and even "shocked" that he has used his newfound NFL riches and his newfound freedom away from college to party extravagantly, well, it begs the question: Why did the Browns draft Johnny Manziel?
I mean this sincerely: What did the Browns think they were getting? And why did they think Manziel, an astonishing talent whose game translates perfectly to the NFL's trend toward mobile quarterbacks and spread offenses, fell all the way to No. 22 in the draft?
Because he's only two inches taller than Russell Wilson?
Manziel fell to the Browns because other teams were worried, and rightly so, that he lacked the maturity to handle himself at the level required of an NFL quarterback. And here's where I'll stop chastising the Browns for a moment -- but only for a moment; I'm not done with them yet -- and chastise young Mr. Football himself (again):
He doesn't get it. Manziel doesn't, I mean. And his hardest-core fans, the apologists who scream at people like me to LEAVE JOHNNY ALONE, they don't get it either. Both -- Manziel and his fans -- play the youth card as if it's an ace. And it's not, because Johnny Manziel isn't a 21-year-old with money and free time and a job as, say, a welder. He's not coming to work hung over, hiding his eyes behind some sunglasses and selling stocks. He's an athlete and a jock, sure, but he's not like almost anyone else in the NFL, or in sports.
The position he plays, the position he's trying to show he can play, isn't kicker or safety or tight end. It's not a position that requires dominant athleticism or supreme skill above all else. It requires both of those to be sure, but quarterback in the NFL is the most mentally demanding position in team sports. The reads a quarterback has to make, the information he has to process as he drops back, is enormous. In about two seconds, an NFL quarterback has to recognize what all 11 players on defense are doing -- from the charging linemen to the backpedaling defensive backs to the linebackers doing some of both -- and which of his offensive weapons is the best choice to receive the ball. And if that choice is covered, who's the second choice? And the third?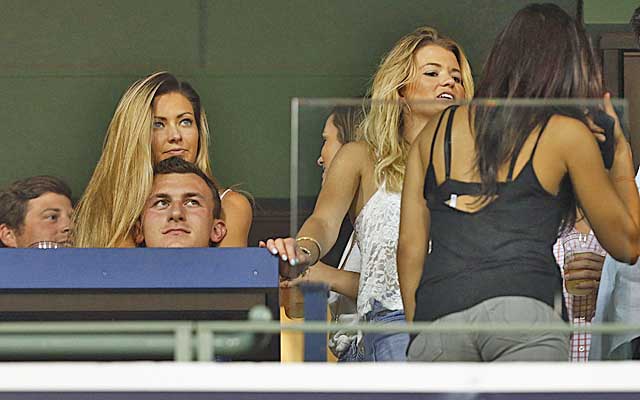 An NFL quarterback isn't great because he's great on Sunday. He's great because he has been great for the six or eight months leading up to that Sunday. This is a full-time, year-around job, and preparation is everything.
While an established NFL quarterback can get away with not putting in that time, he can't get away with not putting in that time and still be great. The job has become too difficult. And if he's a rookie, coming from a college system that makes the mental aspect as easy as possible -- and Kevin Sumlin's offense at Texas A&M is brilliant in that regard -- then he really has to put in the work to make that transition to the NFL. Intellectually speaking, Manziel is trying to go from college, where he majored in gym, to a medical school where they grade on a curve. And while the other students in class have been hitting the books, Manziel has been riding an inflatable swan and turning a stack of cash into a cell phone and rolling up a bill in a bathroom to do god-knows-what with it, though we all have a pretty good idea what a guy in a nightclub bathroom would do with a rolled-up bill.
Manziel is trying to have it both ways, on the one hand telling the media this week that he needs "to better act as a professional" and has made "some rookie mistakes" off the field, while on the other hand saying: "I don't think there's anything wrong with me going out and having a nightlife, having a social life. I mean, I am 21 years old and I do like going out and it was the offseason."
As if he's a regular 21-year-old. He's not. He's an NFL rookie trying to become a franchise quarterback.
It's on Manziel for being unable to understand -- call it what it is: denial -- that he can't be the party animal he was in high school and college and have the same success in the NFL. It's impossible. To not see that, Manziel has to want to not see it. And that's what is happening here. Like I said: This is straight out of Denial 101.
But it's on Cleveland for drafting this particular player and then trying to treat him like he's anybody else, when he's not. Manziel partied so hard back home that his dad bribed him with him a fancy car to get him to stop drinking -- in high school. Manziel partied so hard at college that he got himself arrested for it. Then he started partying so hard in his first NFL offseason that it became national news, international most likely, and when Manziel was photographed on that inflatable swan his head coach, Mike Pettine, pretended everything was OK.
"I'm not concerned," Pettine said on June 11. "I would become concerned if it was something criminal, and I would be concerned if it affected his job."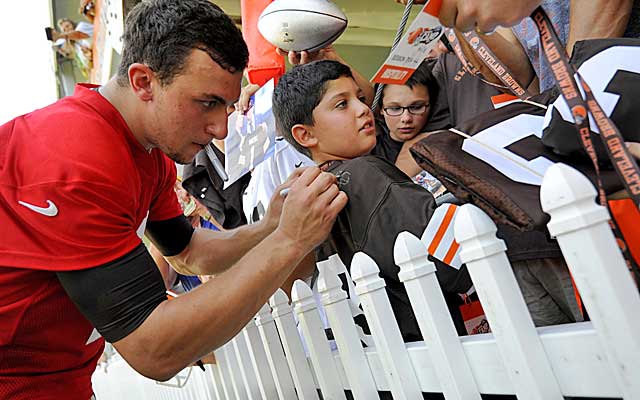 Six weeks later practice has started, and the Browns think it has affected his job. No way! Manziel is said to have regressed in camp, the Browns are said to be "alarmed" and even "shocked" by the partying that preceded camp -- and after vowing on Monday to give Manziel the same opportunity as Hoyer to win the job, within two days Pettine had changed his tune and said Hoyer would get the bulk of the work with the first team.
So this is the point, and it's fairly clear: Manziel hasn't handled being an NFL rookie quarterback well at all. And the Browns haven't handled Manziel well at all. After being silent for most of the offseason as Manziel partied a swath across America -- he made at least eight joy-seeking jaunts on the 11 weekends between the draft and the start of training camp -- anonymous Browns sources are now crushing Manziel and Browns owner Jimmy Haslam is saying on the record that "we expect better from him" and the team forced Manziel to change his shoes on Sunday after he walked onto the practice field in neon-yellow cleats.
Manziel's gonna Manziel. He is what he is. The Browns had to know what he is when they drafted him.
So ... why did they?
Maybe Haslam really did draft Manziel because some homeless dude suggested it. That's about as smart as anything that has happened since.