Historic, record-busting seasons not enough to win Heisman anymore
As offenses crank out points, it means someone -- or several someones -- putting up big numbers won't even get a second glance for the Heisman.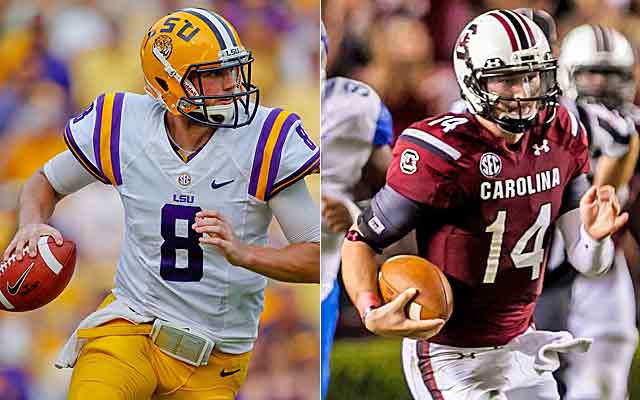 We're going to have to rethink college football on a lot of levels, but for now let's focus on the Heisman Trophy -- because the Heisman is the manifestation of the movement that has changed this sport. The offensive revolution is upon us, and it has altered college football so much that the two sides of the ball are no longer equal. Which means everything is skewed.
And someone's getting screwed.
But really. We'll circle back to the offensive revolution and its ramifications, but for now let's focus here: Someone deserving isn't going to win the 2013 Heisman Trophy. Someone deserving isn't going to come close. And whoever that person is -- could be more than one person -- he might not even get invited to New York City for the Heisman ceremony.
Won't even be a finalist.
Who's getting screwed out of an NYC invite? Well, it won't be Texas Longhorns A&M's Johnny Manziel or Oregon Ducks 's Marcus Mariota , because those guys are locks -- right? -- to be in New York for the Heisman ceremony on Dec. 14. Who's getting screwed? Probably won't be Florida Gators State's Jameis Winston , although on second thought ...
It could be Winston. It could be Clemson Tigers 's Tajh Boyd . Louisville Cardinals 's Teddy Bridgewater is the projected first overall pick in the 2014 NFL Draft, and he's having a hell of a season, but he might not make it to New York City. Baylor Bears 's Bryce Petty isn't just breaking the single-season record for pass efficiency -- he's obliterating it, like someone trimming 16 minutes off the marathon record -- but he's on the outside looking in.
So is Oregon State Beavers 's Sean Mannion , and all he's done is get halfway to 5,000 passing yards, 50 touchdowns and only six (seriously) interceptions. Oklahoma Sooners 's Sam Bradford threw for 4,720 yards, 50 touchdowns and eight picks in 2008 -- and won the Heisman. Mannion is halfway to a slightly better season ... and could finish seventh.
It's ridiculous, but these guys can't all win the trophy. Or get invited to New York for the ceremony. Dennis Dodd has a story up on the 2013 Heisman, which he calls "the best race, maybe ever," where he goes over the top candidates. His story is sort of long, because there are lots of top candidates.
And Dodd never mentioned Connor Shaw .
Oversight? Not really. Shaw almost surely won't be invited to New York, but look at the season he's having. On pace for 2,300 passing yards, 750 rushing yards and close to 30 touchdowns overall. He's completing 68.5 percent of his passes. Iowa Hawkeyes 's Brad Banks had similar numbers in 2002 (2,573 passing yards, 435 rushing, 31 total touchdowns, five interceptions, 57.8 completion percentage) and he finished a fairly close second to Carson Palmer for the Heisman Trophy.
Connor Shaw is seventh nationally in passing efficiency, he's the quarterback for the No. 9 team in the country, and did I mention that he hasn't thrown a single interception this season?
Doyel's Heisman Ballot
Player
PYDS
TDs
INTs
1. Marcus Mariota
1,724
17
0
2. Johnny Manziel
1,835
14
5
3. Jameis Winston
1,441
17
2
4. Tajh Boyd
1,783
15
2
5. Sean Mannion
2,511
25
3
6. Zach Mettenberger
1,890
15
2
7. Teddy Bridgewater
1,872
18
2
8. AJ McCarron
1,407
11
3
9. Bryce Petty
1,690
13
1
10. Connor Shaw
1,146
10
0
And he's not going to finish second. Or in the top five.
Dodd's story on the 2013 Heisman race did mention LSU Tigers quarterback Zach Mettenberger -- but only once, in passing, to note that he'll face Alabama Crimson Tide (and its Heisman candidate, AJ McCarron ) with a Nov. 9 chance to impress Heisman voters. Mettenberger is fourth nationally in pass efficiency and is on pace for about 3,500 passing yards, 30 touchdowns and four (really) interceptions. Southern California's Matt Leinart had similar numbers in 2004 (3,352 yards, 33 TDs, six INTs) and won the Heisman.
Mettenberger? Like Leinart, he plays the right position for one of the right teams. He's in the right conference. And at the moment he has no chance.
Screwed, I tell you. Someone's getting screwed, and it won't be only one person, and this is happening because the game is skewed toward offense like it has never been. Just like the biggest, strongest athletes are now playing quarterback, the best football minds are coaching offense, too. That's where the money and head coaching opportunities are, so why would a sharp young coach focus on defense? These things go in cycles, so it'll circle back to the defensive side of the ball someday -- won't it? -- but for now the best coaches in the country are those carrying on the offensive revolution.
(Where did this revolution begin? Start with Baylor offensive savant Art Briles and go backward, to his Air Raid mentor at Texas Tech Red Raiders , Mike Leach -- who took this offense mainstream at Texas Tech in 2000 -- to Leach's mentor, Hal Mumme. And it's not like Mumme thought up this stuff on his own. He borrowed liberally in the mid-1980s from BYU coach LaVell Edwards. Where did Edwards get it from? Ask him. All I know is, the current offensive explosion started when Mumme borrowed ideas from BYU, germinated when Leach got to Lubbock, and now it's everywhere.)
Whether it's the Edwards-Mumme-Leach-Briles-Dana Holgorsen-Kliff Kingsbury tree or any of the other offensive masterminds that have popped up in recent years -- Urban Meyer at Bowling Green Falcons , Kevin Sumlin at Houston Cougars , Chip Kelly in New Hampshire, Brian Kelly in Michigan Wolverines -- isn't even the point anymore. The point is, offense is ahead of defense in college football. It's so far ahead that defensive gurus like Bob Stoops, Bo Pelini and Will Muschamp are struggling to get (or keep) their schools in the national conversation.
(Defensive-minded Nick Saban still has Alabama rolling, but as the kids say -- with all the respect in the world -- Nick Saban's a witch.)
Nowadays, great offensive coaches are making the jump from high school to college and not taking long to become a college head coach. Art Briles did it that way. So did Auburn Tigers 's Gus Malzahn and Ole Miss Rebels coach Hugh Freeze, and a major college soon will hire Clemson offensive coordinator Chad Morris, only four years removed from coaching Lake Travis High in Texas. These guys are prodigies, and defensive coaches can't keep up. It's not even a fair fight anymore.
All of which is fun for us, the football consumer, as we watch Johnny Manziel surpass Cam Newton, who surpassed Tim Tebow, who surpassed everyone who came before him. But it's confusing too, because really, what does all this offense mean? In the late 1980s and early '90s Steve Spurrier was so far ahead of the game that his quarterbacks at Duke Blue Devils and Florida put up historical numbers without historic individual greatness. Andre Ware and David Klingler did the same thing at Houston.
Who's doing it now? Which of these quarterbacks with the unreal numbers will go down in history as an inauthentic star, as the dreaded "product of the system?" We'll see.
Meantime, pity 2013 Heisman voters who have too many correct choices -- unless Marcus Mariota can maintain his current pace. He's halfway toward passing for 3,448 yards and 34 touchdowns, rushing for 852 yards and 16 touchdowns, and leading Oregon to the national title game.
Without a single interception.
This whole offensive explosion has been silly. But what Marcus Mariota is doing? That's just stupid.
Rowdy swept all three stages en route to his eighth NASCAR National Series victory of the...

NASCAR drivers had some fun with Kenny Wallace after he posted a 'crazy story' to his Twitter...

Martin Truex Jr. could clinch the NASCAR Cup Series regular-season title Saturday night
With three races to go, 13 drivers have secured a chance at a Monster Energy NASCAR Cup Series...

Wooldridge, who won gold for Australia in 2004 in Athens, took his own life

Kevin Plank is attempting to distance the sportswear giant from Trump's administration