How can DeSean Jackson get back at Eagles? Easy -- by being an adult
If DeSean Jackson has been wronged by the Eagles, the easiest way to prove them wrong isn't catching 100 passes for 1,500-yards, but by simply being a grown-up.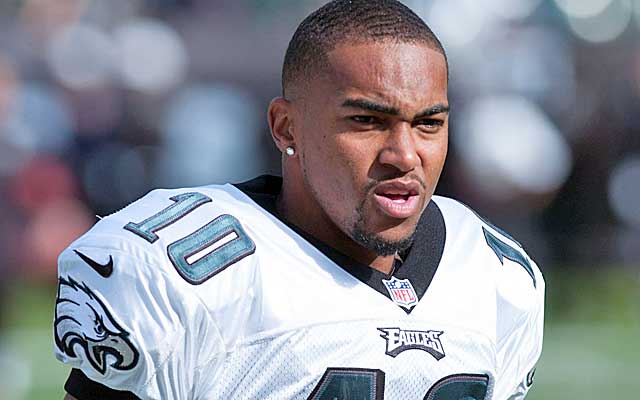 More on Jackson: Prisco: Eagles did DeSean wrong
His character has been assassinated, but now comes the easy part for DeSean Jackson: Proving the Eagles wrong. All he has to do is show up on time, work hard when he gets there and stay out of trouble when he leaves. You know: Be an adult.
The bar's low to prove the Eagles were wrong to release him. So he damn well better clear it.
None of that, or what follows, is written in a mocking or taunting tone. I don't leave things unsaid, so this isn't a subtle dig at DeSean Jackson or an unspoken suggestion that he can't possibly prove the Eagles wrong because he's a malcontent or a jerk or a gang-banger or whatever it is some people want to believe.
The point is clear and obvious and fair and even easy: If you've been wronged, DeSean Jackson, prove it. Never in the history of sports has a player had so much to gain at such little cost. Nobody's asking Jackson to prove the Eagles wrong by catching 100 passes for 1,500 yards and 15 touchdowns in 2014. That would be a career year for a guy whose best numbers in those three categories came in 2013: 82 catches, 1,332 yards, nine touchdowns. It would be unfair to tell Jackson -- or any player -- that to shut up the naysayers, all he has to do is something he's never done.
In fact, production on the field isn't the issue here at all. Jackson can't sign with the Redskins and lay a 50-catch, 600-yard, two-touchdown egg -- that's no way to prove he was wronged -- but ultimately his redemption, as was the case with his Eagles release, isn't about production. The Eagles didn't dump him because he can't play.
They dumped him because he can't play nice.
So that's the bar for DeSean Jackson. It's pathetically low, really, like asking an adult to step over a curb. Live your life with decency, DeSean, and you win. And in so many ways, he has lived his life with decency. The reports are legion of things Jackson has done for kids who have been bullied, like this one from 2011 and this one from 2013.
At the least, however, Jackson reportedly had issues with work ethic in Philadelphia, occasionally showing up late and not giving an honest day's work after he got there. There are other issues, nickel-and-dime stuff like the time Jackson celebrated a touchdown in a high school All-American game by flipping (and fumbling) before he got to the end zone, a mistake that shook him up so badly he essentially repeated it with the Eagles, nonchalantly dropping the ball after scoring -- but before actually scoring. Here's a video of both plays.
That stuff is infuriating but not the reason a team with an explosive offense would dump a Pro Bowl receiver in his prime. Why did the Eagles dump Jackson? We don't know, though we suspect. Jackson was released a few hours after this report in a New Jersey newspaper about his reputed gang affiliations, including some oblique, possibly irrelevant connections to a pair of gang-related murders since 2010.
Is that why the Eagles released Jackson, because of those gang connections? We don't know. We suspect. Did the Eagles want to get rid of Jackson so badly that they leaked that story to the New Jersey newspaper to provide cover for when they dumped a Pro Bowl receiver for nothing in return? We don't know. But we suspect.
What has happened to Jackson has to have been hard -- to have your name dragged through the mud and even blood of gang-related murder -- and then to have been dumped in return for absolutely nothing.
But what happens next ought to be simple. Sign somewhere. Show up when everyone else shows up. Work as hard as everyone else works. Go home. Stay out of trouble. Wake up the next day and do it again. And again. And again.
Sticking it to the Eagles ought to be the easiest thing DeSean Jackson has ever done.
John John Florence and Gabriel Medina will look to catch the wave to a championship

How to watch the Professional Rodeo Cowboys Association's 2017 National Finals Rodeo event

Froome was found to have double the legal limit of an asthma drug in a September doping te...
Flanagan, after winning the New York City Marathon, is out to win her 'hometown race'

It's probably better to just buy your shoes online these days