How will Kentucky fans react if Cal bolts back to NBA?
Let's say John Calipari leaves Kentucky after the 2013-14 season for the New York Knicks, using his connections with CAA and Worldwide Wes to replace Mike Woodson. Would Kentucky fans hate him for it?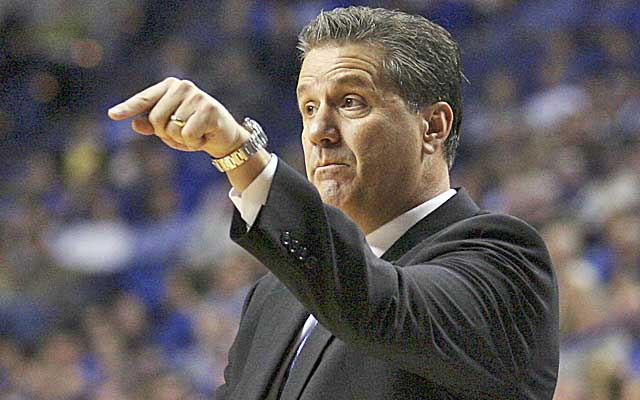 Ken Berger wrote a fascinating column Thursday on the inner workings of the NBA and the powerful CAA agency -- hypothesizing that CAA's stronghold on the Knicks, combined with the Knicks' stronghold on failure, could lead to a change at head coach. Out would go Mike Woodson.
In? John Calipari.
Fascinating for so many reasons, but I'm writing this here because of a question raised by a Twitter friend of mine:
@AndyGlockner @GreggDoyelCBS Do you think UK fanbase would burn him in effigy if he left for the NBA?

— Duke Blogger (@Dukeblogger) November 21, 2013
Fascinating question, with an answer I give out of a mixture of hope and genuine belief:
No.
Kentucky fans wouldn't be happy if Calipari left after this season, though a second national title in three years would go a long, long way to smooth over that. But let's make this even harder, and ask the following:
If Kentucky doesn't win a national title this season, and Calipari leaves for the NBA anyway, would the UK fan base despise him for it? And I come back to the same answer:
No.
As in, not even close. Because Calipari's time at Kentucky has been special for Kentucky fans -- and not just because of the national title in 2012 and the Final Four appearance in 2011 and the Elite Eight in 2010. Calipari's time at Kentucky has been special for Kentucky fans because he has united them in a way no coach had since, yes, Rick Pitino had that job in the 1990s.
As much as Kentucky fans loved Pitino when he was the coach, they love Calipari more -- because Calipari is more lovable. Well, he's more lovable than Pitino was in the 1990s. The Pitino now at Louisville? He's pretty lovable. The one in the 1990s wasn't exactly unlovable, but he wasn't the tireless ball of charismatic energy that Calipari has been since the day he got this job in 2009. It helps that Calipari is coaching in the Internet era, and more than that in the Twitter era, two tools he has used to forge a connection with Kentucky fans that no UK coach before him ever had.
Given that, maybe you're thinking Kentucky fans would feel so spurned by Calipari's departure that they'd despise him for it.
No.
That's not what I see. What I see is a fan base that would appreciate the way Calipari reminded them of how fun basketball -- and basketball at Kentucky -- can be. Understand, the last two coaches were not fun. Tubby Smith did a great job winning a national title in his first season with Pitino's players, but by the end of his ten-year tenure in Lexington he was so ready for a change, and Kentucky fans were so ready for a change, that he left the best job in college basketball for Minnesota. No offense, Gophers fans, but come on. You know what I mean.
Tubby Smith showed how boring basketball can be. Billy Gillispie -- whose hire I, um, liked in 2007 -- showed how miserable it can be. Gillispie ran a clinic on how to alienate your players, your fans, your administrators. He was poison ivy on everyone's skin. Nobody liked Gillispie, and the fans were miserable enough after the final years of Tubby.
And there came Calipari, winning huge immediately and reminding Kentucky fans that, yes, this is the best job in the country and, yes, you still can -- and will -- win a national title here. And along the way he connected with them by raising funds with them and visiting them in the hospital at their lowest moment and doing it all with an attitude that suggested he actually meant it.
Would Kentucky fans be sad to see him go? Crushed. Would they be angry? Maybe at first, at the frustration of having the best possible coach and losing him after five years, but that anger would be directed at the situation, not at Calipari.
Having said all that, I'm sort of hoping Calipari stays at Kentucky. I understand the draw of the NBA, and the desire he may well have to show his time with the Nets wasn't the best he has to offer that league. But the fit between Calipari and Kentucky is something special, and I'm not in the business of trying to hurry special out the door.
Junior reflects on the legacy of his father at Daytona at an emotional pre-race press conf...

Wallace is a jumble of emotions after finishing second in his first Daytona 500

Dillon won the race while driving the famed No. 3 car originally driven by Dale Earhardt S...
Dillon, along with Darrell 'Bubba' Wallace, had two of the best runs at The Great American...

Patrick's day is done at Daytona after she got caught up in a big wreck near the end of Stage...

Danica got in some beach time with her famous boyfriend before Sunday's big race